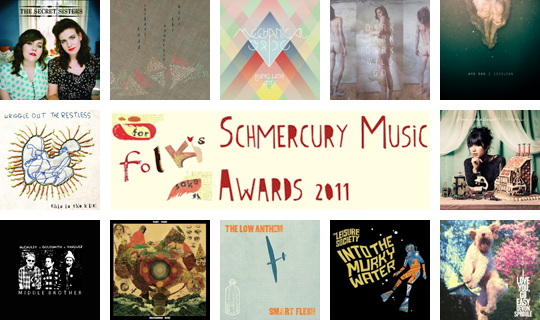 On the eve of the Mercury poll, FFS have put together a list of our 12 favourite folk-tinged albums of the past year for our very own Schmercury prize.
We're going to do things a little differently this year, and we'll be awarding TWO prizes. The Readers' Choice, for the album YOU vote for and the Editors' award, which Reviews editor Ian Parker, Live Editor Helen True, New Bands Editor Alice Sage and I will slug it out over.
Our previous Schmercury Prize winners are…
2009 The Leisure Society – The Sleeper
2010 Cocos Lovers – Johannes (Editors Picks: Broadcast 2000 – Broadcast 2000; Anais Mitchell – Hadestown)
And here are folks that might join them…
Voting opens later today and there'll be 2 weeks to vote for your album of the year. But in the meantime, give the list a listen. We can't recommend these records highly enough.