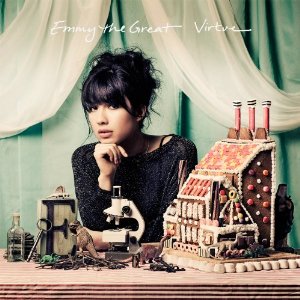 Emma-Lee Moss, the girl who puts the great into Emmy, is back to with a second album that is sure to build on the devoted fan-base she won with 2009's memorable First Love.
Her breakthrough back then was considerable. Not Mumford massive, maybe, and perhaps not as ubiquitous as the Marling masses. But for those who were charmed by her disarmingly coquettish tales of fatal car crashes, pregnancy scares and more familiar affairs of the heart, one thing was clear: Emmy was the star turn of the nebulous 'anti-folk' movement.
Except for one thing. She didn't believe such a scene really existed, and wanted even less to be part of it.
Whether anti-folk ever was more than just a neat phrase (see also 'nu-rave', or, come to think of it, don't) is irrelevant to this triumphant follow up. Anti-folk it ain't, and Second Love it most certainly isn't. I, for one, would happily have signed up for more of the same, another bittersweet ballad in the vein of 'City Song' perhaps, or a third instalment of 'Easter Parade', which received two equally lovely airings on First Love. But from the eerie, cheerily dischordant opening strains of 'Dinosaur Sex', it is clear the landscape has shifted. It's a brave move and one that is executed deftly.
Part of the reason appears to be the evolution of Emmy the Great into a full band venture, where previously it had the unshakeable feeling of a solo set embellished by others. Long-time collaborator Euan Hinshelwood is key to proceedings, his guitar sounds noodling and tinkering in the shadows to provide depth and texture. As well as 'Dinosaur Sex', which concludes with Emmy surveying what appears to be a nuclear winter in the sweetest voice imaginable, there are other musical curveballs for returning fans to digest. 'Iris' begins with a loose 80s bassline that was last seen hanging around the Stone Roses' studio in 1989 wearing nothing but a cheeky smile and begging to be picked up by Mani. Within seconds, it has transformed into a consummate new-wave pop single. Elsewhere, there are choral backing vocals, shades of Enya and Tori Amos and even, on Sylvia, a throbbing dance beat.
The backstory to the album – Emma's engagement to an atheist who subsequently left her for a life of religion – is an unavoidable part of the album but should not obscure it. Indeed, she allows herself just one naked telling of events, the devastating, sparse closing track 'Trellick Tower'. It's a stunning moment, beautifully rendered with bare piano and a single bruised voice, but it is leant extra weight by the restraint shown elsewhere. Where Noah and the Whale and Josh T Pearson have recently made fine albums detailing the gut-wrenching minutae of their broken hearts, here Emmy the Great retreats into allegories, fairytales and myths to find her voice. 'Cassandra', 'Exit Night' and 'A Woman, Woman, A Century of Sleep' are all explicitly populated more by 'characters' than by real people, but the feelings expressed through their eyes seem anything but artificial.
A more direct, and coincidentally more old-school Emmy, appears on 'Paper Forests', one of the standouts. It begins like a remnant of the First Love sessions, all rapid-fire word play and strummed guitar but soon unravels into something more contemplative. There is plenty more to discover and fans of Emmy's wonderfully percussive glottal stops will not be disappointed but the time for reading is over and the time for listening is overdue.
Words: Rory Dollard