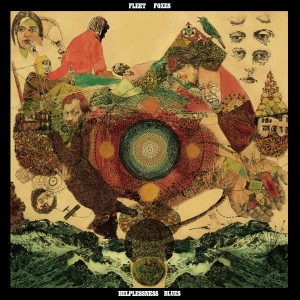 In 2008 Fleet Foxes came out of nowhere with an album that was adored by those who initially discovered it. The waves of critical acclaim combined with word-of-mouth growth has made Helplessness Blues one of the year's most anticipated releases. You had to wonder if it would possibly live up to the hype.
Like their debut, it takes a while to understand, but once you do you'll discover that the songwriting is stronger and that they've added subtle new additions to their aesthetics. That said, hints of past times are still around in abundance. The highlights, the title track and 'Grown Ocean' are the best tracks, soaring and grand in a way that's quite breathtaking. 'The Plains/Bitter Dancer' should be two or three separate songs but these guys have a talent for careful and clever arrangements.
However, for all of its high points and explorations, there are some problems. There are moments where you feel as if they're playing it a bit too safe, as exhibited on 'Blue-Spotted Tail', a largely solo pondering from Robin Pecknold that comes across as filler, and 'The Cascades', which as an instrumental is nice enough but doesn't really add much. You're also left wondering if they might have experimented a bit more, rather than staying with a tried and tested formula which does little to show they have made any great strides.
So, Helplessness Blues is a flawed second record, but that doesn't make it a bad record. When you consider how good their eponymous debut was, what might seem flawed for Fleet Foxes for any other band would be considered excellent. The power of the harmonies, which stood them out from the crowd the first time round, is their saving grace three years on as they are charming enough to win you over. It says a lot that even though there are flaws, it's still possible to have immense enjoyment from the majority of the twelve tracks here.
Words: Max Raymond