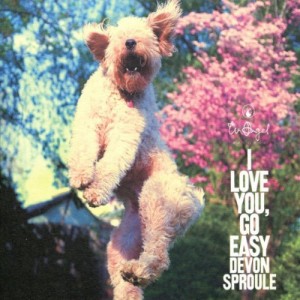 "Let's all get up and dance to a song/That was a hit before your mother was born", sang Paul McCartney on 'Your Mother Should Know', and I Love You, Go Easy, the sixth album by Devon Sproule, answers the call: it's a brand of easy listening-cum-lounge jazz that displays a knowing conscience when it comes to the failings of its own genre.
For that knowingness, I Love You, Go Easy makes for a great pop album. 'The Unmarked Animals', a funky-poppy tune in the vein of Pulp's 'Sorted for E's and Wizz' and The Cardigans' 'Lovefool', has something of the raised eyebrow that made 90s alt-pop so enjoyable; on the album's more saccharine tracks – 'The Faulty Body', plus opener 'If I Can Do This' – it's that sense of irony, as well as Devon's excellently sweet voice, that carry the listener along.
It'd be doing a disservice to the album, though, if you were to reduce it to that wry, ironic smile. After all, there's a sense of "rawness" about a number of its tracks that make you feel like you're watching an open-mic night: 'The Evening Ghost Crab' and 'Runs in the Family' represent two points of clarity and honesty among many.
Still further, it's an achievement that I Love You, Go Easy glides quickly through ten tracks; Sproule is completely at home with her material, and that confidence stops an oft-used "singer-songwriter" formula going stale. Add to that formula a set of gorgeous melodies and a sense of irony that never lets the performer or the listener indulge unduly, and I Love You, Go Easy shapes up to be a very strong album indeed.
Words: Chris Woolfrey