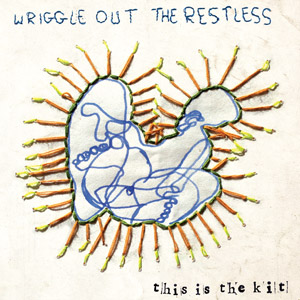 It is apt that Wriggle Out The Restless is released by Dreamboat Records, as listening to This Is The Kit is not unlike drifting down a sunlit river on a warm day. Not that all the tracks are slow – 'Earthquake' is practically funk-folk, and 'Spinny' is, well, spinny – but a blissed-out , tender mood prevails. Singer Kate Stables has a lovely voice, at times reminiscent of Joni Mitchell, but more woodsy than flutey, like a clarinet. She's likely to please Alela Diane fans, conjuring a similarly leaf-wrapped world, full of moon and sea, mandolin and brass, with a slight hippyish aura; 'Easy Pickings' is like a spaced-out early morning sun salutation.
Lyrics are built around repeated phrases and images, interspersed by brooding ooohing. It's as if Stables picks up a thread mid-thought, then loops it over and over; we seem to join her in the middle of her weaving. Such ritual repetition might be expected to get old, but instead the songs largely work like mantras, hypnotic rather than dull. 'Sometimes the Sea' is particularly strong, glittery mandolin mingling with softly-sung stoicism: "We used to be brothers, but people leave each other don't they?/Now I've lost you I've lost you, we've floated away./But my life is good, and I have what I need/And sometimes the wind, and sometimes the sea/And often the rain, and slightly the sun/And sometimes I sit still, but mostly I run." 'The Turnip' is similarly satisfying and moving, seemingly about a birth ("And you had started to start/And the moon was dark"). 'Moon' is lullaby-light, and 'White Ash Cut' reminds me of Nick Drake at his most hauntingly beautiful.
Sometimes the songs veer close to too tasteful, almost boneless; I wasn't so keen on 'Sleeping Bag', which is sweet without becoming compelling. This is the only criticism I can level, and it doesn't stick. In 'Trick You', Stables sings "This song is to trick you into sleeping sound", and don't let the prettiness of her music fool you. You can float peacefully away, but there's substance under the soothing surface.
Released: 18th October 2010, Dreamboat Records
Words: Becky Varley–Winter