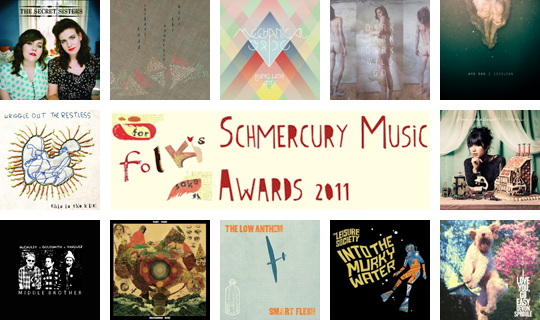 We know that deciding to listen to vast swathes of brilliant music can be difficult, so we thought we'd be nice and put all our Schmercury nominees for 2011 into a playlist for you.
We'd been rather banking on all 12 of the magnificent albums being available in one place but they're not, so you need to prepare yourself to click about the internet more than once.
Eight of our nominees are available on Spotify, so you can listen to albums from The Leisure Society, Emmy the Great, Mechanical Bride, Dark Dark Dark, Fleet Foxes, The Low Anthem, The Secret Sisters and This is the Kit in one continuous stream of goodness, here:
FFS Schmercuries 2011 – Longlist
Now, be brave.  We must urge you to seek out songs from the remaining nominees by marginally more difficult means.
Listen to songs from Rachael Dadd's album here.
Head here for a bit of Wye Oak.
Enjoy Devon Sproule here.
Middle Brother can be heard here.
The best solution, if you're a person of means, is to buy them all, then take two days off work to listen to them.  That's certainly what we'd do.
Not voted on the poll yet?  You can do so here.