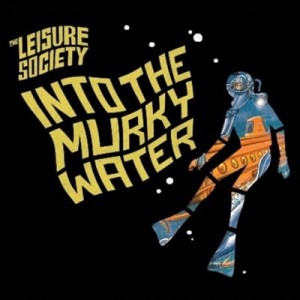 Let's make things clear from the outset: the Leisure Society's second album is a work of wonder. Like its predecessor, The Sleeper, Into The Murky Water is a collection of beautiful songs, masterfully orchestrated, with smart, wry lyrics.
Opening with the syncopated percussion of the title track, a run on the flute signals the entrance of pizzicato strings. The album's bittersweet – and sometimes dark – lyrics contrast with the unashamed prettiness the eight musicians weave with their instruments: guitar, drums, bass, keyboards, cello, viola, violin and flute. With each band member a brilliant musician in their own right, songwriter Nick Hemming has next-to-no barriers when it comes to realising the music he conjures up – no flutter tongue's too tricky, no rhythm too complicated for this ensemble.
The Leisure Society's willingness to shift between tempo and style from song-to-song shows a well-placed confidence. You're about ready to cry yourself to sleep after the sweetly melancholy 'Our Hearts Burn Like Damp Matches', when the jaunty strings of 'You Could Keep Me Talking' whip you up and get you back on your feet. An upbeat telling of an uncomfortable tale, the song was inspired by feeling awkward amongst the glamour at a party held by TLS-champion Brian Eno, and contains the album's most perfect lyrical moment: "Most folks collide with such sickening ease/Their instincts arrive as my intellect leaves".
'Better Written Off (Than Written Down)' is an anthem for the procrastinator or quitter, and features a saxophone line that's fittingly idle-sounding: "All the wasted days and the promises made/Could put the fear of God in every one of us". With its catchy, sing-a-long chorus, it should be mandatory listening for final-year students everywhere.
Heart-clenchingly pretty, 'Although We All Are Lost', is an ode to finding your place: "Although we've tasted diffidence, we know we're happy now". And recent single 'This Phantom Life' is the album's dancer, with its exhilarating chorus: "If we only knew the answers, we would print them up onto t-shirts/We could sing for revolution/We could fight all our wars and win them". Hurrah!
The vocals harmonies serve up the kind of shivers that only blended voices can. The chorus of 'Dust on the Dance Floor', in particular, could stop a weak heart. While the minor harmonies on 'I Shall Forever Remain An Amateur' cause involuntary sighs, before the song breaks into a rousing refrain.
The mark of true genius is to make the complex simple. Though laboured over, the lyrics seem effortless – and though richly layered, the arrangements sound light and elegant. This is timeless folky pop, that manages to combine both intelligence and mass appeal.
Now find yourself an empty house, crank up the stereo, and enjoy. And if you don't find yourself alternately swaying dreamily, tapping your toes and singing at the top of your lungs, you're doing it wrong.