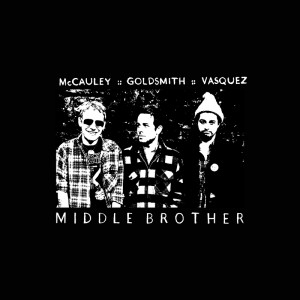 First things first, this is not a review of a new album. This collaboration between Deer Tick's John McCauley, Dawes' Taylor Goldsmith and Delta Spirit's Matt Vasquez came out all the way back in February. It never got a proper UK release, and maybe never will, which is our official excuse for not writing about it before. But the truth was probably that, after getting a copy shipped in on a whim (I love Deer Tick and here was their lead man releasing a record on fancy colored vinyl – count me in) I was too blown away, too much in love with every note to consider anything so practical as writing about it. I just couldn't stop listening. But we'll make up for lost time with a fairly simple message for anyone who loves good Americana: buy this album.
Side projects are always dangerous grind, ranging from the brilliant to the atrocious, but I can't remember one for a long time that so obviously outweighed the sum of its parts. Here is the playful spirit that was missing from Deer Tick's last LP (having been so apparent on the first two), the edge that, by its absence, held back Dawes' debut and that little extra craft that Delta Spirit have needed.
There's nothing technically brilliant about this, but the trio have outdone themselves in the songwriting department, from the beautiful laid-back opener 'Daydreaming', the stomping 'Blue Eyes', the playful 'Someday' and the magnificent closer 'Million Dollar Bill' (which has just shown up again on the Dawes' sophomore LP). For three men who have come together for a distraction from their day jobs, they sound like they have been playing together for years. Middle Brother might fall into the 'supergroup' category, but there is a wonderful intimacy here, the sound of three guys unwinding by letting rip on a record of good old-fashioned Americana.
With Dawes releasing a new record this month, Deer Tick's fourth on the way and Delta Spirit spending the entire summer on the road as they get ready for a new one next year, we can only hope it's not too long before they find the time to get back together again soon.