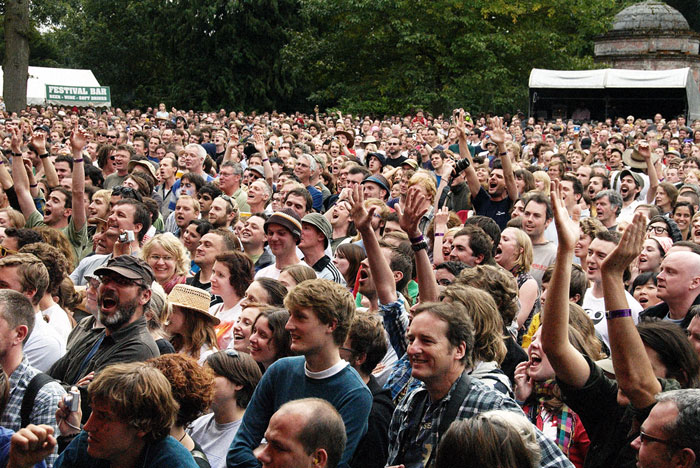 We've gone through the folkier end of the festival calender, and hereby bring you our picks.
You won't find any news on Glastonbury or Reading and Leeds, mind. We're here to tell you about the things you might not have heard about yet.
And what a selection there is this year. You can see Bob Dylan and Laura Marling share a stage at one-day festival Hop Farm in Kent. The always wonderful End of the Road is bringing the legendary and elusive Diane Cluck over from the US as well as playing host to FFS's favourite band in the world, The Mountain Goats.
For those who like their festivals crossed with city breaks, Open House is putting on an astonishing series of gigs in Belfast including Seasick Steve and Old Crow Medicine Show. And if you've got your tastes firmly set to folk of all kinds, the Divine Comedy, Donovan and Johnny Flynn play Moseley Folk Festival, which mixes traditional and new folk music in Birmingham.
Latitude is well on its way to getting the full folk set with Laura Marling, Noah & the Whale and Mumford & Sons all booked to play and also features chuckles from our favourite comedian Josie Long. Lounge on the Farm is putting on our live act of the moment, Cocos Lovers.
And finally, Green Man has got Joanna Newsom. That's all I'm saying about that.
We don't want you to have any nasty surprises when it comes to ticket costs so we've added booking fees and posting and what not into the prices below. Happy camping!
21-23 May
Wood Festival
Braziers Park, Oxfordshire
Peggy Sue, Cate Le Bon, Frank Turner, Tunng, Fionn Regan
Weekend ticket £72.74 (incl fees) link
3 July
Hop Farm Festival
Hop Farm, Kent
Bob Dylan, Ray Davies, Mumford & Sons, Seasick Steve, Laura Marling, The Magic Numbers
Day ticket without camping £76.25 (incl fees) link
9-11 July
Lounge on the Farm
Merton Farm, Canterbury
Cocos Lovers, Fionn Regan, Jesca Hoop, Tunng
Weekend ticket (incl fees & postage) £103.95 link
15-18 July
Latitude
Henham Park, Suffolk
Laura Marling, Midlake, Belle & Sebastian, Richard Hawley, Noah & the Whale, Grizzly Bear, Jonsi, Mumford & Sons, Frank Turner and comedy from Josie Long
Weekend tickets £167.20 (incl fees) link
13-15 August
Summer Sundae
De Monfort Hall & Gardens, Leicester
Fionn Regan, Fanfarlo, Johnny Flynn, Laura Veirs, Lissie, Local Natives, The Low Anthem, Mumford & Sons, Tunng, The Wave Pictures
Early Bird Weekend tickets £96 (incl fees & postage) link
20-22 August
Green Man Festival
Glanusk Park, Brecon Beacons
Joanna Newsom, Flaming Lips, Field Music, Fionn Regan, First Aid Kit, Matthew & the Atlas, The Smoke Fairies, Caitlin Rose
Weekend ticket £131.45 (incl fees & postage) link
3-5 September
Moseley Folk Festival
Moseley Park, Birmingham
Donovan, The Divine Comedy, Sparrow & the Workshop, Beth Jeans Houghton, The Low Anthem, Johnny Flynn, Cut-A-Shine
Weekend tickets £83.95 (incl fees & postage) link
7-12 September
Open House Festival
Various venues, Belfast
Seasick Steve, Wilco, The Felice Brothers, Field Music, Old Crow Medicine Show, The Low Anthem, AA Bondy
Events individually ticketed, see website
10-12 September
End of the Road
Larmer Tree Gardens, Dorset
Iron & Wine, The Low Anthem, The Mountain Goats, The New Pornographers, Diane Cluck, The Antlers, Deer Tick
Weekend tickets £135 (incl postage) link
This list will be updated when announcements are made.
Is there anything we've missed? Let us know below.