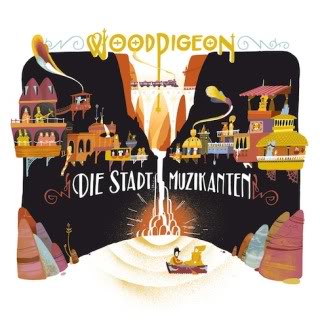 Some artists spend their entire careers clinging to a single sound, stretching it taut until the bones begin to protrude and reveal the fragile artistic elasticity that held the music together.  Mark Andrew Hamiltons' Woodpigeon barely manage a song without giving in to their artistic flexibility. When combined with the sheer quality of the songs contained within this makes 'Die Stadt Muzikanten' both one of the most interesting and enjoyable indie-folk records of 2010.
At the start of the album a sense of heaviness appears to hang over Hamilton, as if the world has become a little harder to bear. This quickly disperses, leaving the listener to bask in the sweet and maudlin melodies that Woodpigeon create.
The difference between  'Die Stadt Muzikanten' and it's predecessor is clear — namely the use of distortion. The Fleet Foxes-esque acoustic moments are still present, but fuzz is given a much more prominent role, taking Woodpigeon closer to indie territory. Far from detracting from the prettiness that made 'Treasury Library Canada' such a treat, the fuzz allows Woodpigeon to vary their sound even further. It also serves to make a more appealing record for this writer, I always love a bit of fuzz!
A particular delight of the record is feeling as though you've hit upon the base inspiration of the album, only to hear another band dripping aural gold into the next song. The influence of Bright Eyes 'Fevers & Mirrors' hangs over "Empty Hall", with it's stuttered staccato rhythm guitar, augmented by aerial distortion, which then dips into a choral tone. "My Denial In Argyle" and "Unmissable Grey, Mixed Paint"  wouldn't sound out of place on any Belle and Sebastian record. Whilst "Redbeard" recalls the melodies of Badly Drawn Boys 'Bewilderbeast' and has a piano piece reminiscent of The Beatles 'Rubber Soul'. Never though do Woodpigeon plagiarise these acts, they reference them with the ease of a band confident in it's own songwriting excellence.
Throughout the album twinkling, starry, lubrication is provided by the subtle background instruments. This creates a dreamy ambience that follows on nicely from the halcyon forestry feel that decorated 'Treasury Library Canada'. I the sense that the band are gaining in confidence, believing that they not only contribute to Hamilton's stellar songwriting but are taking Woodpigeons' music to the next level.
'Treasury Library Canada' was one of 2009s most pleasant surprises, it's delicate melodies and the androgynous vocals of Hamiltons vocals affording all who discovered it an indie-folk delight. With 'Die Stadt Muzikanten' Woodpigeon have bestowed another gift upon their listeners.
Words: Damien Girling