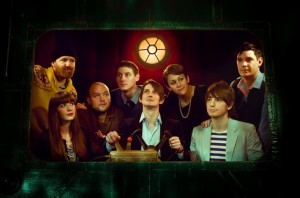 Schmercury winners in 2009 for their debut album, The Sleeper, the Leisure Society's masterful second album Into the Murky Water was released this year to a flurry of acclaim from critics and, notably, an awful lot of celebrities (John Simm, Chris Addison, Dom Joly, Olivia Colman – really, a lot). It's a record of timeless orchestral pop, that manages to combine both intelligence and mass appeal. Nick Hemming and Christian Hardy took time in between galavanting around Europe and playing in Cathedrals with Laura Marling to answer our questions.
For Folk's Sake: Congratulations, you've been nominated for a Schmercury Best Album award (again). How do you feel?
Nick – It feels very good thank you very much. It's always nice to feel appreciated, even if there isn't a cash prize attached.
Christian – It's great to have your continued enthusiasm and support.  Much appreciated.  Thanks FFS.

Have you paid much attention to the Mercury nominations this year? What do you think of them if so?
Nick – After seeing we were one of the favourites for a nomination on Ladbrookes' website I foolishly got my hopes up. Once I found out we weren't on it I lost all interest! Seriously though, there are some great albums on the list… and some not so great. If I had to pick a favourite it'd probably be Anna Calvi, she oozes attitude. And to think she was playing in a tiny tent at the Willkommen festival only a year ago! You could tell she had something very special.
Christian – There's undoubtedly something quite arbitrary about picking so few albums from the number that get made each year.  I think this year I started wondering what the criteria must be cos it can't come down to subjectivity with something of that scale.  In terms of enterprise, self sufficiency, creativity and passion, I'd put both our albums on the list every time.

Aside from your own, what's your favourite album on the Schmercuries list?
Nick – I wasn't sure about the new Fleet Foxes album at first, but after seeing them at Green Man it all suddenly clicked for me and I absolutely love it now. The Emmy The Great album would be a close second, she has a great way with words and a lovely voice.
Christian – Devon Sproule is great. I love the second Fleet Foxes record very much.  I haven't heard Dark Dark Dark yet but I have a feeling I'll really like them when I find the headspace to have a listen.  Actually that may be true of a fair few on your list.  My ability to enjoy new music depends on how much noise is already in my head.  I don't know how album reviewers do what they do without living in fear that what they've written isn't reactionary nonsense.
What album (released in the past year) have we missed off the list that ought to be on there?
Nick – I'm currently loving the brilliantly barmy Tune-Yards album.
Christian – Oh I don't know, maybe Destroyer Of The Void by Blitzen Trapper or Teen Dream by Beach House if they were released in the last year.  Lisbon by The Walkmen is my standout favourite record in some years though.
How do you feel about Into the Murky Water now it's been released into the world?
Nick – It'll be a while before I can sit down and listen to it again, after spending so long intensively working on something it can drive you slightly crazy! Dust On The Dancefloor came on in a bar I was drinking in the other night and it sounded great, it made me very proud!
Christian – It's concentrated musical obsession.  The last month or two of mixing and finessing took a big toll.  I'm proud as hell of it and I never want to make a record that way again.
Did you know it was special when you were making it?
Nick – It was a bit of a roller-coaster of emotions making the album. As it started to come together we definitely got the feeling we were doing something special, that's what spurred us on through the endlessly obsessive recording sessions.
Christian – I felt a huge amount of pressure.  It was hard to experience the joy we did making The Sleeper which was made in a happy void of obliviousness.

What do you think about the critics and fans reaction? Was it what you expected?
Nick – It was quite mixed to be honest. The first one we got through was a very flat, disinterested review from Uncut magazine, I was pretty crestfallen at the time. After that (thank god) it picked up and we got an amazing response from the people who had actually bothered to listen and digest the album fully.
Christian – I agree.  Thoughtful responses (positive or negative) are always welcome.  I knew it wasn't going to be as instantly easy to love as The Sleeper because there's way more in there to get your ears round and more swagger and confidence.  People hate that.
What's your favourite album ever?
Nick – It's almost impossible to pick one album, but at a push I'd have to say the Beach Boys Friends/20-20 (strictly speaking two albums). There's so much going on on there that it's impossible to get bored. I think I've probably listened to it at lease once a week for the past 15 years.
Christian – At best I could narrow it down to Third / OK Computer / Amnesiac / In Rainbows / In Ear Park / The Suburbs / Teen Dream / Sgt Peppers / Abbey Road / Revolver / Sea Change / The Freewheelin Bob Dylan / Ziggy Stardust / Figure 8 / Veckatemist / My Beautiful Twisted Dark Fantasy / I Speak Because I Can / Loney, Noir / Dear John / Deserter's Songs / Swordfishtrombones / Lisbon.
Do you have plans for your next album?
Nick – I've got about 15 embryonic songs that I'm working on at the moment. As soon as I've got some lyrics that I'm happy with we're going to lock ourselves away and experiment. I think we all agree we'd like to record a lot of the next album live. So much time was spent doing overdubs on Into The Murky Water and it'd be nice to try doing something a little more immediately gratifying.
Christian – As soon as Nick is ready I want to get in a rehearsal space in the country with the core band and play intensively for a few weeks until we can play the thing live.  Then I want to get in a studio and get all the amps and drums and mics just right.  Then I want to play the songs with the record button on.  Then I want to add a couple of guest parts and overdubs. Then I want to release it.
We're sorry that Barclaycard aren't sponsoring us to give the Schmercuries winner a million pounds (we assume that's how much the Mercury prize is). If they were, and we did, what would you do with it?
Nick – Buy a new studio. My computer is so stuffed full of audio tracks that it's likely to give up the ghost at any moment.
Christian – I'd blow it all on hats.