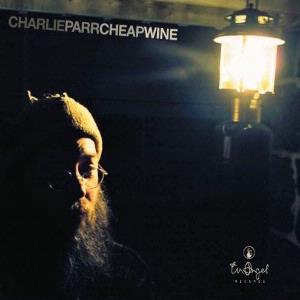 Even casual old-time music enthusiasts will be lured in by Cheap Wine, a retrospective of Charlie Parr's first ten years of music. Mr. Parr is a bold and burley resonator player and he can make a healthy plunk and thump with the banjo as well, but one should not fail to look deeper than his admirable picking. Charlie's brief lyrics and committed vocals build the feeling of a musical machine—like a 40-year-old truck that has been meticulously maintained.
The title track of the compilation consists of a familiar, well-worn chord progression and can serve as an exemplar for the rest of the songs. Mr. Parr matches his delivery of those homey chords with straight-forward, yet delicate lyrics. This thoughtful and calm song is of indicative of the balance that he maintains between what is said and how it is said. It also brings much-needed rest between the compilation's high-energy songs.
The album has its fair share of up-tempo barnburners in 'Jubilee,' 'God Moves on the Water,' and 'Ain't No Grave Gonna Hold My Body Down.' Again, each of these songs achieves a continuity of style and substance that is striking. They all take on the vast issues of mortality and redemption, which is matched by vast, open-chorded guitar playing and powerful, sometimes-coarse vocals. The spiritual lyrics are matched with religious fervor in style.
Cheap Wine is an apt introduction to Charlie Parr's several years of playing Piedmont blues. It clearly showcases the range of abilities and thoughtfulness of this Minnesota-based songwriter.
Words: Paul Kellner