Fresh out of journalism school, I started FFS so I'd be able to write about the music I loved. Two years on I'm managing the site more and more and barely getting time to put pen to paper. But so much brilliant stuff comes my way it'd be criminal not to pass it on to you readers, so I'm planning to blog weekly (frequency subject to change at my whim) about the best of it.  Here's what's been brilliant over the past few weeks…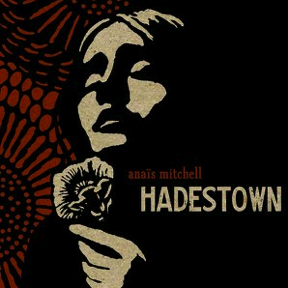 1. Hadestown
For the past couple of months it's been all I could do to tear myself away from Anais Mitchell's concept album/folk opera Hadestown, released this year. I hate to come over all Jo-Wiley-talking-about-U2, but it really is a stunning modern retelling of Orpheus and Eurydice. It features guest vocals from Justin Vernon of Bon Iver and Ben Knox Milller from the Low Anthem as well as Greg Brown and Ani DeFranco. It's definitely the best thing I've heard all year. Hear on Myspace or Spotify. Buy from Amazon
.
2. Best bits playlist
Reminded by the brilliant new album from Canadian supergroup Stars, I realised that the first words sung by Amy Millan on their 2004 album Set Yourself on Fire, is probably my favourite bit of a pop song, ever. Following Torquil Campbell's scene setting, Millan comes in with 'This scar is a fleck on my porcelain skin'. It's goosebumps central. We asked for your best bits suggestions on twitter and compiled this: our best bits playlist.
3. Laura Marling debuts new material
Here's a brand spanking new Laura Marling song, Who Am I?, which she performed when she was in Texas last month. It's making us pretty excited for album number three, due later this year.
4. Mountain Man
This three piece from Vermont have beat me to my secret ambition to start a folk madrigal choir. Their swoony three-piece harmonies and sparse or acapella arrangements are just lovely. Have a listen on Myspace and Spotify or buy their album on Amazon
.
5. Bandstand Busking at Meltdown
Thomas, Ian and Anika from Bandstand Busking organised two fantastic free gigs at The Royal Festival Hall as part of Richard Thompson's Meltdown festival. The first featured Laura Hocking and Sam Amidon and for the second they lined up Johnny Flynn, Broadcast 2000 and Slow Club. Performance of the afternoon went to Broadcast 2000 — sandwiched between Johnny and Slow Club — whose full-band set up is not to be missed. Live, the already=brilliant songs take on a life of their own, becoming almost performance art with the elegant bowing of the three string players contrasting with furious drumming and glock-bashing from the rhythm section.