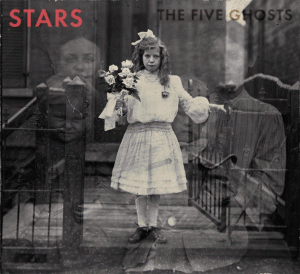 The Five Ghosts is a bit more electro-sci-fi-broadway-extravaganza than typical FFS fare, but these Canadian darlings have storytelling capabilities to rival the beardiest of banjo strummers.  The subject matter of their musical tales ranges from the utterly everyday (lying in until the afternoon) to the eerily supernatural (loving someone so much you die so you can haunt them constantly).
The fourth studio album from this astrological five-piece sees Torquil Cambell and Amy Millan continue to play off the major strength of their strong vocal pairing.  Style-wise, there's much more of a range track-to-track than there has been on previous albums, and the sound goes a tad more futuristic with keyboard effects and synthesizers-a-go-go.
Grandiose opener 'Dead Hearts' kicks off on an epic scale, featuring a vast electronic orchestra capable of soaring crescendos that wouldn't sound out of place in the Albert Hall.  Feel-good wondertune 'Wasted Daylight' depicts an indulgent, slothful lie-in that makes you want to track down someone juicy and hop straight into bed.  Even on a glorious sunny day, the greatest joy can come from not doing: "I don't mind, I don't mind / This wasted, shaded daylight."  This song encompasses neatly the joy of letting the phone ring off the hook because you've jolly good reason too ("the thighs, the heels, the hips"…).
'We Don't Want Your Body' is another corker: an altogether darker, grimier affair than the other tracks on the album, squealing with feedback in anticipation of the opening line: "Knock shop in Oxford Street – one where the vampires meet".  This track is very 80s discotheque – all glitter and trash, and hip-pumping beat.
If that's whetted your appetite, Stars have kindly made the album free to stream here, and they'll be toddling (rather appropriately) into Heaven for a show on 1st September.  Tickets are already available (and doubtless selling fast to dedicated groupies and titillated newcomers alike) here.
The Five Ghosts will be released on 22nd June on the band's own Soft Revolution label, just in time for festival season, and full-on summertime.  That's perfect timing, if ever there's been some.
Words: Helen True