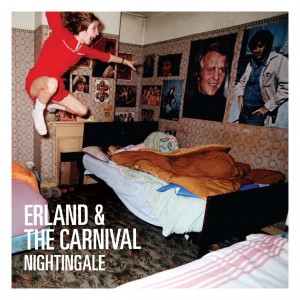 Having enjoyed success as a rank-and-file member of The Verve, Gorillaz and The Good, The Bad and The Queen, Simon Tong is surely one of the biggest-selling guitarists you'd struggle to pick out of a line-up. His latest collaboration with Orkney singer-songwriter Erland Cooper is unlikely to change that, though.
It's a disappointing affair, with little or no progression from their self-titled debut and a general sense of lethargy in the arrangements. There's certainly plenty of Erland but Tong struggles to deliver the carnival. Opener 'So Tired In the Morning' begins with some nice processed guitars but the dreary lyrical content – the song is, apparently, about being tired in the morning – grates instantly. By the time Cooper drops the killer line "I sit at my desk, looking out of the window" its fate as a freak-folk Kaiser Chiefs cast off is sealed.
'Map of an Englishman' is better, sounding at times like a slightly tipsy slot machine and delivering a decent chorus. It is a highpoint not matched too often and the good vibe is dissipated immediately by 'Emmeline', a comically dull affair that attempts to be all ethereal and spooky but sounds more like 10-year-olds telling each other ghost stories while listening to The Coral.
'I Wish I Wish' suggests there is decent chillwave band trying to get out but, regrettably, they do not make a second appearance. If it's a carnival you're after this is highly likely to disappoint, but the more fitting 'Erland and the Slightly Disappointing Tombola' simply wouldn't have worked.
Words: Rory Dollard