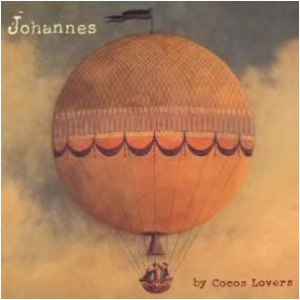 "The wind and the rain that follows you home/The valley surrounds and swallows you whole."
Kentish folk stalwarts Cocos Lovers' latest album, Johannes, captures all the beauty of their live singing. From the beginning of 'Time To Stand,' the clear-toned guitars, flickering mandolin and chorus vocals are filled with British tradition. At the same time, other worldwide musical references can be heard in the use of upbeats, hand drums, accordions and operatic vocal cords.
A slight lack of variety in sound is made up for with the epic wall that those combined vocals (six or seven singers?) generate. Listening to the bluegrassy banjo on tracks such as 'A Beggar's Land,' you can hear a century's worth of transatlantic folk developments. And while their sound is nice and rootsy, it isn't out of place in the current British scene because of the indie guitar licks. They also have equivalents in America like Band of Horses, Sean Hayes and Bon Iver.
The guitar at the start of 'Oh My Love' does seem suspiciously familiar, definitely forgivable as it becomes a sweet, quiet love song. At some points the recordings, especially the lead guitar, seem overproduced and detract from the atmosphere. There could also be a couple more pared-down songs to highlight the skills of separate singers, like 'Oh Rosa Oh Rosa,' but perhaps that's just personal opinion.
Sliding bass lines, rising and falling drums, and extra percussion creates a kind of transient mood that fits with the natural imagery. It feels like an album about travel and community, which I'd say (after seeing them at Lounge on the Farm a few times) describes Cocos Lovers quite well. With a nod to early Van Morrison, the sound of 'I Am The Road' best summarises the simultaneous originality and tradition of the album.
Words: Alice Knapp