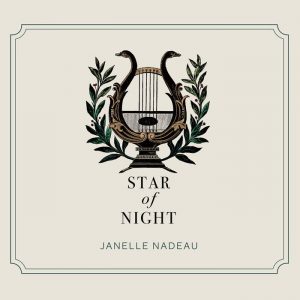 Between acts like Joanna Newsom and Emilie & Ogden, the harp has been making a bit of a resurgence in the contemporary folk world these days. Or, at the very least, three makes a revolution with Janelle Nadeau joining the mix. Paired alongside her trusty guitarist and co-producer, Stephen Fisk, Nadeau's newest project is hitting the Bandcamp scene just in time for the holiday season.
Unlike Ryanhood's excellent also-just-released On Christmas, Janelle Nadeau's take on Christmas features many more familiar songs. Yet, the compositions feel as new as they do natural and compelling.
Proceedings begin with a transcendent take on 'Oh Come, Oh Come Emmanuel', featuring layers of ethereal strides across Nadeau's harp as well as Fisk's guitar. The general theme of raw, ornate re-arranging of popular classics persists throughout the record. All of it is thankfully just as strong as its opening number. They continue, for instance, with a Canadian hymn this side of the 'Huron Carol', which offers more of the same captivating, adventuresome holiday listening that we are treated to from the get-go.
[bandcamp width=100% height=120 album=2792540829 size=large bgcol=ffffff linkcol=0687f5 tracklist=false artwork=small]
Vocals are introduced in Nadeau's rendition of 'It Came Upon a Midnight Clear'. Her lilting delivery paired beside the sparse, yet intricate nature of her and Fisk's instrumentation lends itself naturally to creating an ominous soundscape for her voice to navigate with beauteous grace. It's here where this scribe started to feel a true sense of Christmas wonder while listening to Star of Night, and it's a feeling that persisted from then on throughout.
The same charm that captures Nadeau's audience in its first few numbers pervades the entirety of the record. She continues to take one on a trek through elegant, contemplatively-designed aural landscapes where every last note in the composition feels as deliberate and masterful as it does at ease and bursting with serenity and joy.