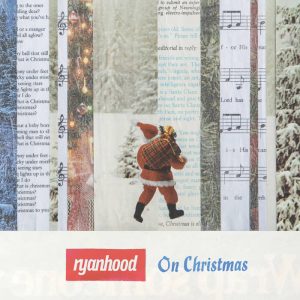 Southwest folk-rock favorites Ryanhood have been picking up more fans than ever in their cross-state tours following the release of Yearbook. With their soaring, compact harmonies, intense instrumentation, and affable personalities on and off the stage, there's no questioning why. Yet, there's something more to it. It seems to this writer that, after over a decade in the business, they've finally hit their truest stride and discovered the best versions of themselves as artists and pals navigating the musical world together.
What better way to celebrate such a year of joy and self-discovery than with a holly jolly Christmas album? Especially one where Cameron Hood and Ryan Green once again get to wow us with their stunning acoustic rock chops – now with a hefty dose of holiday cheer blended in for good measure. Better yet, while a couple of interpretations of old-school Christmas classics exist within the warm confines of On Christmas, it is by and large an original songwriting affair. So, for those of you hankering for some more individualistic holiday joy, these Tucson folksters might well have the exact recipe you've been looking out for.
[bandcamp width=100% height=120 album=3607217038 size=large bgcol=ffffff linkcol=0687f5 tracklist=false artwork=small]
Things kick off with the suitably joyous singalong, 'What Is Christmas?', and keep blazing from there with a stellar instrumental rendition of the classic, 'Sleigh Ride'. In fact, each of the cover compositions present on the album are opportunities for Hood and Green to specifically show off their skills behind the guitar and mandolin. They break out a consummate performance of Charlie Brown's 'Skating' before closing the album out with a contemplative and sweet rendition of 'Silent Night'.
All in between, though, are vocal performances from the duo across a span of eight original holiday tunes. They never come across as saccharine, nor do they seem like Ryanhood is trying much too hard to establish new Christmas classics for the ages. Instead, they perform these tunes with the same relative ease and sincerity that they tackle their collective portfolio with on-stage time and time again. By doing so, they create an infinitely listenable world of wholesome holiday cheer that would look just right in anyone's stocking this holiday season.