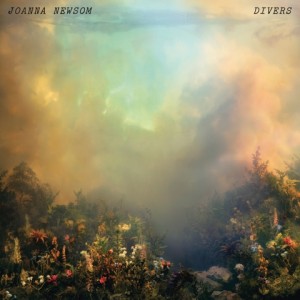 It's been a long time coming. It has felt nigh on torturous at times, as the wait since 2010´s Have One On Me passed the five-and-a-half year mark. There have been teasing performances of new material, but no record. But it fits a pattern, because Joanna Newsom is not one to release a record just to fill a gap. When she appears again it is because she has something to say and has perfected the way in which she wants to say it. Now, finally, Divers is here as her fourth LP. It even finds her following a more common LP format, fitting on one disc with none of the 11 songs clocking it at more than seven minutes.
But little else has changed in any kind of fundamental way. Divers is impeccable Newsom. It takes a little time to really get inside you. Listening to this album is like getting to know someone new, it reveals itself slowly and you cannot truly know it until considerable time has passed. Newsom has added a few new chops, with a harder edge revealed on single 'Leaving The City', but this is not some radical departure – on the full-length LP the sound only appears again on the sublime, explosive closer 'Time, As A Symptom'.
Opener 'Anecdotes' fades in slowly before Newsom's unmistakable vocals enter the fray. It's not a start that will immediately grab the listener, but instead gently draw them in. These are emotional tales told by a masterful storyteller, and they deserve your full attention. Newsom's phrasing (watch her closely if you are lucky enough to see her live, otherwise check some videos) remains unique and the way she shapes her mouth around each word and sound is part of what makes her such a compelling singer. When the opening track starts to carry the listener it feels like you are being lifted from one´s troubles and taken towards peace.
The two singles follow, equally mesmerising yet utterly different. The sound of the band crashing in on 'Leaving The City' is surprising and yet effortless in its expansion of her sound. Newsom picks every note carefully in constructing her grandiose vision, and this is another fine example. Along with the likes of Bjork and Kate Bush, Newsom is fiercely unique. Listening to her wholly distinct sound is like stepping through the gates of a wonderland. Since her second LP Ys back in 2006 she has created a universe of sound for her listeners to move in to, and Divers adds another galaxy of stars.
Each song has a multitude of facets, characters, and sentiments, and writing this review you feel like each song is worthy of an essay in its own right. Newsom has waited to return until she has something of real value, something worthy of a place in a catalogue which makes her one of the greatest artists of our times. She hasn't failed. This is a banquet from which to savour every last morsel. It demands the same kind of intelligence it took to create to appreciate its nuances. A quick skim over doesn't do such music and such talent any justice at all. But those who listen will be rewarded with a masterpiece.