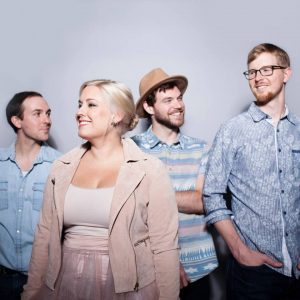 Up-and-coming folk-rockers Wild Skies have been gaining a name for themselves throughout the United States for producing evocative earworms centered around emotional themes, singalong melodies, and sheer harmonic talent.
Their individuality comes from the unique backgrounds of each artist present in the quartet, with singer Kristine Sorum-Williams being opera-trained and bassist Tommy Good coming from a background laden with jazz. Singer-songwriter Aaron Lechak and drummer Andy Kearns invoke their folk flavoring into the band. Altogether, they comprise the catchy and evocative sounds of Wild Skies.
Wild Skies' new single, 'Glory', is a clap-and-stomp-along melodic wonder featuring smoother production than their previous works. It marks a new era for the band as they serve their usual strengths up on a more polished platter, but the heart and soul of what has made Wild Skies, Wild Skies remains. You can give the utterly listenable tune an ear below.
On the track, Kristine Sorum-Williams says:
This new track, 'Glory', is a slight departure from our most recent record in that we went for a bit more of a polished studio sound. The song really centers around the straight ahead beat, and we took the phrase "chorus" quite literally to get a big sound for the hook. Our last record, From Far Below, really centered on having more of a live, organic sound. With this new single, we took advantage of some of the bells and whistles of a proper studio to create a recording that stands out a bit. We recorded for the first time with Producer Noam Wallenberg at RaxTrax Studios in Chicago, IL, and he really helped us bring the ideas out of our heads and onto the recording.