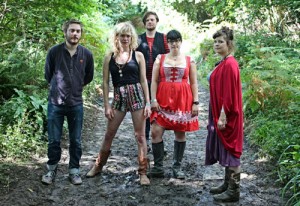 May we cordially recommend a gig to you? It's in one of the very most beautiful venues in London, there are prizes for the first 50 people to buy tickets from the Communion Music, and the line up is stonking.
The Moulettes will be joined by The Hall Of Mirrors and Jordan Reyne, as well as a sneaky guest appearance from Arthur 'I Am The God Of Hellfire' Brown at Notting Hill's Tabernacle to launch new single 'Uca's Dance' and throw a bit of a party.
Here's a tasty preview of what you'll be watching:
If you're amongst the first 50 people to book tickets for this impending cracker of a gig, you'll automatically win a free Moulettes EP.  Atop of that excitement, if you buy six tickets or more, you could also win a private Moulettes show in the privacy of your own house/tepee/treehouse.  The only condition is that the venue you choose needs to be within a sixty mile radius of London. If you live on the Isle of Mull (you lucky bugger) this isn't the competition for you.
To enter either competition, you just need to buy your tickets, then forward your proof of purchase to [email protected].
'Uca's Dance' is a lovely thing, well worthy of a party.  Coming from the Moulettes' latest album, The Bear's Revenge, it's the neo-folk-rock story of a Romanian fire dancer, to which we certainly couldn't say no.  Have a listen, then buy your tickets.  I'll be there with bells on (shan't shake them unless I'm asked, promise).