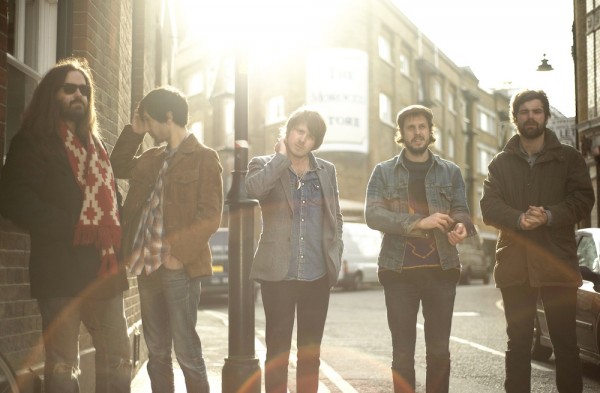 Treetop Flyers are in many ways the quintessential band to have emerged from the collaborative Communion stable, and their old-time country courts ever increasing attention and buzz. At the launch of not-so-new single 'It's About Time', the band that seems to cross continents and decades combine all of your fondest memories of classic country rock with quality songwriting that speaks for itself.
If William Miller had formed a band with a couple of the Band-Aids (and relocated to the North of England in the process) they would have become support act The Sundowners. The two female vocalists offer something new, listenable and yet frustratingly unmemorable, while it is the band standing behind them which really create the slightly spaced out, Fleetwood Mac vibe that sets the tone for the evening.
The quality of Treetop Flyers' live performance belies the scantness of their recorded offerings. 'It's About Time' finds itself resurrected from their 2009 EP with a renewed vigour and urgency, and the energy that drives songs like 'Things Will Change' is infectious. If you thought a certain other group of young men in secondhand suits had cornered the market in hoedowns, you would be wrong – with 'Haunted House' Treetop Flyers prove themselves more than adept at stirring the Hoxton hipsters into a clapping, dancing, hooting frenzy. Much can be made of the sun-kissed country lilt of this band, yet it is shot through with a great soulfulness. On 'Disappearing Kind' these two strands to their sound come together beautifully, heightened by Reid Morrison's blistering voice, while new songs hint at a gentler direction that will bring greater subtleties to their set.
It is hard to tear your eyes away from Morrison, who stands in front of his followers like a puritan preacher, fist held aloft as he yelps with a raw fervour. With the frontman's vintage voice forging a path through the darkness, the rest of the band's harmonies and instrumentation provide an intricate backdrop which complements rather than competes. It is quite remarkable when the tinkle of a guitar illustrates the delicacy of the story told by 'Rose is in the Yard', transporting you there in an instant.
Yet for all they offer in their strong live performance, they crack through the ten-song set at some speed, and it seems a shame that just as the audience start to warm up, the night draws to a close.
The single 'It's About Time' is available now on Communion, and Treetop Flyers continue their tour round the UK at:
21/9 – The Castle, Manchester
22/9 – Fibbers, York
23/9 – Westgarth Social Club, Middlesborough
24/9 – Cumberland Arms, Newcastle
25/9 – Stereo, Glasgow
26/9 – The Musician, Leicester
27/9 – Haymakers, Cambridge
28/9 – Oporto, Leeds
29/9 – Trades Club, Hebden Bridge