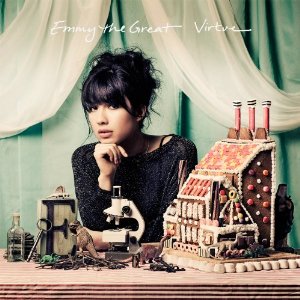 Emmy the Great's Virtue is a devastatingly brutal and beautiful record about the break up of a relationship. There was no way we could fail to recognise it in this year's best album list. FFS's Rory Dollard said: "Sparse closing track 'Trellick Tower' – beautifully rendered with bare piano and a single bruised voice – is leant extra weight by the restraint shown elsewhere."
For Folk's Sake: Congratulations, you've been nominated for a Schmercury Best Album award (again!). How do you feel?
Emma-Lee Moss: I could not be more excited. I've put a big bet on myself to win. And if I don't I'm going to do the same thing as last year and cry for eight hours straight. Although it might be even sadder this year as I actually have an album out.
I am genuinely very happy by the way. You've always been supportive of our music, and the fact that you like this album makes me feel like I didn't let you down!
Have you paid much attention to the Mercury nominations this year? What do you think of them if so?
I think this year was the first year that I bought a record, listened to it and though, 'That ought to be nominated for a Mercury.' (It was the PJ Harvey album.) Since it got nominated I've got more involved than usual, because I've been talking about it a lot and paying attention to where it is among the favourites. And Elbow, who I love, are in this year again, and I love that this is their third nomination. I would be quite into seeing them win again.
Aside from your own, what's your favourite album on the Schmercuries list?
I always like a bit of Low Anthem.
What album (released in the past year) have we missed off the list that ought to be on there?
Are you including international records? It looks like you are. If so, my favourite buys of the last year have been Lykke Li, Little Scream, Blood Orange and Best Coast.
How do you feel about Virtue now it's been released into the world?
I'm feeling quite separate from it now. I think of the songs as how we play them live, not how they are on the record, because we're rehearsing so much at the moment. And I'm really thinking hard about the next album, and to do that I need to sort of reject the previous one. Like a kidney. But I am also really attached to it, because of what it meant to me while we made it, so it's proving quite hard to reject.
Did you know it was special when you were making it?
Aw. Thank you. It definitely felt like a turning point in my life. I grew a lot while I was making it. I owe it a lot.
What do you think about the critics and fans' reaction? Was it what you expected?
I don't know what I expected! I emerged from this cocoon of the last year and all of a sudden the album was out, and I've sort of been on the move ever since. It's been mad. I haven't been able to gauge the reaction yet. Stuff like this makes me think that it's gone well.
What's your favourite album ever?
Impossible question! I guess Pinkerton and the Green album by Weezer. In the Aeroplane Over the Sea by Neutral Milk Hotel. Heaven or Las Vegas by Cocteau Twins. Different Light by the Bangles. Oh wait, Best of the Eagles. Yes, my favourite album is Best of the Eagles.
I was joking about the Eagles.
Do you have plans for your next album?
Yes! But I haven't had time to implement them. I really want a week off to demo these songs I've written. Hopefully I'll get that next week.
We're sorry that Barclaycard aren't sponsoring us to give the Schmercuries winner a million pounds (we assume that's how much the Mercury prize is). If they were, and we did, what would you do with it?
I'd buy us a house, where we both could live.
[polldaddy poll=5478402]