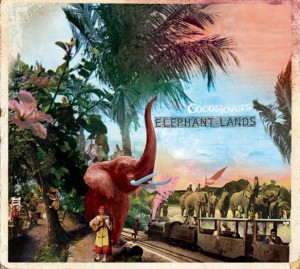 Kent-based eight-piece Cocos Lovers won our best album poll with their debut album Johannes. Their second offering Elephant Lands opens with a cinematic soundscape, that sounds disconcertingly like being lost in the dark feels. Soon it gives way to the electric guitars and the band's trademark chorus, with flute tumbling over the rest of the ensemble.
The strong, clear vocals of Poggy Hatton open 'Door to the Andes', and are almost startling set between the chorus singing and polyphonic orchestration. Will Greenham has an apprehensiveness and melancholy to his voice, which contrasts beautifully with the reassuring stoicism in Vella's. And the album becomes a conversation between these two vocalists.
Darker in sound than the band's first record, the lyrics show a fondness for simpler times (lamenting "these times of thoughtless pleasure"). Unlike traditional folk, which feels unnaturally weighted in history, here the stories are told with humour and a light touch. Strip away the lyrics and you are left with toe-tapping, rousing and affecting orchestration from these eight excellent musicians. Traditional folk instruments are mixed with indie-rock guitars and sometimes tribal sounding drum beats.
Recorded in a converted caravan in Kent, music has never sounded so wholesome. Made up of families and friends, the band's camaraderie is woven through each song. And listening to Elephant Lands – with the chuckle at the end of Lost Kings and the false start on Barcelona – you feel like you're being let into the club.
Cocos Lovers – 'Elephant Lands' – Album Sampler by Smugglers Records