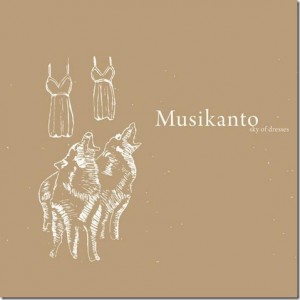 Chicago's Mike 'Musikanto' is creating something of a ripple. Music writers are drawing similarities between his intimate, delicate, songs and the work of such greats as Ryan Adams, Van Morrison and the deity that is Bob Dylan. Well, in the words of Mark-'E'-Oliver Everett, "life is so full of unpredictable beauty and strange surprises", because it is Mr E, and his beautiful blues, of whom Musikanto most immediately reminds me.
Sky of Dresses is the follow up to the excellent debut Ghost Pain, which released a serious of sublime country infected folk songs upon its listeners. Where it differs from Musikantos maiden offering though is to sacrifice some distortion for some orchestral beauty. What Sky of Dresses shares with its predecessor is precisely what made Ghost Pain standout amongst its contemporaries, a pop sensibility.
Standout tracks on the album include the pop moments of lead single 'Every Which Way', 'My Heart Won't Bleed Anymore' and 'False Wind', with further highlights coming from the delicate 'The Ballad of Two Vultures' and excellent album closer 'The Waiting Room'.
Elliott Smith once responded to suggestions that he was a folk, as opposed to a pop, musician by stating that folk songs have to mean one specific thing, often holding a moral agenda. Pop songs however could mean anything, everything or nothing. The fey facet of a folk song is the message, in a pop song it is the melody. Far from being a mere Dylan acolyte, Musikanto seems to have spent his spare moments glued to his copy of Daisies of the Galaxy and for this I thank him. This is a delicious album full of wonderful, slightly melancholic pop songs. And, truly, is there anything better than a melancholy pop moment?
Words: Damien Girling