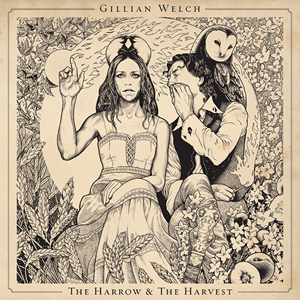 Dark-hearted, languid-voiced pair Gillian Welch and David Rawlings' new album is a masterclass in songwriting: ten perfectly-formed, lamentful American folk ballads that seem to promise autumnal warmth, but are each marred by the chill of winter.
This record's tapestry is woven with deft precision: the pair's voices mingle in the mournful, close-clipped harmonies they've perfected over 15 years of recording together, and their guitars interlace in amber-tinted, intricate patterns.
The Harrow and The Harvest is full of all of the richness and hollow longing of 8 years' slow growing (their last release under the Gillian Welch moniker was Soul Journey, in June 2003), as well as the pain and frustration of month-long bouts of writers' block.
Endless images of ripeness come face-to-face with bones in the river, hollow hills and cups full of tears.  There's an overwhelming sense of time lost, especially on 'Dark Turn of Mind.  Others are buying "little baby clothes" to dress their progeny whilst Welch sings of overwhelming loneliness:
"Feeling too lonely / Full as the fruit on the vine / You know some girls are bright as the morning/ And some have a dark turn of mind"
Childhood memories are vividly present and painfully out of reach – the past is a source of pain rather than merry nostalgia, and the slow, unflinching passage of time dominates each of these liquorice-dark, lyrical pieces.
The album artwork is equally worthy of admiration.  It's all mellow fertility: a lit match, a ripe peach, ears of wheat and delicate meadow flowers surround Welch and Rawlings in their country garb.
If you're into letterpress, handmade things and ink, this video will enthrall you:
Welch and Rawlings have a passion for the pre-industrial, and this beautiful, mellow album is as good an advert for such a way of life as FFS has ever encountered.