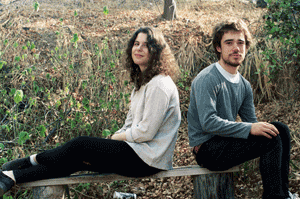 There can't be many bands out there so thoroughly dominated by one man as Avi Buffalo. Then again, there can't be many men like Avigdor Zahner-Isenberg. For a start, he's called Avigdor-Zahner-Isenberg. He's very much the lead singer. In fact he's pretty much the only singer as Avi Buffalo perform at a stuffy, sweltering Brudenell Social Club, with backing vocals almost so sparse as to be non-existent.
He's also lead guitar, a fact driven home by several bone-crunching solos. When he's not playing and singing, he's talking – if you were feeling unkind, you might say babbling, though that would underplay the charm of his monologues. "Have you guys seen the benches outside? All the sitting that's going on out there," he says excitedly at one point. Later he completes another triumphant track and declares: "Okey dokey, smokies!" But then charm bordering on nonsense is exactly what you'd expect from a man who can pull off lines like: "You are tiny and your lips are like little pieces of bacon."
He's also a de facto sound man, messing around with effects pedals and twiddling with knobs at any tiny juncture he can find. He's warm, he's funny, he sings sweetly; he says please and thank you and is gracious to his hosts (his mother must be so proud); he also sings songs called 'Five Little Sluts' and 'Summer Cum' (his mother must be so proud). So dominant is his presence, it wouldn't be a huge surprise to find he were somehow squeezing the bass out of that guitar and tapping out the percussion with his feet, one-man band style, with the other three members there simply for show. Occasionally they skulk off set, leaving Avigdor all alone in the limelight, where he was anyway. Naturally he shines on his own, but it's refreshing to note when the others return how deep, how full, how accomplished the sound is. However talented he may be, he can't do it all on his own.
Watching Avi Buffalo live is a thoroughly beguiling experience, as they glide through an hour-long set, flitting from new to old to new again, with their sunny, Long Beach tunes strung together by semi-formed songs, soundscapes and psychedelic musical interludes.
New tracks like 'A Place To Be', 'You're Not Honest All The Time' and 'Sleeping On The Floor' suggest they may have a second album in them every bit as impressive as their first. But it's when they lose themselves in their encore rendition of ' Remember Last Time', an eight-minute monster even on the album but here extended to epic proportions, that you can stand back open-mouthed and revel in the sound of four monstrously talented musicians.
Ali Mason