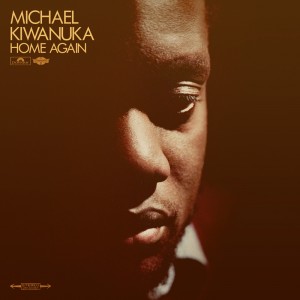 Debut albums always represent the end of a long journey for any artist. Hopefully the beginning of one too, but definitely an ending – a point at which they have realised a long held dream and compiled that defining first collection. Rarely, though, has a listener come full circle by the time the debut disc drops. But that, somehow, is where I've managed to get to with Michael Kiwanuka. The full story is told through our archive of reviews here on the site, from a first breathless heralding of the Tell Me A Tale EP to the doubts that set in with the Home Again EP and then the uncertain road back via a live show in Leeds.
I worried whether Kiwanuka could live up to the mind-boggling standards he set himself so early on. But now that Home Again the album has arrived I can rest easy. Very easy in the relaxing embrace of Kiwanuka's welcoming style. The 24-year-old Londoner has delivered an album beyond his tender years. We can trot out again, for anyone catching up, the obvious comparisons to Bill Withers, Terry Callier et al, and mention that this record sounds like it might have come out 40 years ago. But that is all old news now. The headlines now are that Kiwanuka has filled in the gaps around his handful of singles with a warm, rich album that could just as easily be described as timeless than as living in the past.
'Tell Me A Tale', the addictive flute-driven opener that bewitched us in the first place, weaves its magic once more to draw us in. Kiwanuka himself has admitted this song is not quite in his own comfort zone, but it serves to set the tone perfectly. The pace slows for most of the rest of the record, but the mood is still of breezy optimism as Kiwanuka sings hopefully of things to come.
In the whirlwind months since Tell Me A Tale first arrived, Kiwanuka has found himself swept up in a see of hype and tipped for future greatness. We can't predict the future, but we can say he's already delivered on the early promise and set himself a foundation to go on. The first journey is complete, but the road stretches out before him.