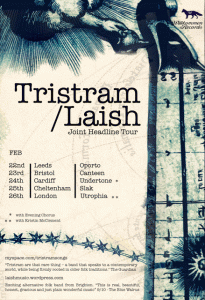 It's no secret that FFS are stonking great big fans of Tristram.  Of course we are.  The man makes the most heart-searing noises with his bare mouth.  We liked his 'Someone Told Me a Poem' EP so much we raved on about it here (especially worth a read for our pal Anika's excellent video.  Best use of felt tips Oscar heading your way, Ms. Mottershaw).
It's also no secret that we're fans of the Wilkommen collective.  Evidence here, here and here.  Willkommen's newest act Laish's album, The Love Written Down, came out in 2010, and it's a right stunner.  You can download a freebie track about daddies and sewing here, which'll most likely secure your admiration enough to make this list of tour dates extremely interesting:
22nd February: Leeds – Oporto
23rd  February: Bristol – Canteen
24th February   Cardiff – Undertone
25th   February Cheltenham – Slak
26th   February London – Utrophia
FFS'll be heading to the London gig because
a) Utrophia's an old ice cream factory that's now a performance space,
b) Wilkommen member Kristin McClement's joining Tristram and Laish for this night of the tour and
c) there'll also be a free art exhibition for you to peruse up until 9pm in the same space.  Details here.
There you have it.  Get a ticket, and guarantee yourself an evening of aural joy.