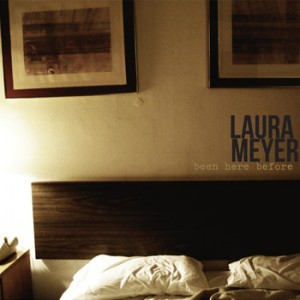 Laura Meyer's Been Here Before is an evenly-paced album of the contemporary blues ilk. It has many enjoyable moments, but fails to gather critical mass to ensure that it becomes a staple of this author's rotation for the coming months. Ms. Meyer's most notable successes on the album come when she blends her velvety, powerful voice with a bright, clean, almost corrosive electric guitar. This theme is evident both in introspective, plucking songs, as well as bigger, feedback-laced anthems, and indeed, they constitute many of the bright spots on the album.
The first two tracks, 'Been Here Before' and 'Motel Room Blues #1,' are thoughtfully paired. 'Been Here Before' is a strong opener, with just the right "wipe the sleep from your eyes" feel. 'Motel Room Blues #1' then provides an ideal second punch as a one of the biggest, grittiest tracks on the album. Though 'Motel Room Blues #1' placement is wise, and there is ample raw material for it to be a truly cathartic song, it does not capitalize on a few key opportunities. There is a great guitar tone used in some of the interludes that would make for a superb solo, and a great deal more volume from the drums could really leave the listener in a blissful stupor. The energy that is slightly absent on 'Motel Room Blues #1,' does make an appearance later in the album on 'Fake.' The energy is there, but it comes at a less crucial moment.
Been Here Before also teaches us that Laura Meyer is quite adept at creating interludes that a just right for the inner space of her songs. She uses tasteful, brief melodies and additional instrumentation for times of rest is her work.
Overall, Been Here Before shows off a few of Laura Meyer's solid abilities. The desire to keep the album straightforward and to the point is admirable, but it would be great to hear a few more ambitious tracks.
Words by Pablo Quesada