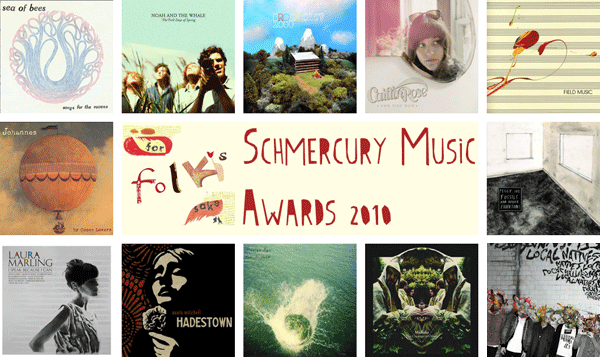 Not one to be left out of all this Mercury spoofing, FFS is delighted to announce this year's Schmercury Awards shortlist. We had such a hard time whittling all the fantastic albums released this year down to just 12 that we had to have a sit down with some tea and Belle & Sebastian to calm our nerves. However, it is done, and here – in alphabetical order – are our finalists.
Like last year — when The Leisure Society's debut album The Sleeper won the first FFS Schmercury Poll after a battle with Camera Obscura's My Maudlin Career — we've refused to be constrained by geography as the Mercury Prize is, and so this list features our favourite records from around the world.
Have yourselves a listen, and then vote for your pick of the bunch below (you can vote once a day, if you're keen). But whichever wins, know that we recommend all of these records very highly indeed and urge you to seek out the ones you haven't heard. Because there're few things nicer than discovering another brilliant album.
[polldaddy poll=3586532]