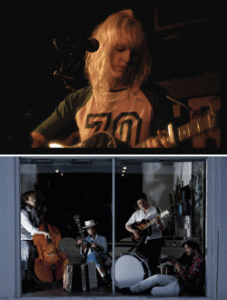 It's no secret that Laura Marling and Mumford & Sons are, well, rather good chums, so in some ways it seems a miracle that this is the first time we have the pleasure of telling you about a full-blown collaboration between the two acts.  Such a pleasure is indeed ours though, as they've joined together and enlisted the help of Rajasthani musicians The Dharohar Project to bring us a new EP, released through iTunes on 5th July.
Recording took place in December 2009 during the artists' tour of India, which saw them travelling across the country as part of the British Council's Soundpad project.  The gang of musicians took up residence in a makeshift studio at a Delhi arts and culture school to record 4 songs: one from each of the English artists ('Devil's Spoke' and 'To Darkness) and two collaborations based on Indian work.
The release has been scheduled to coincide with live performances by the collective at London's Roundhouse as part of the iTunes festival on 9th July, where lucky competition winners will have the chance to hear this fusion first-hand (click here if you'd quite like a chance yourself).  Tickets are also available for the Bradford show, taking place at St George's Hall on 12th July.  Quite a hot ticket, we imagine.
Here's a rather stunning trailer of sorts, to get your ears in the mood:
Words: Helen True