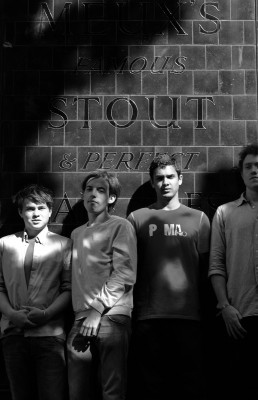 FFS is jolly excited to be able to bring the first peep at Bombay Bicycle Club's live video for 'My God', a song from their forthcoming acoustic album, Flaws.
The North London four-piece have put together a beautiful collection of intricate guitar-led folk songs, which features a cover of the John Martyn track 'Fairytale Lullaby'. It's a step away from the NME's new band of the year's earlier indie-rock releases. And a step towards folk's a step in the right direction in FFS's book.
BBC frontman Jack Steadman is no stranger to the gentler side of popular music; he grew up listening to his Dad's Neil Young, Joni Mitchell, John Martyn and Nick Drake records and describes the first time he heard Harry Smith's Anthology of American Folk Music as a "huge moment".
Check out the rather lovely live performance of 'My God', below.
Flaws will be releases on 12th July. Bombay Bicycle Club are about to embark on a UK tour. For more details see their Myspace.
*other strongly-flavoured triangular crisps are available, although we can't think of any offhand.