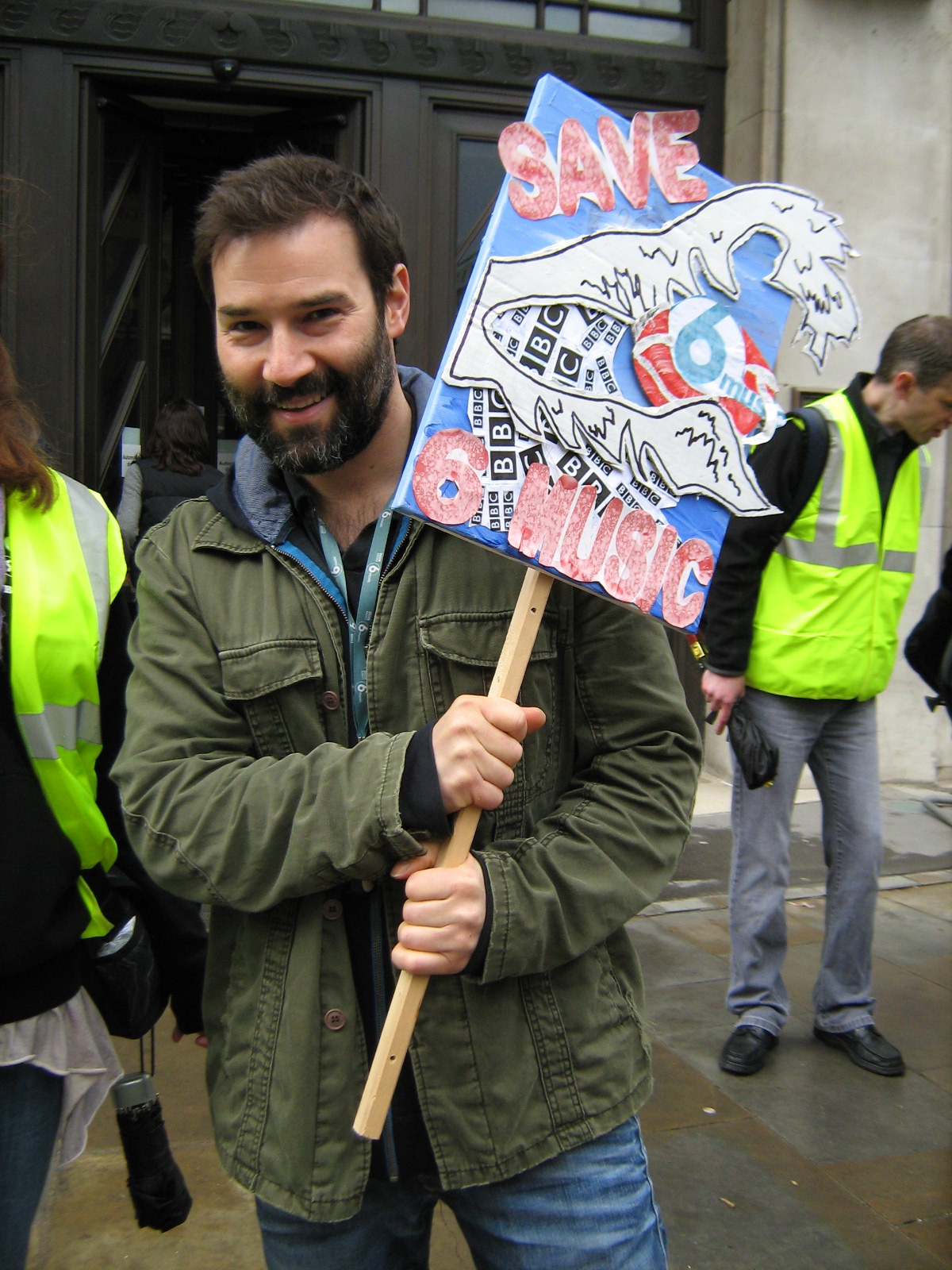 Listeners, DJs and musicians braved the soggy weather today to protest against the proposed closure of 6music outside Broadcasting House in London's Portland Place.
DJs Lauren Laverne, Tom Robinson, Liz Kershaw, Andy Kershaw, Gideon Coe, Andrew Collins and Adam Buxton were in attendance as well as musicians Emmy the Great, Mirrorkicks, MJ Hibbett and Maximo Park keyboard player Lukas Wooller.
Buxton, of Adam & Joe fame, started the inspired chant:
"What do we want?"
"Leave us alone"
"When do we want it?"
"For a long time!"
He told FFS: "I think people listen to 6music in a different way than other radio stations. I think other radio stations are fine — you know people have Radio 1 on in the background while they're doing their painting and decorating and murdering — but I think people that listen to 6music it becomes part of their lives in quite a fundamental way. In a way that actually means something to them. I think it's more than just background music it's more than just something you have on when you're doing other things."
We had a chat with some of the protesters. Here's what they had to say: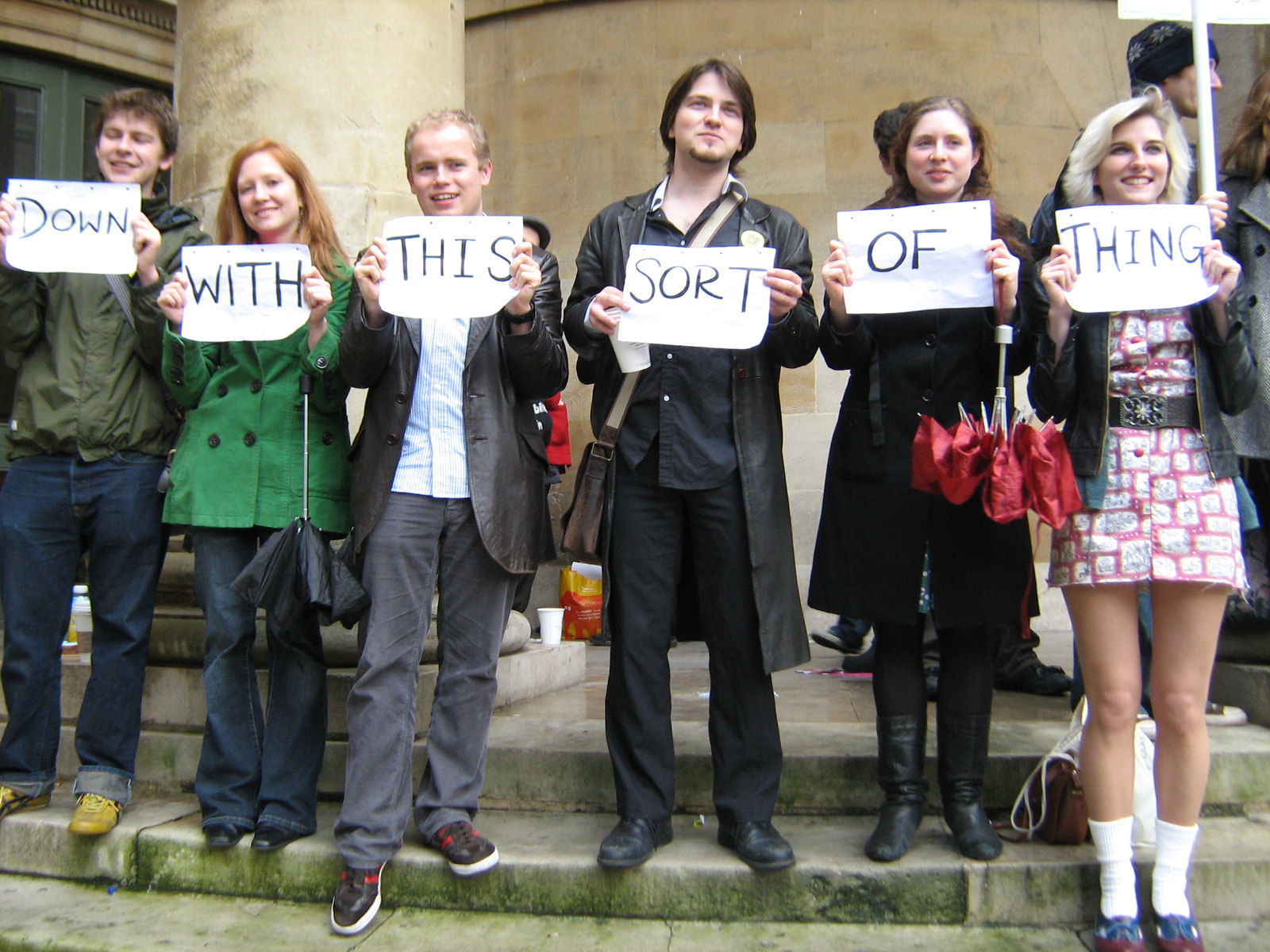 Malcolm, Liv, Mike, Chris, Liv and Bryony: "We're here because we want 6music to stay open and we don't want the BBC to waste money on rubbish like 'Snog Marry Avoid' when the most innovative and genuinely exciting new music station is about to be closed down for rubbish reasons. So we're expressing our middle class frustrations as fully-paid up licence fee payers.  We object to the wonderful service being taken away."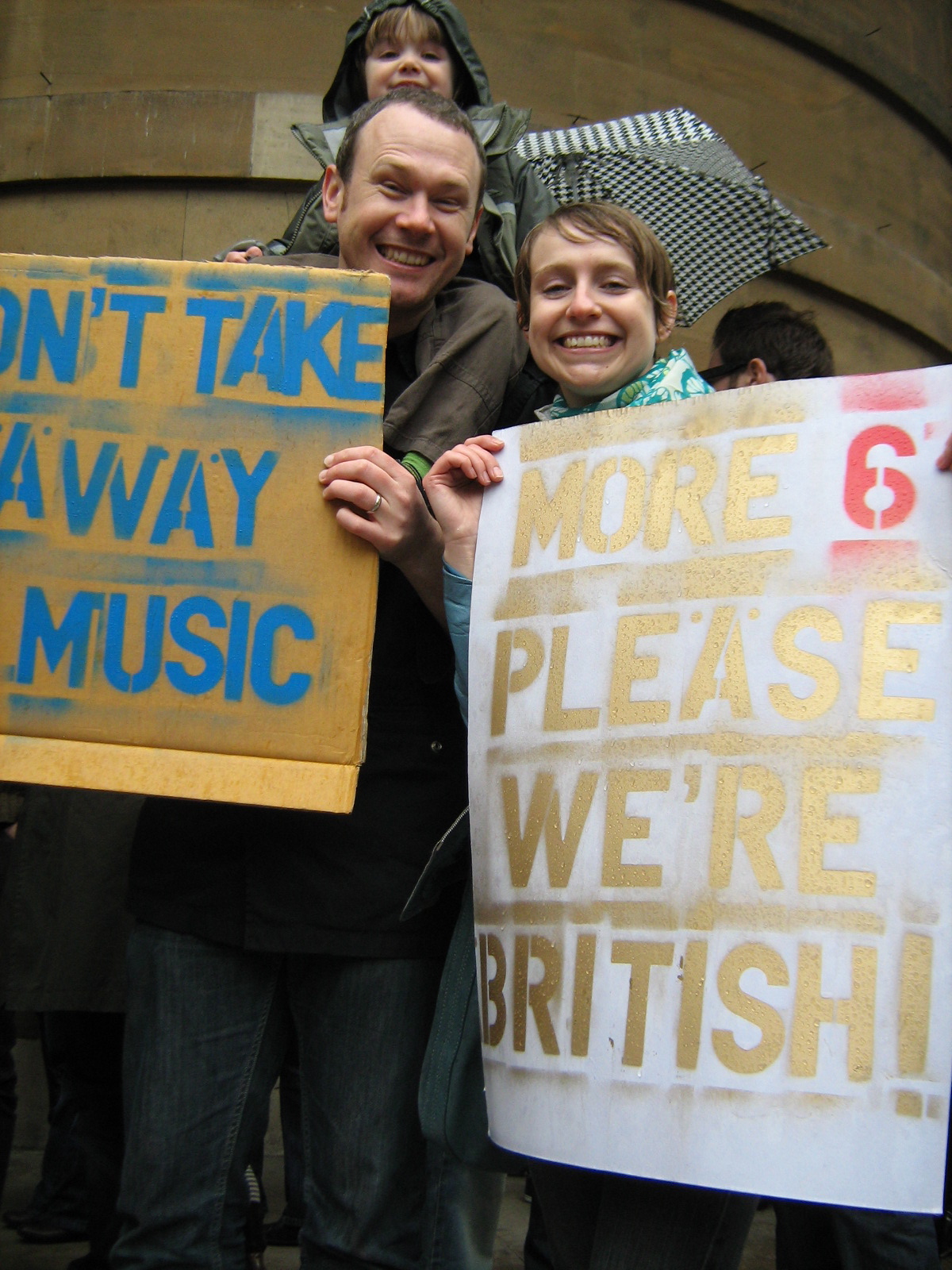 Euan, Ollie and Nicky Taylor — Nicky: "It's a really fantastic station, we have it on all day, first thing in the morning the radio goes on. We love it." Euan: "There's such a variety It's the only place to go for new music." Nicky: "We like Mumford and Sons don't we Ollie? I don't know where we'd find new music otherwise. The DJs are fantastic, they're so knowledgeable. Euan was in Tokyo at one point and he sent a text in to Nemone's show knowing I'd be listening and I heard it at home."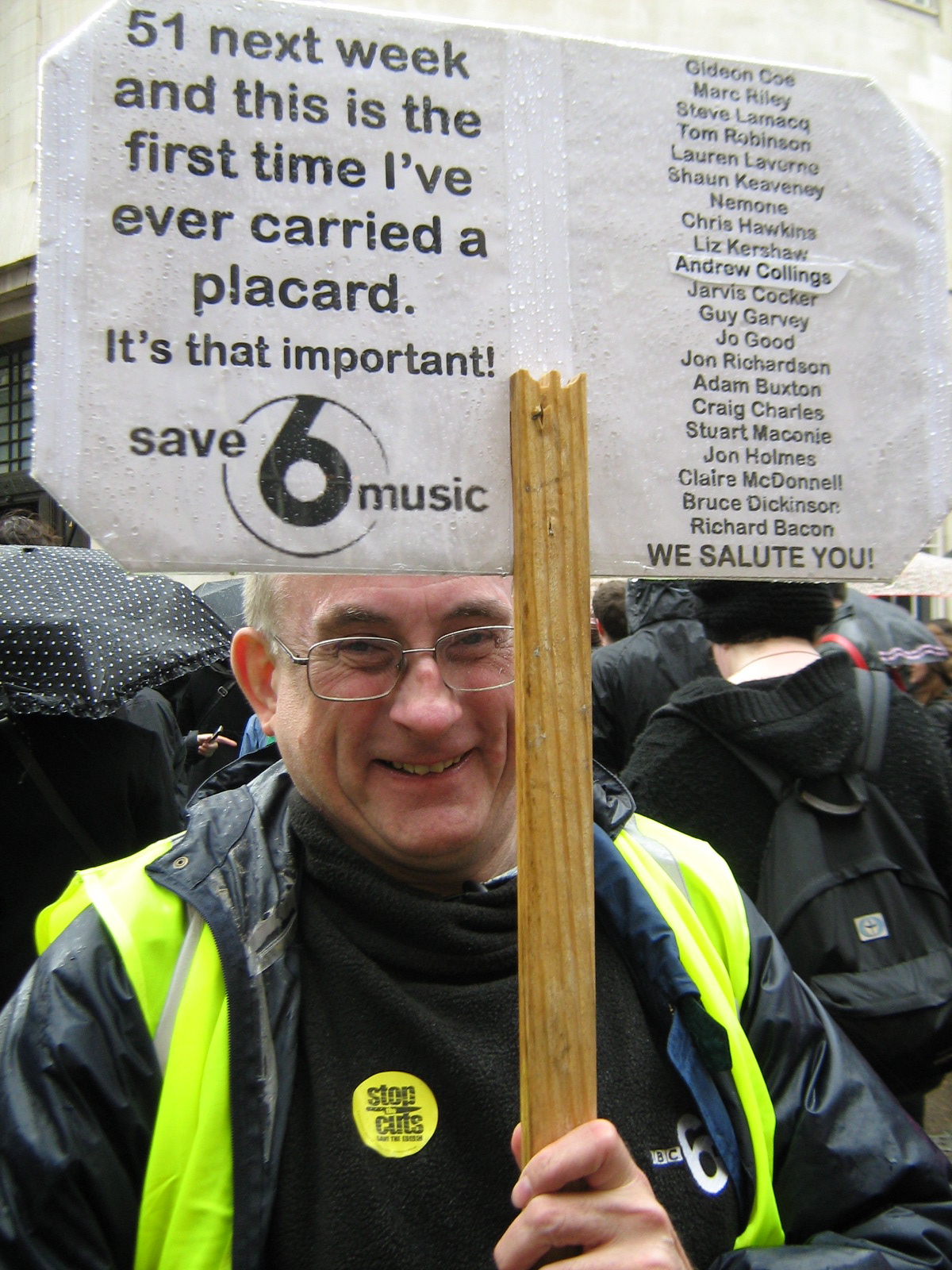 Martin Clark from Doncaster in South Yorkshire:  "6music is the only station where I discover new music and at my age I do like to discover new music. there's no other radio station either commercial or on the BBC that does it. If it closed down I probably wouldn't hear any new music."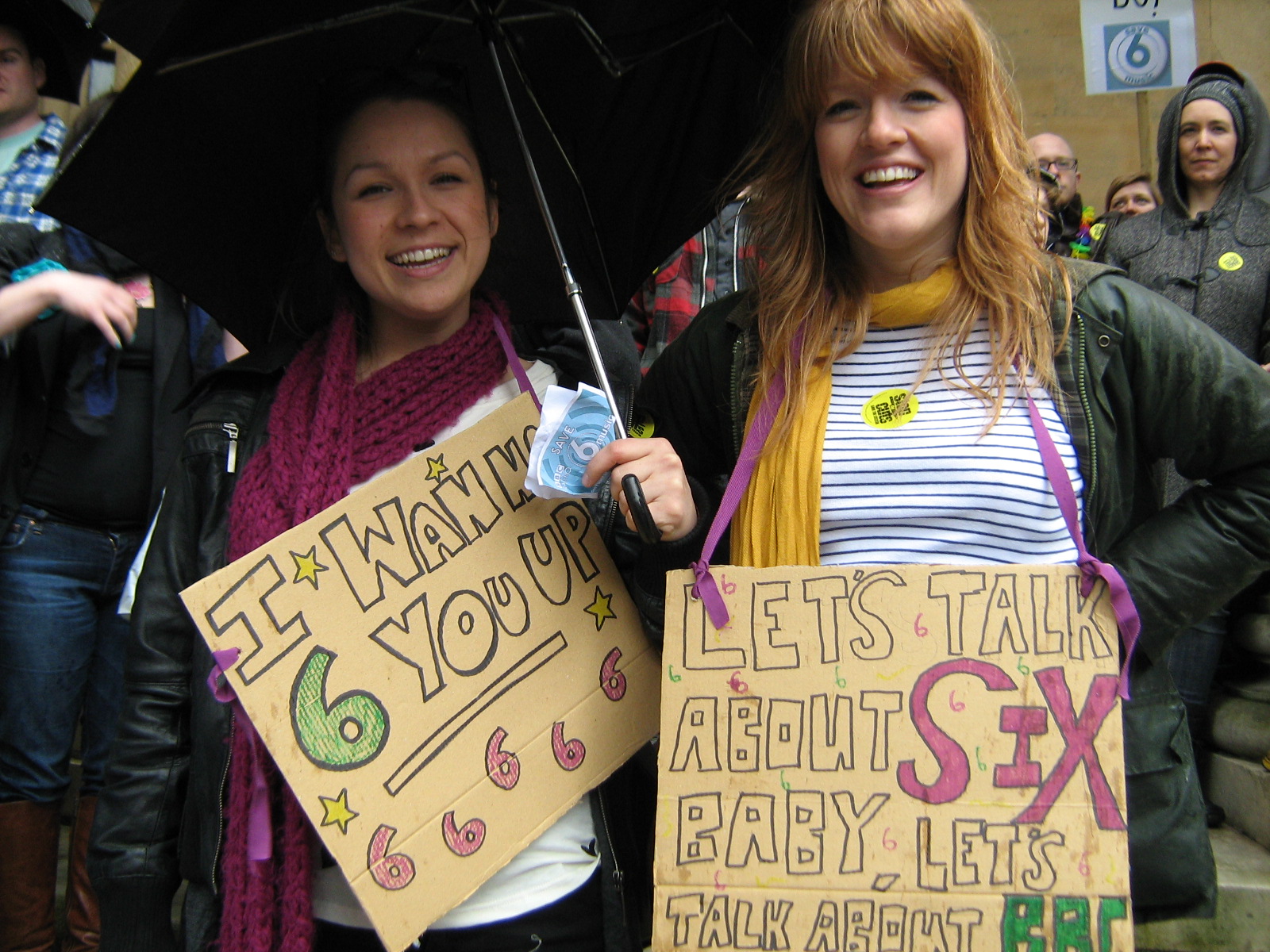 Sarah and Elsie. Jamie (their friend, not pictured) says: "We listen to it because of the new music, it exposes us to new music that we wouldn't ordinarily get a chance to listen to. The BBC is in a unique position where it doesn't have to buckle to commercial pressure and there's not an opportunity for new music to get out there otherwise."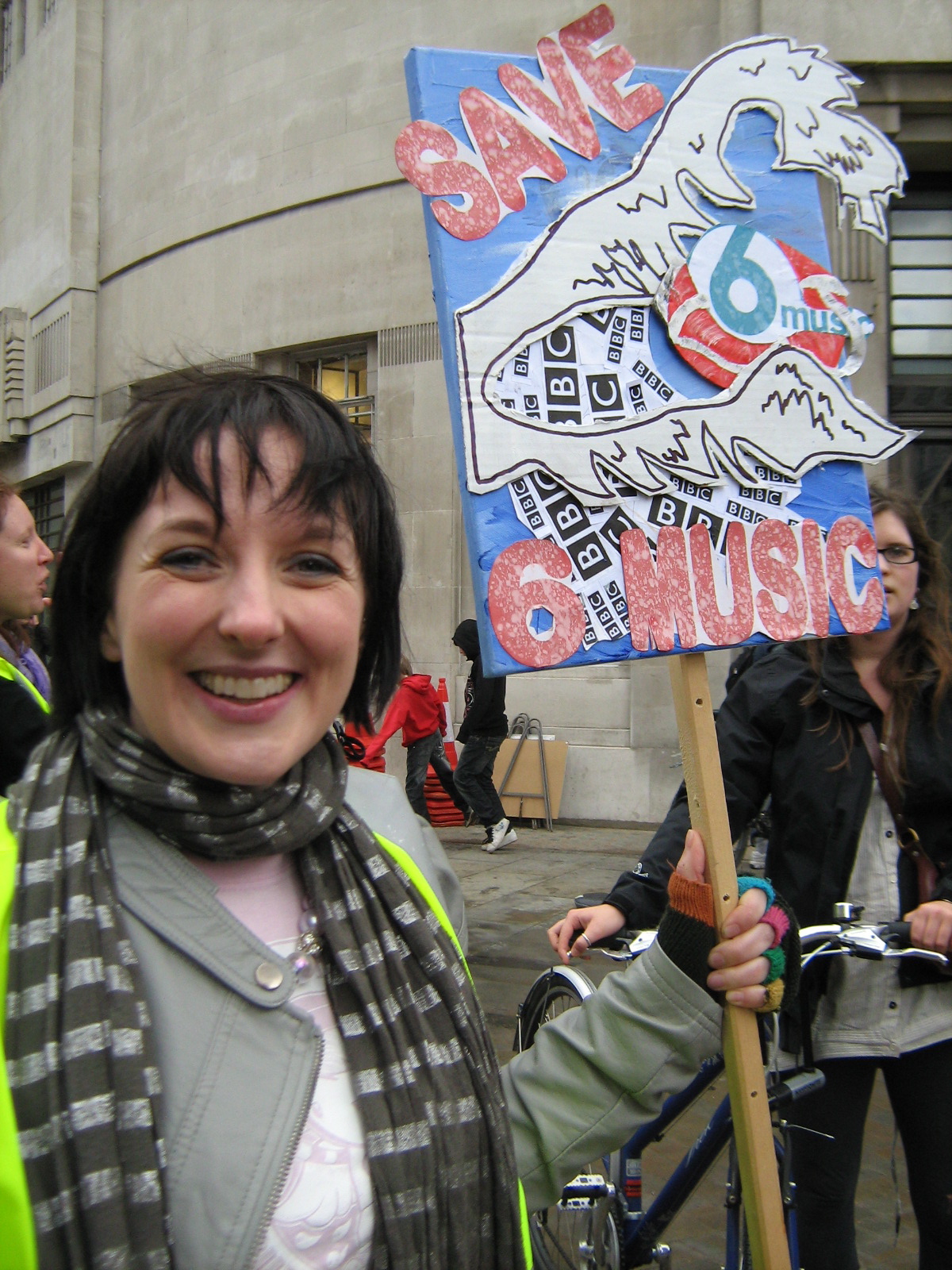 Elly from Leeds: "6music is passionate about tunes and passionate about new music. Big labels get on playlists but small indie labels won't get the exposure that they need elsewhere and how are we going to get new music if we don't have the BBC, which is supposed to be a public service broadcaster, supporting it."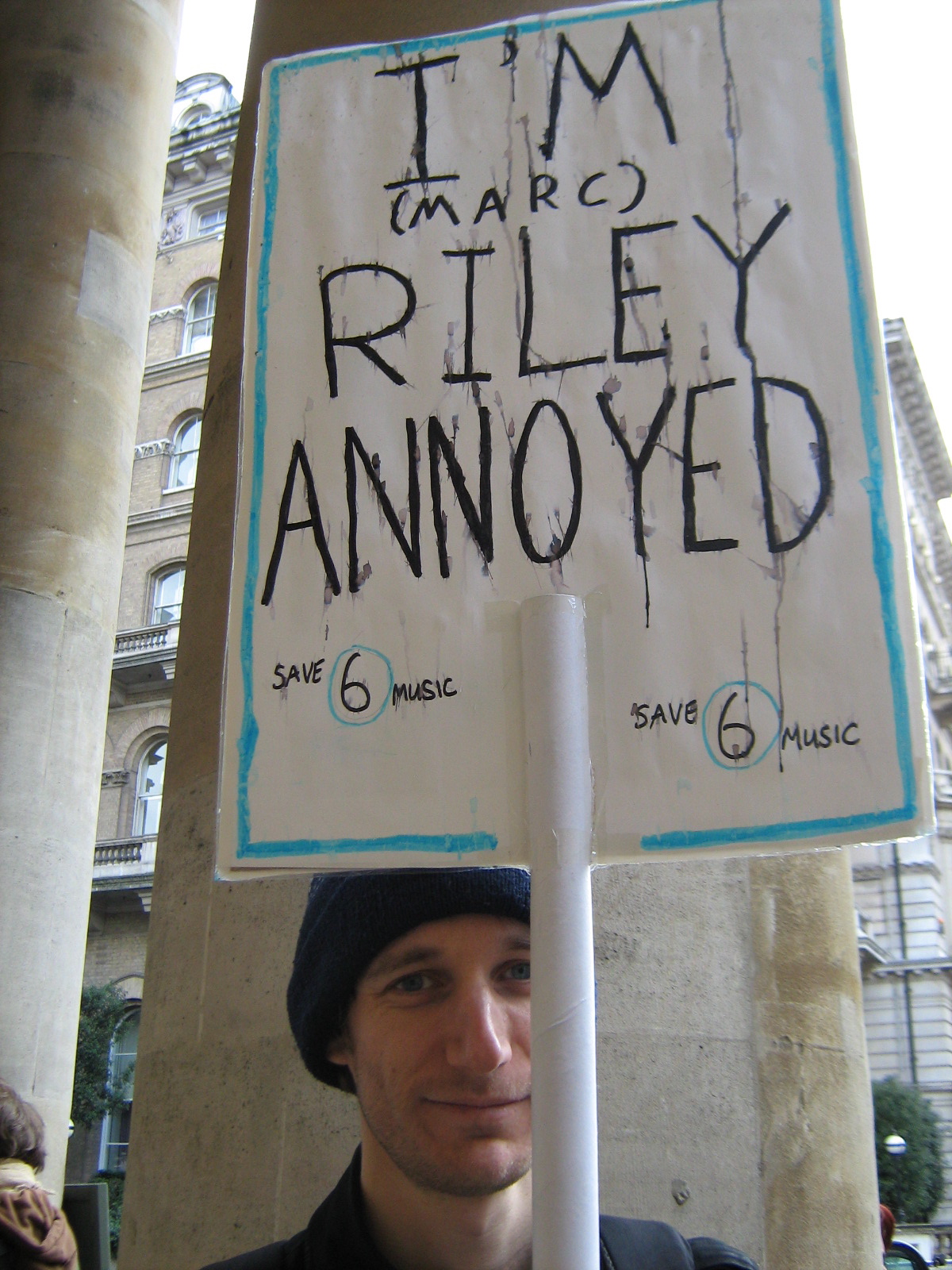 Paul: "I think it might be saved — there are a lot of people supporting it, but I'm not sure about the politics behind it. I tend to love the more niche programs in the evening like Stuart Maconie's Freak Show — which has really unusual stuff on it that you wouldn't hear on any other radio station on the BBC or on commercial radio."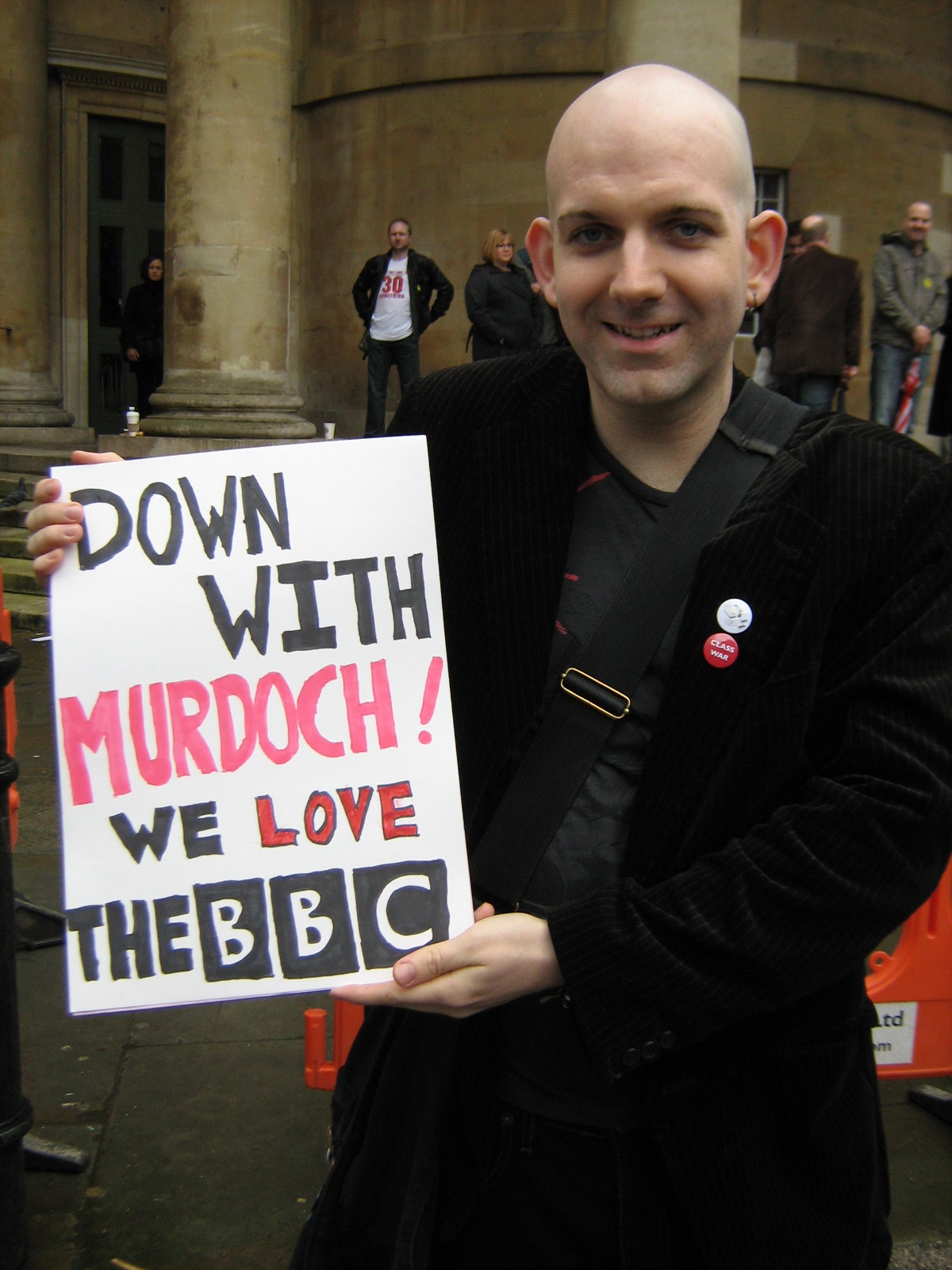 Chris: "I love 6music because it's unique, there is literally nothing else like it on the radio the variety of music and the type DJs. To be able to go from Pink Floyd to Craig Charles' soul show in the space of 5 minutes is just astonishing. It seems extraordinary that they want to merge 6music and Radio 2. Radio2 is a station for a completely different audience. It's for middle-of-the-road grown up music, which is perfectly valid, but it's just not 6music and I think it shows how out of touch the BBC is with how deeply passionate people are for this station.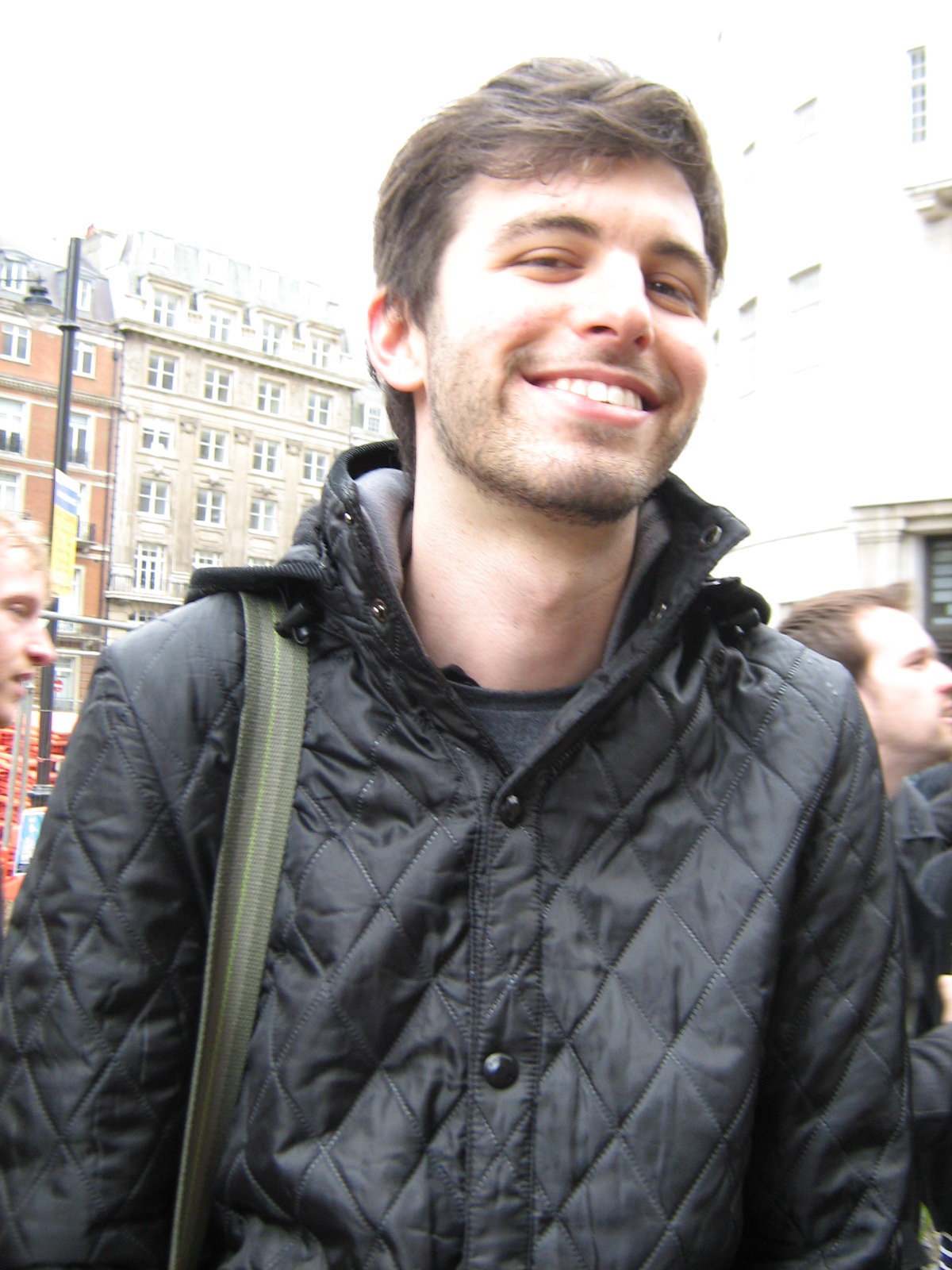 Andrew: "6music is the embodiment of the BBC's public service remit. It's going to take away a really valuable resource for new acts that otherwise would have no recourse to listenership."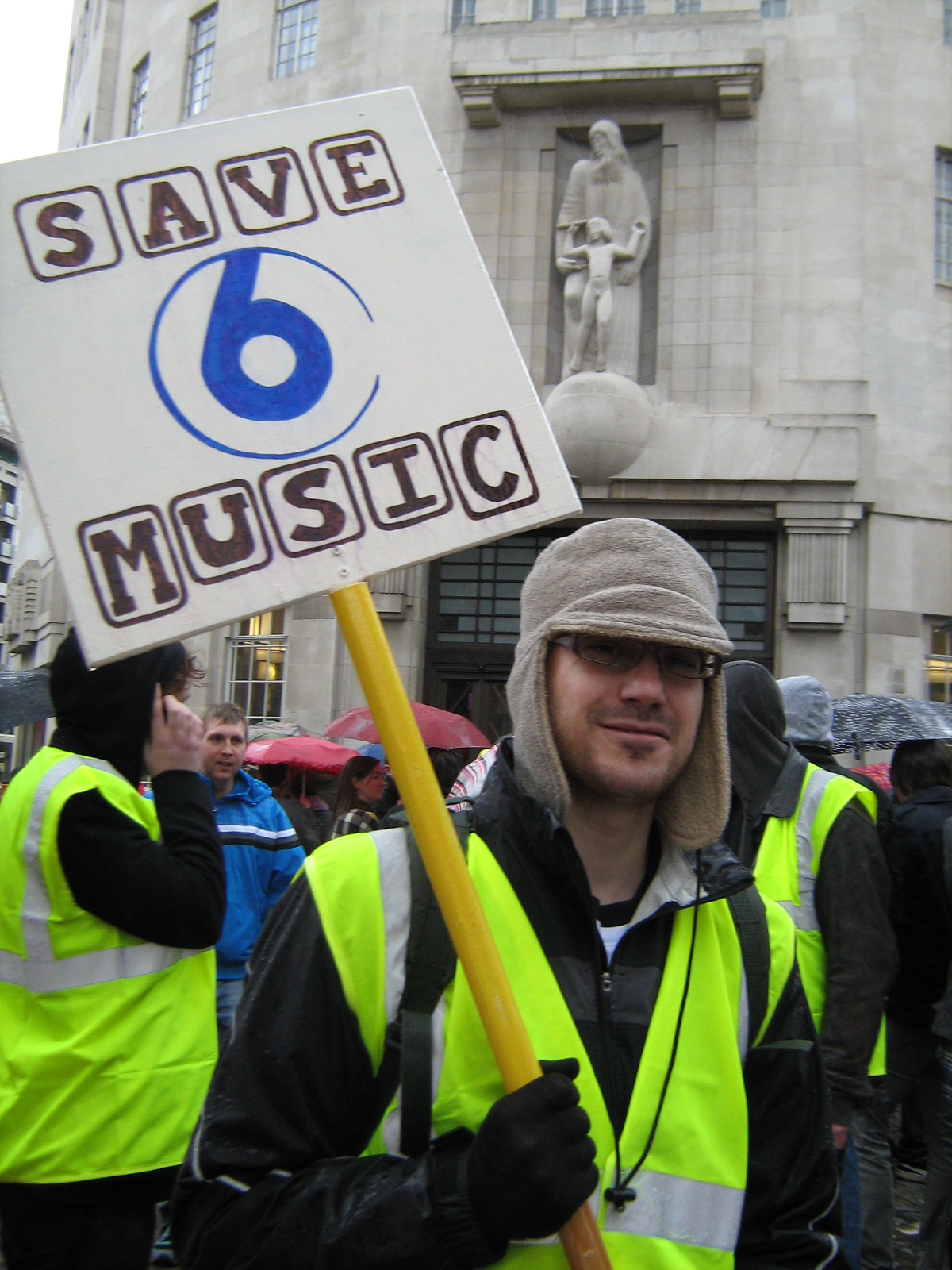 Kester: "I'm here cos I believe in 6music. I like pretty much everything about it. I've moved from London to the countryside and now 6music is the only option. It far outstrips any other radio station."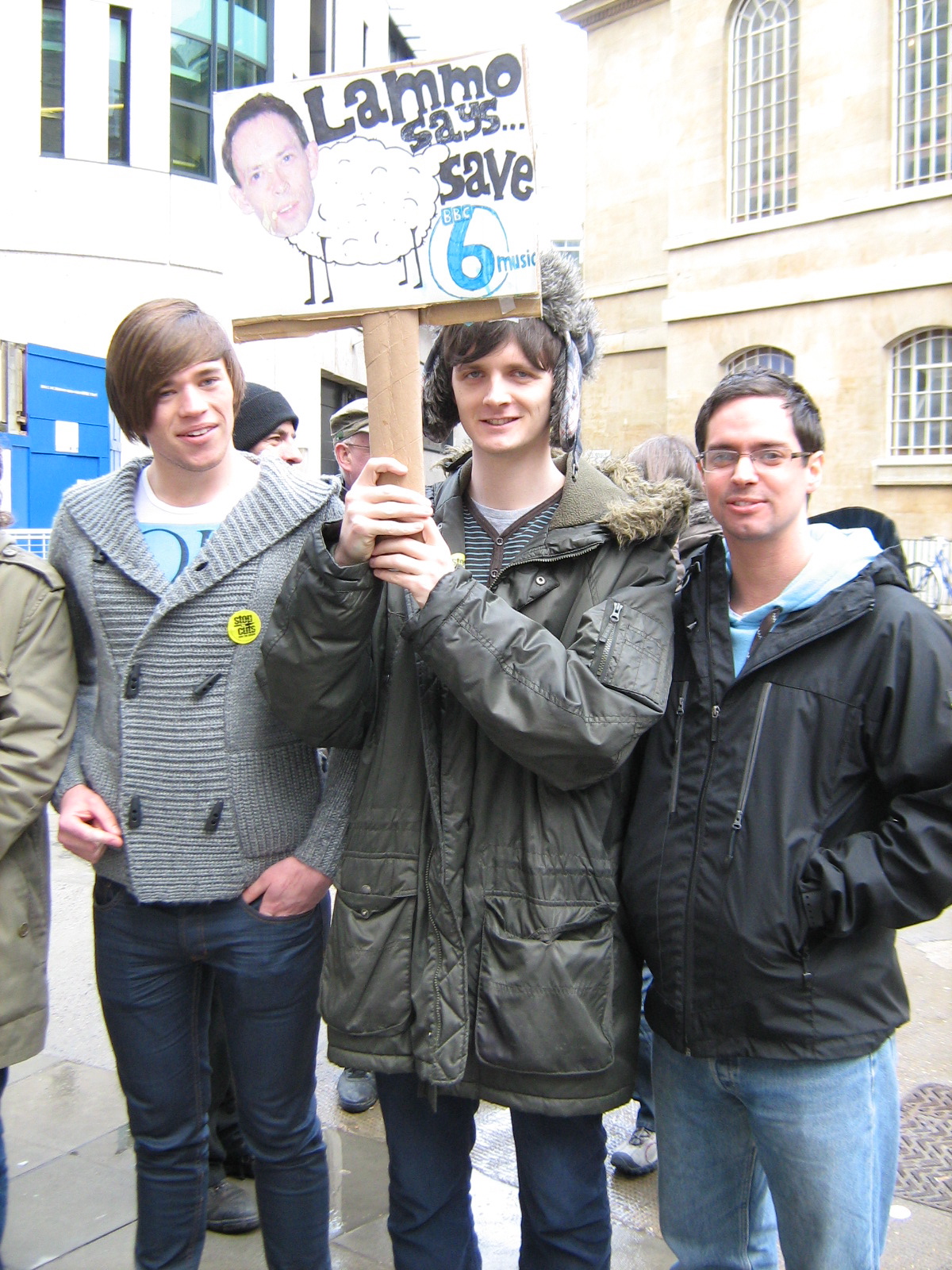 Steve (centre): "The BBC say it's too similar to Radio 1 and Radio 2 but that's just not the case. There are bands I wouldn't have heard of otherwise and once you've heard them on six, you buy the albums and support the artists."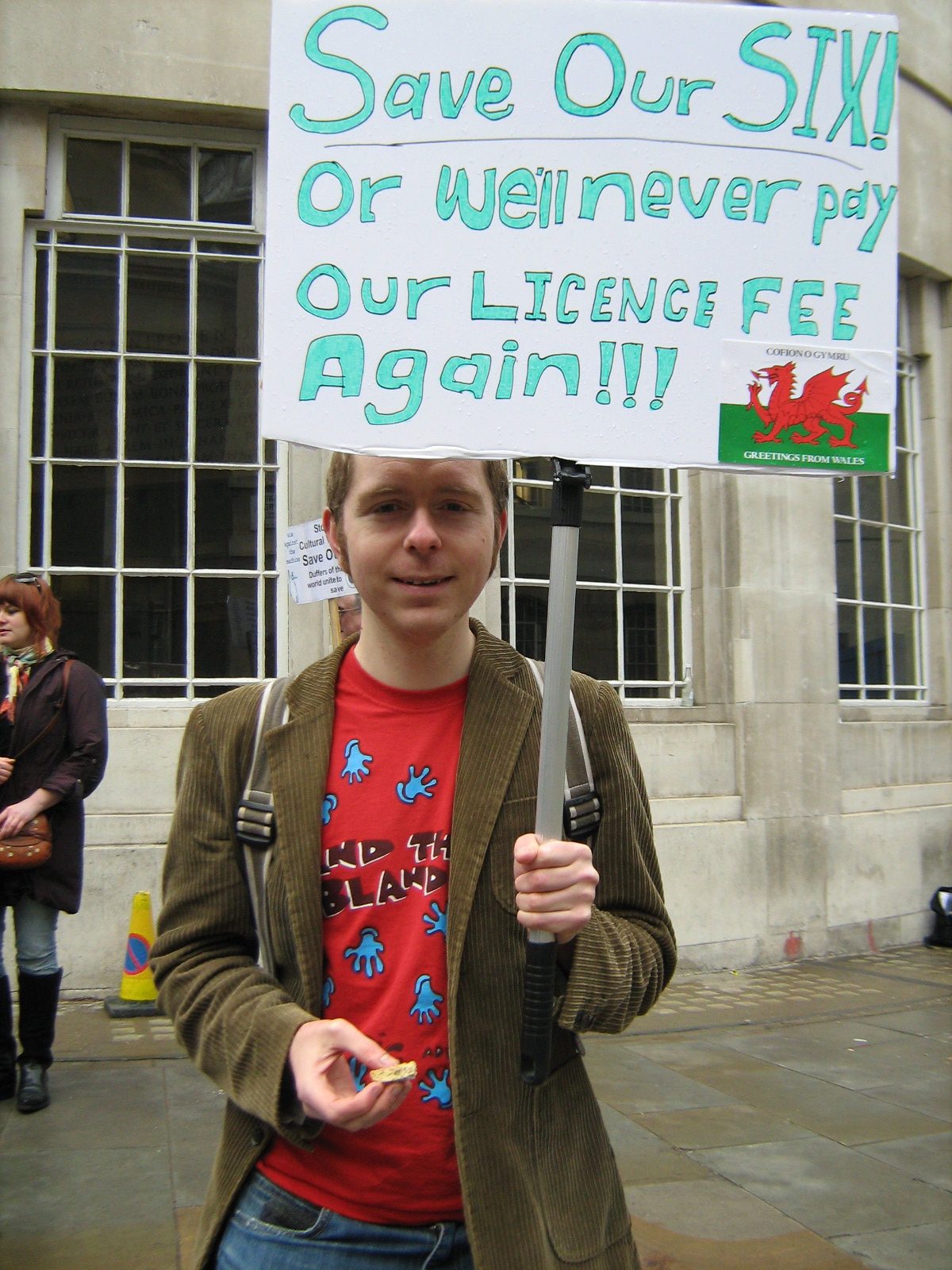 Glyn from Cardiff: "I think the range of music is amazing. I like the Freak Zone and Craig Charles and I have it on all day at work."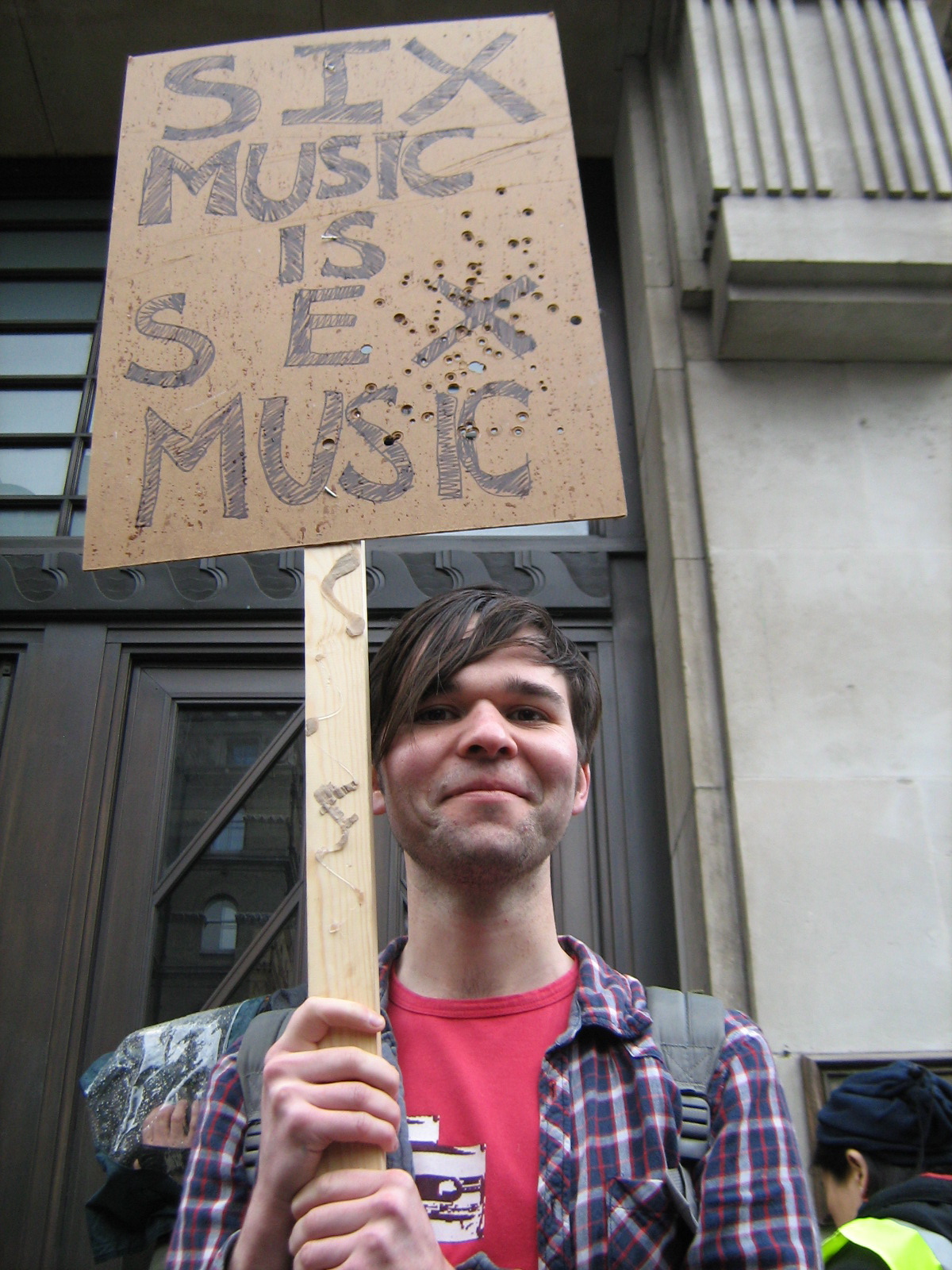 Matt: "I'm here because I listen to 6music from the minute I wake up to the minute I go to bed. If I have to wake up without Shaun Keavney's show I won't want to wake up."
If you're pictured above and have a website you'd like us to link to (or we've spelt your name wrong) please get in touch!