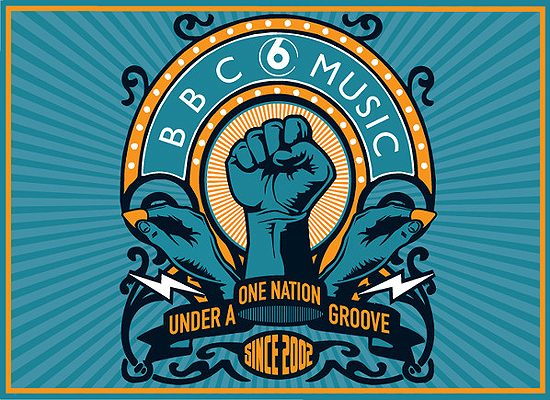 We asked you to CC us in on your letters to the BBC trustees about the proposed closure of BBC 6music. We've collected them here.
Remember to email the BBC Trustees at [email protected] to tell them what you think of their decision and keep your DAB radio tuned to six, or listen live on iPlayer.
If you'd like to add your email please copy and paste it into the comments below. It's amazing to see how many articulate, passionate music lovers are writing to the BBC. And this'll just be a smattering. Keep it up!
We'll not be having this. Oh no.
---
Dear BBC trustees,
I am appalled at your decision to close BBC 6 Music. It is the only station that caters for music lovers who are interested in a wider variety of music than the narrow, (and regularly manipulated) chart driven alternatives. I believe that it is also the only radio station that adequately caters for the 25-35 year old demographic which is neglected by your other stations. I thoroughly enjoy the programming, almost without fail I will discover a new band or exciting new track every day and it is exactly this kind of output that the BBC needs if it want to remain the world class service that it was, until today. I would be upset and angry that its loss was to concentrate on other priorities, especially when "Ambitious UK drama and comedy" will likely translate as yet another series of "Two Pints", or a clone of that god awful "My Family" program or worse still "Coming of age"! If you are truly looking for programming that Inspires knowledge, music and culture look no further, you already have it.
BBC 6 Music is the only station worth owning a DAB radio for and I cannot believe that you cannot make these savings elsewhere. I know you are all scared the Tories might get in, but that hardly an excuse for doing Murdoch's dirty work for him before we even get to vote on it . Do you think if the shoe was on the other foot he would be sticking his hand in his pocket to help the BBC? No, Nor do I. Yet the BBC trustees seem to feel that because it is state funded it is duty bound to commit hara-kiri to ensure the license payer has a myriad of "commercial alternatives" even if those commercial alternatives have appalling program schedules . With that kind of mind set it is inevitable that one day we will be left without a BBC at all, and the seed will have been planted here.
Please, make the right decision and keep BBC 6 Music
Yours
Phil Slack
---
SAVE OUR SIX!!
Is this bastion of creativity now considered 'dead wood'? To be chopped away leaving what I ask? Is there another station which boasts such talents as Guy Garvey, Lauren Laverne, Stewart Maconie, Jarvis Cocker, Steve Lamaq and Marc Riley? And these are only the DJs. It has become apparent that some at the BEEB consider nurturing new talent and creativity is no longer as relevant as the end of year report – well 'grab that stash and make a dash' Auntie, the accountant will love you but your fans will not.
Mr G
---
Dear Sir/Madam
I've never written a letter to save anything in my life before but suitably outraged by the decision to close 6 Music I felt moved to write.
This channel is unique in its output, it broadcasts quality programming by music lovers for music lovers. The thought and attention to detail that goes into it is second to none. The diversity of music is superb. Compare that to the lazy, formulaic and repetitive output that the flagship station, Radio 1, produces and there really is no excuse. If this station cost 10 times what it does to run it would still provide better value for money than many other offerings from the BBC. The BBC is not a commercial enterprise, it does not need to sell-out, or cater exclusively for the masses who are happy with weak programming – usually because they are too lazy to seek out something slightly outwith the mainstream.
The article I was just reading on your website (here: http://news.bbc.co.uk/1/hi/entertainment/8544150.stm), claimed the following 5 priorities:
1. The best journalism in the world
2. Inspiring knowledge, music and culture
3. Ambitious UK drama and comedy
4. Outstanding children's content
5. Events that bring communities and the nation together
Point 2 sticks out in this context. With the possible exception of Radio 3 for the classical fans, can you point me to a BBC station that "inspires music"? Indeed, even a commercial station that does?
The world of radio in which the great John Peel grew up and made his own has gone, a station like this is needed to nurture the next one.
Thanks,
Kevin
---
Hello,
I'm so sad the decision has been made to close 6music. I discovered 6music through a close friend who educated me on what real music is. 6music is so great that I have continued to pass on my education of music to everyone around me because of 6 music. My Aussie boyfriend loves 6music!!!
I genuinely don't know what I am going to do now!
The BBC are obviously not interested in discovering good music and educating people on new music. They are only interested in profit making!
6music in particular is a fantastic radio station. I discovered it 3 years ago and have not switched off since. Whatever time of the day you get good quality presenters who know what they are talking about and good quality music to follow. Where are the listeners supposed to turn now? BBC Radio 1, I don't think so! BBC Radio 1 is commercial trash which plays the same music too many times over and is not interested in discovering new talent or good music. The presenters are egotistical, especially Chris Moyles, who is really not pleasant to wake up to in the morning!!
I certainly want to appeal to the BBC's decision to axe 6music and as a license payer I believe I have the right! I certainly want to make sure my money goes on decent radio.
Andrea Tomlinson
---
Dear sirs,
I would like to express my displeasure at your decision to axe the 6 Music DAB station. It is by far the most diverse music-based station on DAB, and couples this with an entertaining and knowledgeable rostor of DJs. Speaking as a 22 year old graduate from London, I can also inform you that the station is immensely popular amongst my peers, many of whom I am sure will be corresponding with you in a similar vein. It has been quoted in the press that the chairman of the BBC Trust chairman, Sir Michael Lyons, will listen to a large enough public backlash against the proposed closure. Please consider this one vote for the dissenters.
Yours sincerely,
Luke Crimmens
---
Dear BBC Trust,
I'm most distraught about the recommendation to axe BBC 6Music and feel I wish complain about this in the strongest possible terms.
I've listened to 6Music from day one and for me its the best music radio station on the air, bar none. The only reason listening figures aren't high compared to say, Radio1, is that not everyone has a Portable DAB radio yet – it takes time. If 6Music ALSO broadcast in FM I'm sure weekly listening figures would soon be into the millions. 6Music has got the best mix of contemporary, vintage, live sessions… too many to mention. The presenters are top-notch, many musicians themselves. Top quality music, brilliant sound quality and no commercials!
I'm sure there are many hundreds of thousands if not a million listeners around the world who regularly tune in to 6Music on their computers and aren't counted in the listening figures. This station is flying the flag for Britain introducing new music, classic BBC sessions and fabulous live sessions to everyone in high fidelity quality sound.
PLEASE DO NOT LET THE BBC DO A 'DR.BEECHING' BY AXING THIS WONDERFUL STATION, there is nothing else like it in the world and we need the diversity. Long live 6Music!!!
Yours sincerely
Terry Smith (aged 53)
---
Dear BBC Trust
I am writing to implore you not to close 6 music. 6 is the only station of its kind on the network – a place where new music of many styles gets an airing. I have been to many gigs and bought many independent releases supporting new music and unsigned bands that I would never have heard without 6. My life is richer as a result of the station.
The Breakfast Show is an important part of my day – I listen to it as I walk over an hour to work – and its warmth and great music make it a brilliant hour. On the way home Steve Lamacq introduces new exciting music alongside old faves and Marc Riley always has something to play that I've never heard before but I'm glad I have.
6 music is also full of other more unusual content that is not found on any other station – from the funk show to the freak zone – all of it exposing listeners to exciting quality music that might never be heard otherwise.
6 is the only real BBC content I consume – please listen to license fee payers like me for whom 6 music is the best of the BBC and don't close it.
Yours faithfully, Isabelle Davies
---
Dear BBC Trustees,
I would just like to register my dismay at the proposal to shutdown 6Music, I can only assume that you are not aware of its true value, which is a shame. It also brings into question why you are trustees if you are unable to appreciate what you have. It is being placed above daytime terriblevision and BBC3 when, for quality new and old music, it stands head and shoulders above Radios 1 and 2 and the commercial sector.
I would urge you to reconsider or pehaps you could refund the money I've paid out on DAB radios simply to be able to listen to 6music?
You should be ashamed of yourselves.
Regards.
Darcy
---
I am writing to protest at the proposed closure of 6music. As a licence fee payer I feel I have the right to object to this decision in the strongest terms. I cannot understand how removing this station will improve the quality of the BBC's output, particularly with the huge amount of mainstream dross which seems to be available everywhere. No other radio station provides such a varied and innovative selection of excellent new music. It is the reason I bought a DAB radio.
I used to feel proud of the BBC but now I just feel let down. Please listen to your customers and reconsider.
Paul Kluge
---
Dear BBC Trustees
I wish to lodge my utter dismay at the proposed closure of BBC 6Music. It's the best music station in the United Kingdom by a long, long way and leads the field in radio broadcasting with passionate, innovative presenters and an unparalleled music selection.
The argument that it's purpose is served by commercial radio is frankly laughable and I see no way in which Radio 1 & 2 can begin to match 6Music's playlist while pandering, as I understand they must, to a more general middle-of-the-road audience. I can honestly say that this is a decision I can in no way understand.
It doesn't even appear that the money being saved is for any particular purpose. I strongly believe that this is a decision the BBC will come to regret. 6Music is a station loved by many with a committed, growing audience and this proposal leaves me, and many, many others, sick to the stomach.
I wholeheartedly hope that the swell of support for 6Music changes your mind.
Yours
Tom Sharples
---
Dear Sir
I am writing re the proposed idea of closing 6 music recently highlighted in the press.
I have listened to 6 music avidly since it opened in 2002 and I have to say it is frankly the best radio station I could have ever imagined possible . It is as if someone is playing your music collection back at you over the radio , with the addition of new bands that are finding their feet in the world . This was the role of the late/great John Peel in the 70's, 80's, and 90's by introducing bands that appeared cutting edge at the time but that we look back at now as helping to define an era . These bands are now known world-wide and are indeed part of a thriving music industry that the UK is famed and respected for . If 6 music is lost who will show-case these new bands ? Commercial radio stations cannot take up the reins as , by definition , they cannot afford to to play music that is not tried and tested – hence all we can hear on the radio is the same old pap that we've heard 1000's of times before. In running such an excellent station as 6music the BBC is fulfilling a public service that cannot be replaced by commercial radio and is contributing greatly to the UK's music industry. I think it is also worthy of note that John Peel's show was the only one to run from the conception of Radio1 until his untimely death.
In our house 6music is on from dawn till dusk and I believe is listened to by a weekly audience of 700,000 equally passionate listeners (1%-ish of the population). This with the fairly restrictive media of DAB . In just 8 years 6music has multiplied it's audience several-fold and yet is only known to 20% of the population .So roughly 1 in 20 of people who know about the station listen to it – quite a high ratio I would imagine compared to other radio stations. I imagine most people have heard of Radio3 but I doubt 1 in 20 of them listen to it – ever. Switching 6music off now is a little akin to cancelling the party because you haven't sent out the invitations . Why not give the station a better chance with a FM frequency?
If the BBC hadn't got it so right by setting up what is 6music then the ringing silence when it is switched off wouldn't be so tragic . To switch it off to appease a potential future government is unforgivable.
Steve Justice
Suffolk
---
Subject: Closing 6music
Sir,
I used to hold the BBC up as a shining example of creativity and excellence in a world of pap money-driven commercial stations . When you set up 6music it only reinforced my opinion of excellence.
The news that you want to close the station despite the howls of protest of its 100's of 1000's of passionate listeners has shattered this illusion . It is a spineless decision pandering to the lowest common denominator.
If the BBC is to act in such a manner it is the begining of its demise by abandoning the variety and creativity it once supported.
I for one will be in agreement with any campaign that calls for the scrapping of the licence fee because if the BBC is going to act in such a manner there is no point in its existence – it can be replaced by the mainstream commercial world.
Steve Justice
Suffolk
---
Subject: Proposed Closure of BBC 6 Music
I would like to express my views regarding the proposed closure of BBC 6 Music…
Its so rare in this age of dumbed-down one-size-fits-all media to find a stand out channel. BBC 6 music gives the BBC credibility as a serious music radio broadcaster, it stands alone as a channel freed up from the mainstream, offering decent quality, commercial-free programming, excellent standards of presenting while still having a "cosy" interactive feel. As a long-time listener I believe its Its proposed closure would be a massive mistake for the BBC to make.
I hear the reason is that the audience for 6 music is seen to be too small. I find this suprising and assume it ignores the many people outside the UK who listen online. However if there is a probem with audience numbers I think this is not due to the station itself, but to its low profile.
I think many people either do not know it exists or lack the means to listen to it (e.g. listen to radio in the car, on mobile phone FM receiver etc).
The biggest problem is that many of the people who would enjoy 6 Music are simply not radio listeners at all, believing all music radio to be stuck in the commercial mainstream and preferring instead to listen to their own music collections. I used to fit this category myself and believe that if there is a problem with 6 Music it is that the "right" people just don't know about it – or have heard the name but never listened and don't know how good it really is. I think this is something the BBC needs to address, specifically targeting these people by perhaps increasing 6 Music's profile by association with alternative music TV broadcasts.
I am also sure the publicity generated by the proposed closure gives an opportunity to increase 6 Music's profile and gain new listeners. I think it is important to stress that its an "internet radio service" since DAB radio's are still few and far between (I know from experience that many people think you need a DAB radio to hear stations like 6 music, and assume streaming radio on the internet will be bad quality )
I've been a listener for many years and feel there is a something "cosy" about 6 Music… like an extended family or a special little-known club . While this feels nice, its not so good it that becomes a reason to close the station down… So the family needs to grow…. Please don't go changing anything about 6 Music's programming… just find a way to convince serious music listeners that "not all music radio is rubbish" and tempt them to give 6 a try.
Please don't go ahead with this closure
Thanks
Jason
Brighton
---
Dear Sirs,
I woke up this morning to hear (from 6 music) the appalling news that you have made the somewhat knee-jerk decision to cut the station. It is my personal opinion that this is a really bad decision and that there are whole television channels and there are certainly shows that could withstand these cuts instead.
I am a license payer but currently watch less than 2 hours of television a week. This is not due to poor programming (though I second the opinion that it could be better) but is due to my lifestlye. I work long hours so radio is the only broadcasting I digest and I am extremely grateful for the variety of quality radio the BBC puts out. I am not a fan of bland, mindless pop music and had all but lost interest completely in music until tuning in a year ago. I am now buying and downloading new music and have begun going to gigs since.
6music provides an invaluable service both to artists and music lovers alike – one it has performed admirably for decades now and is a rich part of it's heritage.
I would particularly like to make a defence for Shaun Keaveny's breakfast show which provides a cerebral start to the day without the confrontational assault of the Today programme which I would otherwise listen to, as well as Guy Garvie's Finest Hour, the Adam and Jo show, the fabulous stuff we've had on the Sunday afternoon slot and the documentaries that I regularly listen to using the iplayer and podcasts.
I really think this is misjudged and strongly hope that soemthing with the flavour of 6music will remain.
Regards,
Ellen Stuart
(age 27)
---
I'm very distressed to hear of plans for the closure of BBC 6 Music, and even more distressed to hear the faulty reasoning behind it.
BBC 6 Music really does offer something different. So many other radio stations are really just shades of the same colour – grey. These stations just play a long succession three minute 'chart hits', although even this term is a misnomer today, since we don't really have either charts or hits, just a constant stream of manufactured, and generally short-lived mediocrity.
6 Music has the ability to play the unusual, the rarely heard, the genuine new talent, and both short songs and full-length album tracks. Some artists would never otherwise get airtime, and would otherwise only be heard at home either on vinyl or CD.
If you are going to use the argument of competition with commercial radio, then Radio 1 really is the one to get rid of. I have never listened to it since Matthew Bannister effectively killed it off. He didn't seem to realise that the DJs weren't just people presenting a brand – they were the brand.
Please think again!
Rob Colston
Helensburgh
---
Dear BBC Trustees,
I'm an Australian, I've been working here in the UK for about 6 months now and I plan to stay for at least another couple of years. The only thing that gets me and all my workmates through the day at work is BBC6 MUSIC. When I first came to Scotland, I scanned the radio dial trying to find something decent to listen to and I was horrified at the quality of radio until I stumbled across BBC6. I introduced BBC6 to my workplace overhead radio PA system and everyone agreed, BBC6 is the best radio station in the UK and it's been permanently stuck on BBC6 ever since!
You may not appreciate the variety of music played on BBC6 but I'm sure MILLIONS of others absolutely LOVE it. The variety of music they play is so refreshing. Other commercial radio stations drive everybody NUTS playing the same poor-quality disposable pop music OVER and OVER and OVER… BBC6 play the most interesting mix of music I've ever heard any radio station play anywhere! I really mean that.
If you shut BBC6 MUSIC down, you will be doing the community a BIG MISJUSTICE. If you'd like to shut a radio station down, try one of the plethora of pop music radio stations. Don't we have enough of them already?! Alot of people really love this station and if you take it away from them, I doubt the majority wll switch to another. The BBC will lose millions of listeners. Mark my words.
Please reconsider,
Andrew James Grose.
---
To whom it may concern
I was so dismayed to hear of the BBC's decision to axe 6music. This station has established itself at the forefront of music and musical appreciation. Run by and showcasing people who clearly have a passion for music, it's the reason I bought a DAB radio. As a 32 year-old I certainly don't intend on relying on Channel 4 for my musical intake. I would also urge against a "one size fits all" approach with Radio 2 – you can be proud of your breadth of output and it would be a great shame to lose what has become one of this country's most sophisticated stations.
Yours faithfully
Richard Taylor
---
The closure of Radio 6 is totally uncalled for considering the backing it does have not only with the general public but also with established and up and coming artists. This is the only use I make of the BBC in either radio or television form. The damage this may cause to new/unsigned artists dosnt bear thinking about.
Please think long and hard about this decision because you are making a big mistake.
Mark Chappell
(Chichester)
---
Dear BBC,
I a writing in protest of the proposed closure of 6 Music. Music is a huge part of my life and if 6 Music was to end, so would a part of my life. I have bought a DAB radio for my bedroom and for my van just because of this one station.
6 music is a community, not just a station. There are a vast amount of people that have a passion for music and this is the only station where like minded people can get together and share that passion without constant advertisement and be force fed commercial nonsense.
So many artists from over the world have had a moment under the spotlight due to the openness of this station. No other station offers this because of the commercial aspect. For a government who say they want to encourage musicians and support many charities to teach young people the music industry, closing this station would be ending these careers before they have even started.
6 Music is a legacy that John Peel would have wanted to leave behind him for all the right reasons. Lets make it stronger. Not end it!
Please, Please reconsider.
Jordan Mower
Brighton
---
Dear BBC Trustees,
I am writing to inform you of my displeasure in your decision to shut down 6music. Is this the result of paying ridiculous over the top money to high profile radio and television presenters? This is a music station that with very little advertising has steadily grown in listener numbers. Where else can people who enjoy music find a diversity of good music with excellent DJ's such as Guy Garvey, Craig Charles, Lauren Laverne, and Jon Richardson. I wake up looking forward to listening to great music with discursive and witty talk. 6 music fills the niche that I and many others desire. We want a radio station that doesn't patronise or insult our intelligence. There is a whole generation that is tired of brash pop culture tabloid radio 1 aimed at school children and students, and at the same time don't want the safe easy listening of radio two. I pay my licence fee in the belief that the BBC recognises up and coming, alternative and original talent. For many years 6music has been the soundtrack to my life. Don't take it away. Justin loveland, Dorchester
---
Dear BBC Trustees,
Please don't close 6 music
As a fan my life would to be honest, less fulfilled I'd miss the quality and diversity of music and also the opportunity to learn about unsigned and unknown acts that get no airplay elsewhere, 6 music more than anything else has lead my discovery of new acts, who wouldn't get the exposure and so my cash for gigs and albums without 6 music. Also
for the BBC to fulfil it's remit it states it aims to
2. Promoting education and learning
3. Stimulating creativity and cultural excellence
in regards to youth culture I cannot see how the BBC can achieve these aims without 6 music. Education is more than factual programming, 6 music's range provides the opportunity to learn about new music and understand it's roots in past music, and as 6 music plays so much new music relative to the rest of the BBC, again how can the BBC stimulate creativity and cultural excellence in youth culture without 6 music?
Please I implore you not to close 6 music, it makes no sense
Sam Collyer
---
Dear Trustees,
Ever since buying a DAB radio over two years ago, and having discovered 6 music, I have listened to it every day. I listen to no other, apart from footy on five now and again. The 6 music DJ's continually play music which reminds me of my past life, and bring me new treats everyday that provide the soundtrack to my existence. Sounds a bit profound maybe, well to lose 6 music would have a profound effect on my life. There is no other like it. I am very happy to pay my licence fee when such QUALITY broadcasting is available, without it I think I will join the ranks of licence fee moaners/ objectors. Since the credit crunch started I have become more and more angry. This proposed closure, just about takes the biscuit. Not only do I have to endure the cold in my bones because Thatchers children are milking me dry, but now my last place of refuge, which gives my soul a degree of salubrity, is being taken away from me. Should this closure take place, on second thoughts, I will not moan, I think I will RAGE. Maybe it is time for all creative people to RAGE.
VIVA 6 Music!
JOHN PEEL IS TURNING IN HIS GRAVE!
JO STRUMMER AND JOHN LYDON SHOWED US THE WAY, HOW TO CREATE. AUNTIE BEEB IS SHOWING US HOW TO MUTILATE.
THIS IS WRONG WRONG WRONG.
Please give us some rope, and not the kind to hang ourselves with. Trustees, the ball is in your court. Please support 6 music.
Yours sincerely
Anthony Bennett
---
Dear Sir/Madam
I am writing, like many others, regarding the imminent proposals for 6 Music.
I fail to see how the proposal to close 6 Music, is in anyway a helpful move. Whilst I recognise the need to cut back because of the country's poor budgetary position, I do not understand how an organisation that claims to lead the way in culture and new music, is looking to cut a station that breeds new talent and gives exposure, both via DAB and the internet to a significant audience.
Central to the UK's economic (and the BBC's) future is creativity and culture. Put simply, 6 Music provides exactly the kind of niche broadcasting that is critical for the BBC's credibility and legitimacy.
Frankly there are many other efficiencies the BBC can deliver, removing 6 Music will not serve as an effective response cut costs and maintain quality.
I urge you to retain 6 Music, and challenge you look seriously at where else the BBC can provide itself a sustainable, legitimate and creative future.
Many thanks
Lee Foulger
---
To the BBC Trustees,
I'm sure you've been inundated with emails of this type the past few days from devoted fans of 6 Music. Perhaps 'inundated' is the wrong term as there probably aren't enough 6 Music fans for yourselves to use such a word. We're stats really – just numbers – and a small enough number to justify shutting 6 Music down. In a commercial world anyway. But aren't you the BBC?
What saddens me is that if you took all the loyalty, energy and passion from the people that make up that number, whatever it is, and converted it into amps, it would blow you away. The distress felt from that number would deafen you with its pitch.
6 Music is unlike any radio station currently in existence. Do you know that? Shutting it down to pay for more programming for its – bland – big, buff brothers is like shooting a red squirrel because its eating the grey squirrels' nuts.
I'm so sad…disappointed I suppose. In you who govern the BBC.
Maybe you've just never tuned in.
Kind regards,
Shane Fleming.
London
---
To the BBC Trustees
I am writing to strongly object to the proposed closure of 6 music. I have been listening to the station for many years and have always enjoyed it and recommended it highly to my friends and colleagues. My DAB radio is permanently tuned into 6 music and I would not consider listening to any other station as they do not offer anything like the variety of music and intelligent comment and banter. My days, weekends and evenings will be sadly lacking if I can no longer tune into my favourite shows particularly as other radio stations and the TV offer no sort of credible alternative.
Thanks to 6 music I become a fan of musicians I would have come across such as Esser, Wild Beasts, The Maccabees, Paulu Nutini, Kings of Leon, Noah and the Whale and many, many more.
I hope you will reconsider and save a station that promotes innovation in music and helping new artists to be heard by a large and receptive audience.
Yours sincerely
Sarah Powell-Barker
Chester
---
Dear BBC Heads of Department
I can't believe you are even considering taking 6 music off the air, it stands for everything that's good about the BBC so please don't bow
down to a group of tories (who haven't yet won any election) and live up to what the BBC should stand for! the spirt of john peel is being well and truly
kept alive by all at 6 music. If the BBC wishes to stand for quality above quantity the please don't get rid of the most wonderful radio station in the world!
Even my 3 year old son likes it.
Yours Sincerely
Neil Davis
---
Dear sirs,
I am writing to tell you how upset I am that you are shutting off 6 music. I honestly feel there is no other station out there that "due to the unique way the BBC is funded" can cover the broad range of music that 6 does. Commercial stations are exactly that, full of commercials, utterly repetitive and mostly mindless.
The Director General says that the two popular music stations (Radio 1 EUUUURRGGGGHHH and Radio 2 ZZZZZZZZZZZZZZ) can cover the music tastes that are the backbone of 6 music. It has tried this in the past and failed – we do not want to be restricted to only listen to decent, real, often legendary music for a few hours a week in the middle of the night.
The DJs are passionate, intelligent, knowledgeable and speak directly to me every single day, all day. I cannot listen to another radio station for 5 minutes without wanting to scream at it or turn it off.
LISTEN to the people, we love 6music. Turning your back on it would be turning your back on music, individualism and culture, which is what you hold proud.
Dan "devastated" Neatherway
---
Dear Sirs,
I must express my utter dismay, and register my protest, at the proposed closure of 6music.
I've been a fan since it's beginning, and I can not adequately express just how much of a beacon of light the station is in a media world consumed by placid, grey offerings from the commercial sector. Where else can I eavesdrop on the personal tastes and insight of Bob Dylan, Javis Cocker, or Huey Morgan? Where again would such an opportunity arise in a media world where the playlists are handed down from corporate sponsors?
The BBC has created something wonderful in this station. It's a utopia of great music and is a testament to the talents of the DJs and artists that you yourselves sought to build it and curate it.
You must take the responsibility for the thing you have created and save it, for I fear nothing like it will ever exist again.
You have Bob Dylan as a DJ for christssake! Bob Dylan!!
Kind Regards,
Mike Thomas
---
Dear Trustees,
Not only have I enjoyed Six's output greatly and been introduced to a range of new music through it, but it has encouraged me to listen to BBC radio more broadly and to continue to cherish the BBC in general terms. I suspect that I am not alone in this: i.e. that the existence of radio programming such as is produced by Six gives people the idea that the BBC is a really worthwhile organization that deserves to flourish. I would like you to consider the possibility that, by axing Six, you are impoverishing your output and simultaneously reducing the number of your more ardent supporters.
Yours
O. Nicholson.
---
Dear BBC Board of Trustees,
I am writing to voice my concerns and despair at the news of The BBC axeing 6 Music. I have been an avid listener to the station for years now, and tune-in (digitally speaking) every day. Before I found 6 Music I never really had any idea of what music I liked or enjoyed, and I had no realisation of why I liked music, or what evocation music could cunjure up inside me. The likes of Radio 1 and 2 filled me with unmeasurable melancholic woe – until the day I discovered 6 Music and it all began to make sense. Where had all this great music been hiding? Where had I gone so wrong? I look forward to shows on 6 Music and plan my week by them, I have discovered so much new appreciation and taste and yet I can't beleive that The BBC have come to this conclusion. I am a Licience Fee payer and I feel that The BBC are taking a detrimental decision to far, alienating a huge section of an audience that are extremely happy with the broadcasting service they recieve from 6 Music.
Please rethink this abhorrent choice of money saving tactic.
Yours sincerly
Paul Fullerton
---
To quote Mark Thompson – "to sharpen its distinctiveness in its range of music and speech".
Mr Thompson, I suggest you listen to your words again on the BBCiPlayer and explain how this results in the loss of BBC 6Music?
BBC3 apparently is "bold and challenging"………Snog Marry Avoid, Young Butcher of the Year, Hotter than my Daughter, endless Doctor Who add ons…..quality television? I think not. How much does this channel cost? Its an insult to our intelligence. If you want "Take a Break/Heat Magazine" television, leave that to Living TV and dont use my licence money for such dross.
Im 51 years old.I know the kind of music you pump out on Radio 1. Its not my thing, Im a bit too old for your nu R&B (thats like Dizzee Rascal Mark, you must have heard of him?) This leaves me with Radio 2.Now dont get me wrong Mark, youve improved that station quite a bit. The presenters are a bit expensive though are they not Evans/Wogan/Carr/Winton/………..and musically challenged I would venture.
You say the demographic for 6Music is no different to that of commercial radio. I would suggest that if you think commercial radio is similar, then the wrong man has been entrusted with our future listening enjoyment.You have no vision.
Ending 6Music is one of the most unfathomable decisions in broadcasting history!
Quality programmes, presenters and production – Lauren Laverne, Shaun Keaveney, Huey Morgan, Cerys Matthews.CRAIG CHARLES FUNK AND SOUL SHOW, Steve Lamacq, Don Letts, The 6 Mix, Tom Robinson Introducing and so on . Not only are they knowledgeable but passionate about music, both classic new and unsigned bands.
The listeners of 6Music dont want to hear Queen, Bryan Adams, JLS, Dizzy Rascal, Lady GaGa, the ubiquitous Michael Buble and other bland lift music.
Where else would I hear a dj set by Ashley Beedle other than 6Mix (you wont know who he is Mark but thats your problem and not ours)
WE DONT WANT XFACTOR STYLE MUSIC. WE WANT 6MUSIC.LEAVE IT ALONE.
Yours
Les H (long time listener of the Craig Charles Funk and Soul Show and others!)
Newcastle upon Tyne
---
Please don't kill 6music. It's the only genuine alternative to pop
during the day; it keeps audio culture alive.
Regards
Milly
---
To whom it may concern,
I feel compelled to register my profound disappointment at the corporation's proposed axing of 6 Music and the Asian Network radio stations. As the owner of an independent record label, as an ex-musician and particularly as a great supporter of the BBC, I find the decision both alarming and wholly damaging to the corporation's reputation as a provider of quality programming. My interest in and support for 6 Music is both professional and personal: the station has championed several of our artists, boosting their profile at a time when no other radio outlet would have entertained doing so; I also happen to find 6 Music the only radio station I can listen to and enjoy on a regular basis with DJs who are informative, intelligent and entertaining. At a time when the BBC finds itself subjected to a host of commercial and political pressures, why would it countenance the closure of a radio station that serves a demographic I would consider to be largely supportive of the corporation? The listenership of 6 Music will comprise, in the main, of 20-40 year old license-fee payers – music fans who are disillusioned with radio's insatiable wooing of a younger audience and the attendant slide into generic populism that such a policy brings.
At a time when customer loyalty ought to be prized above all else, the decision to close a station that attracts avid music fans – listeners who appreciate the product the station provides – smacks of short-sighted and ill-informed expediency. Given the glut of popular music churned out on a daily basis by commercial stations and the indifference younger audiences have for popular radio when alternative platforms are legion, the seemingly 'untouchable' status afforded Radio 1 is both anachronistic and ill-conceived. I should think the BBC will need all the fans it can get over the next few years so alienating fans of 6 Music seems counter-productive in the extreme: the license fee should enable, indeed /empower/ the BBC to champion the diversity stations like 6 Music and the Asian Network provides, not cut them off at the knees at exact ly the time we need them most.
I implore the trust to reconsider the logic of this decision – the importance of 6 Music to the UK independent music scene cannot be overstated and it must be protected.
Sincerely,
Stewart Henderson
---
Dear Sir/Madam
I am writing to express my dismay over the proposals to close 6Music. This is a radio station that is soo original and unique, the proposed closure of the station, stinks of unwanted interference from Politicians and Directors who have never once listened to the station.
I honestly believe that 6Music is one of the reasons why British Music has flourished in recent years. Whilst, I admit the listening figures are low, the station gives a much needed platform for up and coming singers and bands to get their music a place to be heard. I for one have bought many CD's after hearing new music on 6Music, especially after the live sessions, which are a highlight of the station. Radio 1 and 2 does a great job of promoting more mainstream music, if 6Music is to close, what happens to all these new bands desperate for people to hear their music? Whilst the internet would probably be their first choice, the internet is a soulless place, 6Music adds a sense of personality and humour that you can't get from sites like Spotify, iTunes and MySpace.
I can not think of any commercial radio station that replicates the service 6Music provides. Whilst Absolute Radio and Xfm do a good job, they are light years away from the quality and diversity that 6Music provides. If 6Music is to close, I do not think there is a radio station that I would be able to listen to as long and as passionately as I do with 6Music. I'm too old for Radio 1 and too young for Radio 2.
There are always other ways to cut costs rather than close radio stations. I feel with a reduced budget and better cross promotion with BBC TV, such as Glastonbury and other music shows, 6Music could continue to grow and eventually become a truly loved station in the same radio Radio 1 and Radio 2 are. These things take time.
I always thought the BBC was about providing high quality output, unique from the commercial market and didn't need to chase ratings or listener figures. 6Music is a prime example of the BBC at it's best, and closing it would be a very sad state of affairs.
Regards
Adam Smith
---
To the Board of Trustees @the BBC
How can you possibly close the 6 Music station which introduces more new music to the public than any other station and promote the new Terry Wogan show on Sunday mornings. I am old enough to remember the Light programme and Workers Playtime and this is what the Wogan show reminds me of. I am not against Wogan but just the format. The BBC have always been at the forefront of great broadcasting but I believe closing 6 Music is a retrograde step. Where would new music be without the likes of the late John Peel and the DJ's on 6 music who are passionate and knowledgeable about the music they play.
I would take a look at other areas of so called music shows that the BBC promote ie Chris Moyles who should be prosecuted under the trades description act for falsely claiming to be a DJ. He is more interested in himself and his hangers on than the music he is supposed to play.
Please think again about 6 music and the future of new bands.
Regards
Jim Blake
---
Dear Sir/Madam
As a license fee payer and avid 6 Music listener, I am absolutely disgusted that the BBC is planning to axe such a unique and wonderful station. The DJ's are all exceptional, and the music so eclectic. A large portion of my current music is down to listening to 6 Music and hearing new and upcoming bands, and not the rubbish played on Radio 1 or commercial stations. Surely if you want to save money you could get rid of Moyles and any other old overpaid Dj's hanging on at Radio 1.
I have listened to 6 Music form day 1, and it is a sad day when a quality station such as this is in danger of being lost forever in order to make the books look a little better. Can you not just drop a period drama or something, I hate those.
Regards
S G Ellis
---
Im 40. I hate Moyles and the other halfwits on Radio 1, and have too much life left in me to waste it listening to the wooly jumpers on Radio 2. Also, adverts really get on my tits. So what do I listen to now (or in 18 months. whatever) that you have renaged on your mission statement to be "The most creative organisation in the world" by strangling in infancy one of your more succesful ventures? (and what a tight ship it is)
I can only presume that the BBC has been infiltrated by saboteurs, intent on shredding the integrity of this esteemed corporation from within (News International, you know who you are). Im never particularly proud to say that Im British, but the BBC has always been an national icon with which I can happily align myself. For the first time in my life though, Im really sorry to say, I do not feel comfortable with Auntie's machinations. One can just sense, under the radar, that decisions are being made by the wrong people for the wrong reasons.
So Please, someone stick a sock in that prick Thompson's gob and do the right thing before we all decide to with-hold our licence fee. innit.
Paul one hell of a disgruntled BBC supporter (just).
---
Disappointed. upset. angry. amazed.
Why would you want to do this? I'd pay my license fee alone JUST to listen to this station. I bought 2 digital radios JUST to listen to listen to this station.
How do we get Mark Thompson axed, never mind 6 music, he clearly has a huge amount to learn, does he have a radio?
This station is so important for UK music, nothing else champions new music, and live music in the same way. This contribution cannot be ignored.
In this digital age its hard enough for new bands to survive. 6 Music provides an amazing platform for these bands. Look at just Marc Riley's show and the 6 music hub sessions. How will the BBC fill this gap?
What other station does this today? Mark Radcliffe and Stuart Maconie do an excellent job, but apart from them, how does the BBC cater for people who prefer not to hear Radio One's tedious mainstream output?
If the audience size is a problem, it should be addressed? Why just give up on something so great?
Is that the BBC philosophy? if we can't make it work just give up?
I could go on forever about this. I'm devastated about this decision!
What can we do to save to station? Perhaps educate Mark Thompson?
Kind Regards,
Dave Houlker.
---
Dear BBC Trust,
I write to express my utter dismay at the threatened closure of 6 music. To me it embodies the spirit of the BBC, challenging the listener through playing a diverse range of music and an absence, with the exception of the irrelevent George Lamb, of inane chatter. I have no interest in listening to the drivel that passes for the likes of chris moyles and why you deem it appropriate to waste money on the likes of him, chris evans and jonathon ross, for whom playing music is a diversion from advancing their petty celebrity amazes me. As one who cried when John Peel died, I believed that in 6 music the spirit of Peel lived on and am saddened that this appears not to be so.
I am saddenened that the BBC is being guided by a fear of the murdoch empire, to hear one of dirty diggers apologists (mackenzie) on the news tonight left me incensed; what a contribution they have made to the quality of written & broadcast media! I struggle to accept their conjecture that it is diverting an audience from commercial stations; surely it encourages diversity and an interest in music rather than key artists and the same songs on what sounds like an endless loop. If 6 music goes I cannot think of any commercial station that I will retune to.
I request that you review other means of making the requisite savings, hopefully through axing those celebrity presenters, and are able to save the valuable asset that 6 music represents. Finally if 6 music must go, please remove george lamb without delay and allow lovers of fine music & conversation to enjoy 6 music to the end.
Kind regards
Nick Townsend
---
Dear BBC Trust,
6 Music must not close.
Just over ten years ago, an "alternative" commercial music radio station called XFM launched in London. It showcased new bands and provided an alternative to mainstream, pop-orientated radio stations. It had a very strong proposition.
As the station grew in popularity it became more mainstream. Sadly, as it grew, this once-alternative station lost its edge and succumbed to commercial pressures. For example, some years ago its owners stopped using DJs for many of the daytime shows, instead relying on pre-programmed computers to do the 'presenting'. Over the years XFM lost some of its best DJs, including Adam and Joe, Lauren Laverne, Richard Bacon, Stephen Merchant, Dermot O'Leary and Zane Lowe.
All of the above moved to BBC radio, with all but O'Leary and Lowe moving to 6 Music.
These DJs took that original spirit to 6 Music with them. Indeed to many radio listeners 6 Music is the natural successor to XFM – only it does things better. It mines archives superbly, gives voice to minority music tastes, gives a platform to some fantastic and inventive DJs (particularly Adam and Joe) and makes excellent documentaries. It is a treasure trove. It is exceptional.
It can do all of these because it is owned by the BBC. Being part of the BBC means that it is immune from the commercial pressures that led XFM's owner (Global Radio) down the path that it took. The BBC does not have to bow to advertisers' and shareholders' demands, meaning that it can keep a station's vision and integrity intact in a way that a commercial broadcaster is less likely to. This is why your argument about ditching 6 Music to 'make way for commercial operators to fill the gap' is absurd. It will not happen.
It would be a tragedy if 6 Music closed. It is the equivalent of closing a library in the hope that a branch of WH Smith opens in its place.
If you want to save money I would join others in suggesting that you axe BBC 3 instead. You are insulting and ripping off the entire nation if you are suggesting that 'Young, Dumb and Living off Mum', 'Can Fat Teens Hunt?', 'Tough Guy or Chicken?' and 'World's Toughest Driving Test' are more important than 6 Music.
Yours,
James Hall
---
Dear Sir/Madam
I am writing to echo all the letters and emails you have received and add my voice to the many desperate listeners you will affect.
Do not close radio 6.
Like many people in my demographic 30-40, I bought a DAB specifically to listen to radio 6 after hearing about in ON THE BBC. It is the only station that provides an eclectic mixture of both broadcasting talent and unrestricted, non-mainstream music both day and night (unlike any of the main stations 1, 2 or local).
The presenters are usually highly entertaining (often from comedy backgrounds), but more importantly love their music.
Are you telling those of us that pay our license fee and listen to 6 music that our need to listen to a daytime radio show that we love, is less important than the reams of teenagers that listen to radio1, but don't pay?
There has to be another way
Please do the right thing
Yours Sincerely
Steve Pritchard
---
Dear Sirs
I feel completely compelled to write to express my utter dismay and disappointed regarding the closure of 6music. I am therefore asking the BBC to seriously reconsider the decision to close this superb station.
6 music plays such an eclectic mix of music with DJ's who know their music. Where else are you likely to get to hear the likes of Huey, Jarvis, and Guy playing music that inspired them to go on to make such original music themselves.
Britain excels in being quirky, different, eccentric even. 6 music is about all these qualities and is an asset and credit to the BBC.
You will alienate a whole section of society that are too old for Radio 1 and too young for radio2…
Stop paying 'popular', commercial presenters millions and spend it on the common people.
Yours faithfully
Bronwyn Oldham
---
I am writing to fundamentally oppose the BBC's proposal to cull 6music, a station which is the daily soundtrack to my family's life. No other station comes close to 6music for it's diversity, warmth, intellect, wit and credible listening pleasure. The idea that mainstream Radio1 & 2 can cater for the void that 6music would leave behind is completely absurd. 6music is a genuine platform for new and emerging artists as well as playing treasured alternative music which survives long after mainstream fads have come and gone. 6music enriches my life and to imagine radio without it is unthinkable. It's what my DAB radio was made for. Please reconsider.
Regards
Dan Russell, music lover, Chester
---
Trustees
In case anyone was in any way confused about what we should do about 6 music, then here is a unifying force which should settle the argument once and for all.
We keep it because bigotted demagogues like Kelvin Mckenzie think it should be scrapped. If any sane or reasonable person armed with that knowledge can still align themselves with people like that, then they deserve everything they get in life.
Lennie C aka The Funkytown Slingback.
ps 6 music will still be here long after that woolly wet Thompson has hung up his tiny bollocks. Its slightly laughable that Thompson actually made this decision because he thought Lucifer Fox was a difficult opponent and saw the 6 music audience as the easier fight to carry.
Trustees, get a grip, ffs. It aint gonna happen.
Now, you wanna save money? Sorry, "Move" money.
BBC3.
Inform – Snog marry avoid,
Educate – Sex with Mum & Dad
Entertain – Hotter than My Daughter
Theres yer savings. right there.
Lennie
---
When 6Music started it was like a breath of fresh air, finally people who are serious about listening to popular music were catered for. The BBC were fulfilling their charter as a public broadcaster by providing entertainment to a sizeable minority of the population and not pandering to the commercialism that blights Radio 1 and 2. It is incredibly disappointing that Mark Thompson has proved to be so weak by capitulating to the politicians and media moguls by axing this service whilst continuing to support the commercial dross that is Radio 1 and 2 and BBC3. I very much hope that this decision is reconsidered; there is plenty of BBC output that does not deserve airtime that could be cut.
Mark Conroy
Hove, Sussex
---
I am saddened and infuriated at the BBC decision to axe Radio 6 Music, if this goes ahead I will sell my television and cancel my direct debit to pay my licence fee.
This IS quality programming and supports many small industries, we need small industries. Our British manufacturing base has been eroded yet we still produce and export some of the best music in the world. This station promotes and supports these talents and has introduced myself, my family and friends to much new music, leading us to invest our pennies in CDs and concerts by these homegrown bands.
John Peel and late night music shows on BBC were my soundtrack as I grew up, now it is Radio 6 and Radio 3, I don't want to lose this.
I could go on to point out many of the worthless programmes screened and broadcast by the BBC, but I would hope you are, by now, self-aware.
Yours with hope,
Alison Walling
---
RE: 6 music
I'm officially lodging my dismay and vigourous complaint at proposals to axe 6 music.
What on earth is the thinking behind such a destructive decision?
6 music is a beacon of light and hope for music lovers in an otherwise grey dirge of middle of the road 'safe' noise and urban dominated radio.
What is there left if you swing the axe? I've grown up on a diet of rubbish the radio kicks out and then 6 music came along transforming the music scene with it's cutting edge, forward thinking, quirky style. Before, music just washed over me as though I was just browsing in a shopping mall, now my ears and mind are stimulated and I'm forever jotting notes of what I want to buy.
All the presenters without exception have a real passion for what they do and what they play, the excitement they instill in us all is infectious, just like the new CD you've bought that you love so much you want everyone to hear it.
Please please reconsider this drastic knee jerk response to cost savings. For heaven's sake get shot of all those antique programmes filling up daytime tv. Drop the countless cooking programmes cluttering up the schedual…I personally don't care if they can cook or not! They're just easy, cheap time fillers that leave a vacuum so won't be missed.
I'm a licence payer but feel so angry right now I'd happily with hold paying it!!!
Wake up BBC!
Rich Brett
---
RE: Closure of 6 music
Dear Sirs
I am wishing to appeal to the BBC to reconsider the decision to close
the 6 Music station broadcasting, I have been listening to 6 music
since it's first day and continue to do so.
I belive you call people who listen to one channel only "soul
less" (although I do find this an odd term) but I find in the week
that 6 music brings all I need for my contribution from the TV licence
and rarely need to look elsewhere.
I don't listen to stations such as Radio 1 or 1 extra as most local
radio stations bring their out put to the masses admirably if you like
that sort of thing, so would like to second the suggestion that more
bland stations and TV channels such as BBC3 could be cut instead and
shows such as Top Gear and daytime programing could stand budget cuts
or be shelved.
I appreciate that something needs to be done but don't see why the two
stations singled out need to go completely.
Regards
Ian Mellor
Nottingham
---
RE: 6 music
Dear BBC trustees,
I am writing to ask you not to close 6Music, it is the only radio
station I have found that I listen to day after day. The music played
and programming are second to none and it is the only radio station I
have found that constantly appeals to my tastes
Regards
john Robson
---
RE: Keep 6 music
Dear BBC Trust,
I am truly upset at the news of the planned closure of BBC 6 music.
6 music was the only reason I chose to purchase a DAB radio – to my mind it would be the only reason to buy one.
6 music promotes innovative new music and marries a broad playlist with a cohesive identity like no other station. The BBC is a reason for the UK to be proud, to remove the 6 music station would substantially dent its remit and reach.
In particular I would cite the Marc Riley show as representative of the stations importance in introducing new music and acting as a transfer point for new bands to reach a wider audience and a facilitator of 'alternative' outfits to exist happily at a lower level of exposure against the mainstream – he carries the mantle of John Peel, be that possible. Such seminal individuals require a stations support and I can no longer imagine Radio 1 enablinig this level of catalystic broadcasting to come through.
I don't think it's any exageration to say that without 6 music our culture would be poorer and consequently, in the long term, economically poorer.
I urge you to rethink.
Yours respectfully
Jane Atkinson
---
RE: BBC 6 Music
Dear BBC Mistrust
I am writing to express my concern over your decision to rescind your funding for BBC 6 MUSIC.
Not only do I pay my license fee to your organisation, but also a lot of taxes to the government who seem to have put pressure on the trust to take the afore mentioned action.
Either way, I am left feeling let down and somewhat perplexed over your reasoning.
On one hand, you decree that you are to concentrate on quality and not chase ratings; on the other, you throw in weak comments about efficiency and value for money.
Where is my value for money?
Is it not your key principle to "put quality first"?
In my opinion, BBC 6 MUSIC is at the top of the list when it comes to quality. But who am I to judge? I am a tax payer and a license payer and a purveyor of quality brands.
If you follow your own strategy and "do fewer things better", then I urge you to double your budget with BBC 6 MUSIC and cut back on reality TV and unnecessarily extravagant award shows.
It is in you that we entrust our national treasure that is the BBC; you give us the gift of BBC 6 MUSIC; and then you do this. You are a short sighted bunch indeed and rather hypocritical with it.
I implore you to re-think your position on the matter and listen to the people.
Yours faithfully
Mr.Kelly
---
RE: The Day The Music Died!
You may think the subject title is a little over the top but let me just explain to you why I think this is the case.
· 6 Music is the front runner in introducing new and ground breaking bands to the nation. If you close this station we will just be left with the mainstream, reality show created drivel played on commercial stations and Radio 1.
· 6 Music plays classic songs from previously little heard of artists because it is staffed by music loving intelligent DJ's to an audience who likewise love there music and they in turn feed the DJ's with suggestions it's a two way thing and it works.
· Both of the above points impact on the music industry as 6 Music listeners whilst not as numerous as Radio 1 listeners actually spend there hard earned cash on buying the music and getting out and seeing the music being played live.
Listening to Mark Thompson's argument for axing the station was infuriating and meaningless; it is quite simply a political manoeuvre, way out of touch with the music loving people of this country.
Please listen to the people and preserve this marvellous and unique radio station it means so much to people.
I believe you will come to the right decision because there is only one logical and intelligent decision.
Chris Hall (music lover)
---
RE:Opposition to BBC6 Music closure
I am appalled by recent news of the closure to such an important radio station.
Should the closure go ahead I will not be renewing my licence fee, since there will little reason left to continue tuning in to live broadcast media.
I would, however, pay double the fee next year if the BBC were to reconsider the relevance and accuracy of its audience measurement protocol.
Regards
Lucy McDonnell
(On behalf of all employees and friends of) at Full Blown Metals, Unit 20, The Biscuit Factory, Stoddart Street, Newcastle upon Tyne, NE2 1AN.)
---
RE: BBC 6Music
Dear Sir,
I am appalled at your decision to close BBC 6Music. I have been listening for a couple of years now since my husband bought me a Dab radio. It was the first station the radio tuned to and neither of us had listened before. It was like the radio could tell the music we loved.
Ever since we have been able to listen to old and new music and some artists we would never have come across had it not been for this station. This means that this station is responsible for us buying music by new artists which surely can only have a good knock on effect.
I listen for a couple of hours each week day usually during my breakfast, lunch break and when I am cooking tea. One day to another is never the same and the DJs make it fun. I don't want to listen to the drivel of Chris Moyles of a morning, or for that matter at any part of the day, whilst hearing the latest chart topper. Some people want more choice. The DJs on 6music are knowledgeable and you grow to know whose opinion you value musically. They play a diverse range of music some of which just wouldn't get played anywhere else. I think you should seriously reconsider where your priorities lie.
In my opinion, you should look more seriously about some of the TV programmes you commission and channels you put out. BBC 3 used to be a forward thinking channel that showed some truly funny shows but now it has become terrible with inane shows such as "hotter than my daughter" and repeats of Doctor Who, yet you don't close it down.
This is a let down for people who like music.
Wendy Lester
---
FW: Digital media – the future of 6 Music
Dear Sir/Madam
I am writing, like many others, regarding the imminent proposals for Digital media, specifically 6 Music.
I fail to see how the proposal to close 6 Music, in particular, is in anyway a helpful move. Whilst I recognise the need to cut back because of the country's poor budgetary position, I do not understand how a country that claims to lead the way in the 'cultural sector', is looking to cut a station that breeds new talent and gives exposure, both via DAB and the internet to a significant audience. As a old styled western economy we have lost vast elements of the manufacturing sector over a 30 year period. We have successfully grown a leading cultural sector, providing many jobs, we simply cannot afford to 'give up' on an important player in the creative sector in this way.
The UK has moved into the Knowledge economy with effect – it is our nation's future. Central to the Knowledge economy is creativity and culture. If we are to stimulate our knowledge economy we need a variety of outlets to bring forward new economic forces. Put simply, 6 Music provides exactly the kind of niche broadcasting that lets the UK exploit its base as a knowledge economy.
Frankly there are many efficiencies the BBC can seek to deliver as a monolith, removing 6 Music will not serve as more than a limp gesture to cut costs. The Trust should be cutting the BBC's cloth to fit a new future. But this should not involve removing an entity that brings new products forward to market, and plays to the Country's strengths as a cultural beacon in an otherwise grey world.
I urge you to retain 6 Music, and challenge you to raise its profile and encourage a strong economic sector to reach new heights.
Many thanks
Neil Darwin
---
RE: I love 6 music
Dear BBC Trustees,
6music is great !
Its one of your best products.
All I ever listen to on the radio is Radio 4, a bit of classical
on radio 3, and a lot of 6music.
But there are a lot of quality shows on 6. True, there are specific
shows that you could shift to other stations but then I would'nt
randomly tune in to 6 and often be very happy with whats on.
6music is a top brand in its own right.
Don't mess it up !
If you want to make cuts let them be to the more commercial sounding
radio 1 – (is this really the BBC remit ?)
I'm confident you'll eventually make the right decision.
Yours,
Will Penny.
---
RE: BBC 6 music
Dear Sir/Madam
I am writing with regards the decision to axe six music. As the only decent large radio station on air I believe it should be the last to get the chop rather than the first – why is funding wasted with "Djs" on other radio stations that don't even know anything about music and just have playlists? The majority of radio 1 and 2 output could surely be replaced with a playlist on shuffle and the content wouldn't be significantly different. Radio six is a constant source of new musical knowledge for me as a results of great dj's that really know their stuff like Craig Charles, Mark Riley and Stuart Maconie among others. The six mix offers an interesting and diverse slot for saturday nights – especially when dj's explore the roots of modern dance music (a couple of recent ones with sections of disco and early deep house were especially good). During the day the content is less exciting but at least it represents a reason to switch the radio on – people such as Lauren Laverne and Nemone whilst being more conservative than a lot of the other djs still play a decent mix of tracks both old and new and then steve lamacq 's show is a nice change over – I like the fact it has new mainstream stuff on but they aren't afraid to slag it off if it's rubbish rather than pretending like many other so-called djs that everything new and popular is great. What makes it great is the diversity and knowing that there is likely to be something decent on at any time of day, but more than that it is the great Djs who provide great insights and perspectives on genres exposing you to new (and old) music that you haven't heard before – even stuff like Dave Pearce's dance anthems is really great, it can get a bit on the cheesy side but as a fan of dance music for only the last 5 or 6 years I like to hear the older classics that I missed out on.
I have only started to listen to six music in the last 6 or so months but I feel certain that it's audience must be growing as I had never really heard any one talk about it until recently and now there is a definite buzz surrounding it especially around shows like the craig charles show. Out of all the people I know that regularly listen to the station, only 1 of them had listened to it more than a year ago – the reason I heard it this year is because I live with someone who owns a digital radio, I am moving out next year and was going to buy one for the new house but if six music stops then what's the point? I also feel fairly certain that most people who listen to six music will probably do the same – they will stop listening to the radio rather than listen to one of the others, as they simply don't cater for real music fans.
I am 22 and like a pretty broad range of music including indie, rock, metal, house and techno, drum and bass, funk and soul, latin, hip-hop, trip-hop, post-rock, electronica, prog and krautrock, some folk and country, dub, reggae, ska and old pop among others. I am constantly seeking to expand my musical knowledge and six music has been highly influential in this in the last few months – whilst other stations cater to some of these genres the dj's don't have the knowledge and normally seem to more bothered about supporting what's cool and enhancing their own careers rather than sharing a passion for music – rather than show casing what is good or interesting in a genre they simply promote what is already popular – the musical knowledge they have could probably be gleaned from a couple of copies of nme or mixmag and they will likely disappear into obscurity just like the crappy music they plug.
Jonathan Ramsden
---
Re: decision to cut 6Music
To whom it may concern,
I'll keep this simple – please don't axe 6Music – it is quite simply the most progressive, intelligent, quality radio station I have ever had the pleasure of discovering about 5 years ago.
I listen to it at work in a studio that today is devastated at the prospect: professional people who feel the station makes a difference to them every day.
I'm originally from Canada and 6Music is one of the things that makes the UK unique and special to me: 6Music represents a rare appreciation of quality, varied music and the commitment to its enduring appeal.
I don't normally protest things like this or get involved but in this case, I'll write to whomever it takes to save our beloved station.
There is nothing else like it and it very much deserves protecting and promoting.
Yours truly
Jane Jardine
---
RE: 6 music
Seem to have lost my email, but have just signed a petition also, and the following is the comment I left:
'To close 6Music would be a mistake of gargantuan proportions – it is a microcosm of everything the BBC represents, and on any given day will play music from more genres than any other radio station could manage in a year. When I pay my licence fee, I take pride in knowing that I am funding the most enigmatic and forward-thinking radio station in the world right now. How can a nation continue to be expected to pay a licence fee when millions will now feel ignored and undermined by the BBC broadcasting corporation?'
Stephen
---
Dear Sir/Madam,
I've read and followed with regret the recent stories in the news that
funding cuts at the BBC will mean the loss of the excellent 6Music
radio station along with other less popular stations such as the Asian
Network.
The BBC clearly state that their public purpose remit is…
1.  Sustaining citizenship and civil society
2. Promoting education and learning
3. Stimulating creativity and cultural excellence
4. Representing the UK, its nations, regions and communities
5. Bringing the UK to the world and the world to the UK
6. In promoting its other purposes, helping to deliver to the
public the benefit of emerging communications technologies and
services and, in addition, taking a leading role in the switchover to
digital television
Of particular relevance in this instance are items 2 and 3 which
6Music fulfills admirably.  It provides informed and educational
entertainment that brings a wide and diverse range of music and
opinions to the public which would otherwise not be available in any
other medium in the UK.  This in turn stimulates creativity and
cultural appreciation.  None of the other radio stations run by the
BBC come anywhere near close to covering the broad and diverse range
of music that 6Music does.  Radio 1 with its chart-orientated
playlists is just plain repetitive and if anything it is this station
that is already well represented by commercial stations and thanks to
the inflated salaries of "celebrity" DJ's utilises far more resources
than the relatively minor costs of running 6Music.
It would be a travesty if the innovation and exciting new output from
6Music were dumbed down to the lowest common denominator of the masses
as the BBC as a whole has a superb history of bringing interesting new
and uncommon material to the public who fund it.
Regards
Neil
---
RE: Planned closure of BB6 Music
Hello,
I am writing to express my shock and concern over plans to close BBC6music. 6music is absolutely essential to the growth and dissemination of new music in the UK, it provides the greatest breadth of new and interesting music of any radio station in the UK and provides a quality of broadcasting unseen in most other stations.
6 music truly is a unique and important station and I am at a loss to understand the logic behind shutting it down. There is plenty of other programming within BBC radio that overlaps with other stations or serves only a small audience which is well catered for elsewhere.
The BBC has an obligation to those in the UK who pay their licence fees to provide high quality broadcasting that caters for everyone. To shut down 6music but leave some of the other stations running makes absolutely no sense – do we really need 1extra et al?!
Thank you and kind regards,
Grace Duffy
Account Manager
External Relations
Which?
---
Dear BBC Trust,
Today's official decision to carry out cuts on the aforementioned
digital radio stations is deplorable at worst and highly short-sighted
at best.
If the bbc want to cow tow to the possible conservative government that
looks to take power, that's fine. If the bbc want to cut down on
spending and allow competition, that too can be seen as fair. But to
close to highly unique stations each with dedicated fan bases which cost
less to run for a few years than a single series of Top Gear, then we
have a problem.
BBC 6Music and BBC Asian Network provide a service not found at a
national level and as such cannot be said to be prohibiting competition.
Instead, the audience is being punished. If you want to allow
competition, there are already loads f radio stations that play pop
chart music, so get rid of radio 1. While you're at it, get rid of BBC
three and its uninspiring shows and questionable quality of output.
You're after quality, not quantity after all.
Don't be a hypocritical organisation and instead save these stations
from closure and the BBC itself from ridicule; focus cuts elsewhere,
where there is already a plethora of content elsewhere. If that happens,
maybe then I shall regain my respect for the corporation.
Yours respectfully,
Luis Abolafia Anguita.
---
Subject: Closure of 6 music
Dear Sir or Madam
I am disgusted by the proposed closure of 6 music
Mark Thompson states that 6 "represents poor value for money " what a joke, this station is one of the few areas where the BBC actually fulfils its charter . Presenters that care about the subject matter, diverse and interesting new and old music , an outlet for new young talent.
Why should 6 and the Asian network be the fall guys for perceived public anger at Overpaid salaries to the likes of Jonathon Ross and Jeremy Clarkson. Surely the cost of this station is a fraction of making yet more commercial TV rip offs and instantly forgettable talent shows. Did the Facebook campaign for the Christmas no1 teach the BBC nothing of a real groundswell of support for an alternative to an endless stream of manufactured mediocrity.
I haven't had the time yet to sit and analyse graphs and viewing figures etc , I just feel sick and very sad that this decision has been taken .
This is a big mistake and I think the amount of support this station will receive will surprise the BBC . This decision should be reversed before its too late.
Yours Faithfully
A . Stokes
---
SUBJECT: Save 6 Music – Please don't axe your strongest digital station.
I am writing to you to express my upset following the news reports from Friday 26th February 2010, regarding the BBC's proposal to axe BBC 6 Music.
I just wanted to take the time to write to you to explain simply why I, along with thousands of other listeners, are devastated by these proposed plans.
I have also sent a complaint to the BBC Complaints department, something which I have never before felt so compelled to do.
BBC 6 Music is the real feather in the BBC's cap, and it's such a very strong brand that fills such an obvious gap in the market – to take it away could be called completely short-sighted at the very least. It mixes really knowledgeable and, most importantly, unfailingly enthusiastic, music-loving presenters with an eclectic playlist – which surely is absolutely perfect for a digital station, and one of the true aims and results of what BBC digital stations can provide. No other BBC station provides for the same audience as 6 Music in the way that 6 Music does and nor does any commercial station (nor, in many opinions, would any commercial station ever find that it would be commercially viable for them to attempt to do without losing the core values of what 6 Music is and does.)
If 6 Music's listenership is not high enough for the BBC to feel that it is viable, then I can only argue that this is due to lack of advertising and a positive push on the BBC's part, not because the audience for it isn't there – 6 Music's audience is very clear, as 6 Music caters for the large gap that falls between the listener-ship of Radio 1 and Radio 2. 6 Music listeners have long considered it to be the BBC's 'lost station' as many simply do not know it even exists. This is very different than a large FM station that is well advertised but still not pulling in the listeners. 6 Music is the most forward-thinking station on the BBC, and its' listeners are an extremely strong band of listeners who do not feel that anywhere else does or ever could cater for them as excellently as 6 Music does so well. A station that is so strong in identity and brand can surely only get yet stronger as more potential listeners find out about the station?
BBC bosses may possibly never fully realise just how enormous a gap was left for their listeners who were left clinging on for a wide and eclectic mix of music on BBC radio after our dear John Peel died – at least 6 Music does its utmost to try and close this gap as much as possible. It champions the new, the old and everything in between – the BBC should be enormously proud of what 6 Music is and does. What a massive mistake will be made if this station is closed.
As license-fee payers, we know and can easily appreciate that it is an important factor that the bulk of the BBC's output is aimed toward the mainstream, to serve all license-fee payers as equally as possible, but surely this is the beauty and the true value of digital radio, and of the BBC as a whole – output that is not deemed 'mainstream' enough for an FM band station can be placed on digital band and reach a very strong audience easily, and content that is not 'commercial' enough can be found on the BBC. This is of important, and very real, value. 6 Music is the perfect example of how strong a digital station can be, and just what a digital station can be and achieve. If 6 Music is best suited as a BBC station, which by the type of content it produces and the audience that it aims at, it clearly is, then it certainly does not, and will never have, commercial rivals – nor would it, as we all know, clearly ever be a format ever considered financially viable for a commercial station.
The loss of 6 Music would surely result in a massive gap in terms of a certain type of programming reaching an audience that, without it, is more or less completely isolated from any other BBC radio service. 6 Music listeners are your license fee-payers that feel that Radio 1's output is far too young and chart-based to appeal to them, and equally, that Radio 2's daytime content is aimed an an older audience than themselves. Also, as Radio 2 is now being asked to aim their target audience at higher than the current 50yrs, and Radio 1 is told to cater to under 35's, what are those in between these ages (a quite substantial 15 year-gap) meant to find appealing on the schedules, BBC or commercial? (As an aside, I am 24 years old, and have been listening to 6 Music since it started. BBC Radio 2 is a station that I enjoy very much in the evenings, but I am in no doubt that very soon my loyalty to Radio 2 will naturally be waning if their content is being aimed an audience far older than myself.)
The BBC, and BBC digital services are surely designed at least in part to be able to put content out to the license-fee payers that they would not be able get anywhere else, and this is exactly what 6 Music is and does, and does so extremely well. Please don't alienate such a strong band of listeners by making such a massive mistake.
Thank you very much for taking the time to read this letter.
Yours, Kim Moore.
---
RE: Radio Station Closures
Dear BBC
There is little I can add to the voice of the many people who have
spoken up about this decision, but here is my piece.
I am shaken by your recommendation to close the BBC 6 Music radio
station. I'm an avid listener, listening to 6 music on average for
nearly 10 hours everyday, including weekends. I bought DAB Radios
precisely to listen to 6 Music as there is little other reason to.
I feel as though this has been repeated time and time again recently,
but the BBC was created to cater for minorities and audiences that
commercial radio doesn't cater for. 6 Music (and Asian Network) are
excellent examples of this.
Not only does commercial radio come nowhere close to 6 Music I also
refuse to have my personal space invaded by the advertising found on
these radio stations. You do realise that not everyone is
pro-commercialism don't you? Isn't that the whole point of the BBC?
It doesn't make any sense when it's obvious that (at present) 87,000
people are members of an online group to save the station and the
numbers are growing. The BBC rarely advertises 6 music but since the
rumour of cuts, more people have become aware of it.
Do the maths: 87,000 license payers = over £12 million. The station
only costs £6m.
I would gladly pay my license fee for 6 music alone. I watch
approximately 1 or 2 hours of TV per week and I don't intend to watch
any more even if the BBC programming was better. Most of all I
wholeheartedly disagree with the obscene pay packets of certain
'presenters' who I shouldn't have to name by now.
If the BBC wants to save money, I suggest you undertake some
programming changes across the television stations and remove some
overpaid staff and presenters.
Regardless of the amount of good that 6 Music has done for new, up and
coming bands and the British music scene in general, the answer is NOT
to cut a two whole radio stations completely, which seems to be a drop
in the ocean in terms of the amount you are trying to save. This is
ludicrous.
I'm no expert, but I can see that this decision has no reasoned
founding at all. I just don't understand.
As a license payer, I'm incensed.
Yours,
Sam
---
RE: 6music
Dear BBC Trust,
I shall keep this short as I am sure you have many messages to read.
Please DO NOT carry out the suggestion contained within the latest consultation document to close 6music.
I find the stations provision of new music to be some of the best within all radio available within the UK and unmatched in scope or quality by commercial radio.
The quality of programming and presentation is superior to that on Radio 1 (certainly day time radio, with is repetitive at best).
Please add me to the (doubtless teetering) pile of 'save 6music' emails.
Thank you,
Matthew
PS I there is one, can you also please add me to the pile of 'replace Mark Thompson' emails, thanks
---
RE: BBC 6 Closure
Dear Sir/Madam,
It is with immense alarm I heard of the proposed closure of the BBC 6 Music digital radio station.
This digital radio station has brought refuge to many who believe that Radio 1 is aimed at 14 year olds with no music taste and Radio 2 who my parents would be happy to listen to but far too boring for me. Pre BBC6 I listened to XFM as this was the only station bold enough to play genuine new music that wouldn't necessarily chart but ended up charting thanks to a maverick attitude.
BBC 6 took over this mantle on it's opening after Capital radio sadly bought XFM.
There is no other station that can bring new music that I would probably enjoy to my attention and play old music that you seldom hear on the radio.
BBC6 makes the day go quicker, makes me buy more music (which as a worker in the Music Industry) is a great thing and generally keeps me up to date with new music and trends. The only problem with BBC 6 is that it's digital only so I can't listen in the car, otherwise if would be heard even more.
I really think poor decisions such as this need to be re thought.
BBC6 highlights what licence fee money SHOULD be spent on, intelligent diverse programming and I hope there is enough public support to overturn this ludicrous decision.
Yours sincerely ,
Andrew Huke
---
Subject: 6music and Asian Network cuts decision
Sent: 2 Mar 2010 10:42
Dear BBC Trust,
Today's official decision to carry out cuts on the aforementioned digital radio stations is deplorable at worst and highly short-sighted at best.
If the bbc want to cow tow to the possible conservative government that looks to take power, that's fine. If the bbc want to cut down on spending and allow competition, that too can be seen as fair. But to close to highly unique stations each with dedicated fan bases which cost less to run for a few years than a single series of Top Gear, then we have a problem.
BBC 6Music and BBC Asian Network provide a service not found at a national level and as such cannot be said to be prohibiting competition. Instead, the audience is being punished. If you want to allow competition, there are already loads f radio stations that play pop chart music, so get rid of radio 1. While you're at it, get rid of BBC three and its uninspiring shows and questionable quality of output. You're after quality, not quantity after all.
Don't be a hypocritical organisation and instead save these stations from closure and the BBC itself from ridicule; focus cuts elsewhere, where there is already a plethora of content elsewhere. If that happens, maybe then I shall regain my respect for the corporation.
Yours respectfully
Steve Gray
---
Subject: BBC 6Music
Hi,
I've just seen it confirmed that the staff of BBC 6Music have been told the station will close, and that any complaints should be forwarded to the trust.
There is nothing else out there like 6music – certainly not on commercial radio, despite the claims that it's being closed because it competes with commercial radio. It's the only pop radio station with DJs that care about the music they play – its DJs are the most knowledgeable, and they genuinely play a variety that other stations just don't. On one show you'll hear Public Enemy, The Pixies, a new single by a band like The Gorillaz, and The Byrds. Radio 1, which does compete with the commercial stations (yet isn't being closed) only has a few evening DJs who are even vaguely interested in the music they play. 6Music has Lauren Laverne on every weekday, Jarvis Cocker on every Sunday, Marc Riley, Gideon Coe, Stuart Maconie and various other musicians and dedicated DJs who offer a breadth and depth of music knowledge that other stations just don't have.
It's a vital platform for new bands. I heard the 23-piece female alt choir Gaggle do a session on Lauren Laverne's show last week; no other station would offer a daytime session slot to a band that make music that isn't commercial. Bands such as Los Campesinos! get invited to do sessions for her and Marc Riley, while Tom Robinson's vital new music show is invaluable for bands around the country who do sessions for him early in their career. Without that platform a lot of bands that don't have the money to pay pluggers or without record deals just won't get heard. The other day Tom Robinson played one song by an american folk duo that don't have any releases available over here and no other exposure, yet I enjoyed them so much that I'm going to buy their self-released album as soon as I have the money.
Stations such as 6Music represent consistent high quality, and play music that just doesn't have a platform elsewhere. Because it doesn't have to worry about commercial viability, DJs are able to have more free choice than elsewhere. And this is what the listeners want – I genuinely admire and trust the DJs that 6Music has hired, and listen to the station every day to hear songs that otherwise I wouldn't know about. Without it, I think the BBC would be much less culturally rich and diverse, and I, and my housemates, who only have a DAB radio so that we can listen to 6Music, would be devastated. We're all 19-20 years old, and 6Music represents what we want much more than BBC3, which is full of programs that are apparently aimed at our age group like 'Hotter than my Daughter' that are, frankly, embarrassing.
I'm sorry that this is so long, but I feel devastated and upset by the news that the station will close. 6Music is vital and closing it would be a massive mistake.
Charlotte Geater
---
Date: Tuesday, 2 March, 2010, 11:15
> Dear Sirs,
>
> What a shocking proposal – closing a radio station that
> harbours new muscial talent and reducing expenditure on the
> BBC websites, surely the BBC are not as blinkered as that?
>
> Independent music is the most important past-time to
> thousands upon thousands of people in this country, instead
> the BBC would rather use our money, we are the ones who pay
> for it after-all, on producing more and more reality /
> home-improvement / celebrity / eastenders / high-end = high
> cost programmes. I tried to watch BBC 3 – I turned off – it
> was shite.
>
> This decision is abysmal, you give a station no
> advertisement and expect it to maintain high listnership. How about
> cutting some of the dross on radio one and playing radio six
> sessions through the evening.
>
> This decisions stinks of spoon-feeding the led majority
> rather than the independent tastes of the nation that should
> be nutured, not cut-off.
>
> I trust the correct decision will be made.
>
> Regards
>
> Leigh Ecclestone
>
---
RE: Save 6music
Hello,
I just wanted to express my opinion about the decision to axe 6music. I am a big fan of the radio station, it's passion for upcoming talent and for playing little known bands that differ from the standard Radio One playlist. I'm not saying there's anything wrong with what Radio One plays, but I feel that it is important that we have another option, an alternative option.
Thank you for taking the time to read my email, and I hope it makes a small amount of difference.
Emily Heath.
---
Subject: 6Music
Dear All,
Please, please do not sanction the closure of 6Music!
6Music is THE ONLY radio station that caters for people who love real music old and new. It provides an outlet for new and upcoming bands that would otherwise never get heard. I have been introduced to so many new bands through listening to 6Music and without it I will have no other way to hear new music because it simply does not get played anywhere else. I can't listen to 6Music in work because our the online player gets blocked but I would if I could and the first thing I do when I come home from work is switch on the DAB radio. Incidentally, I only bought my DAB radio so that I could listen to 6Music more conveniently, I might as well throw it in the bin if 6Music goes. I have a notice board at home in the kitchen which every night gets filled up with new bands that I have heard whilst listening to DJs like Steve Lamacq, Mark Riley and Gideon Coe.
6Music is different to all other radio stations (especially Radio 1) because it is all about the music and the DJ's are intelligent, know what they are talking about and care and are passionate about the music they play. Compare that to Radio 1 where you get the same spoon fed "popular" music played ad infinitum , interspersed with inane chat from vacuous and frankly abusive (in the case of Chris Moyles) DJ's (and I use the term DJ very loosely) who wouldn't know quality music if it slapped them in the face.
And it's not just about the new music either, it's also about quality old classic tracks and obscure music that you wouldn't hear anywhere else. I've been introduced to all kinds of artists from a variety of genres that I would never have come across otherwise. Artists like Gil Scot Heron, Georgie Fame and Wreckless Eric (to name but a few) would never get played on mainstream radio and I would never be exposed to the vast diversity of music that's out there.
You may not even read this email but if you do I beg you to save 6Music because to my mind it is what radio stations should be all about and taking it away will be like ripping out the heart of good music and passionate music lovers!
Please Save 6Music.
Yours 'Gutted' Gareth Lynch
---
Re: Save 6 music
Dear Sir,
I am writing to express my disappointment and dismay at the news that BBC 6 Music may be closed.
I do not listen to commercial radio stations as they do not play the type of music or provide the informed content that BBC 6 provides.
Radio 6 has an audience that is not catered for in the commercial sector, it is a community of listeners and presenters who journey together to find and appreciate music of many genres. I have certainly increased the breadth of music I like through listening to BBC 6.
I fervently hope that you will take into consideration the views of the BBC 6 listeners.
Yours sincerely
Amanda Feron
---
Re: Save Radio 6 – in fact move it to more platforms
Hello,
I'd like to complain about the complete lack of publicity for Radio 6 and now that I've just become aware of a radio product I'd like to listen to, instead of it doing well, you're closing it down.
I'd much rather that you moved it out of the purely DAB arena into freeview/sky OR replaced some of the other drivel with it (like 1Extra, Asian or black channel or Radio 1,2,3 or 4 or BBC3 (which only shows repeats for 4 hours a day, what a waste of bandwidth the rest of the time) or BBC parliament).
As a mid-30's person I find radio 1 to be inane and radio 2 to be aimed at people of my parents generation. Radio 2 was aimed at my parents when they were my age and has shifted it's goalposts, whereas radio1 has stayed where it was. Leaving a huge gap (from about age 30 to 50) in the wage earning chunk of the listening market with no radio station targetted at them.
Regards,
Max
---
Subject: Protest against the close of 6 Music
Dear BBC Trusties
The BBC has failed to reflect my music needs throughout most of my life. The majority of Radio 1 is a waste of space – being filled with commercially driven disposable rubbish. Chris Moyles makes me lose my faith in humanity. I have tried to like Radio 2 but it to contains far too much artless pop for my taste. 6 Music leads the world in providing quality music for music lovers from all kinds of sources and eras. Where else can I hear Daft Punk slide effortlessly into Jimi Hendrix? The variety is excellent, the presenters are excellent and I listen to it all day most days. I understand the need to make savings, but please look elsewhere. Do what the BBC does best and give us high class content: Radio 4 for news, comedy and factual and 6 Music for the love of music. If you take away 6 music you take away the colour from my working life.
Thanks
David
---
Re: six music
Doing anything to BBC 6 music is a terrible decision. our culture is mainstream enough without the one alternative radio station i can pick up being shut down.
Cleo Wreford
---
Re: 6 music facing closure
Dear sirs,
I am saddened at the news that it has been decided to close 6 music which is one of very few British radio stations really doing something interesting. You do our cultural welfare a great disservice if you pursue this short sighted policy.It doesn't need closing, it just needs a lot more publicity – if more people knew it was there then its future would not be in question and the listening public would be happier as a result. How about giving it space on the analog airwaves too? Then you would get even more listeners – you have that choice with Radios 1,2,3,4 and 5. The BBC should be broadening and not limiting our collective horizon.
yours repectfully
Adrian Nicholas
---
RE: BB6 Music – Don't close it! :(
Please keep this station open – what a great mix of music.
Definitely gets value for my license fee.
The criteria for closing seem very short sighted – playing a mix of 'off-the-beaten track' music (of all styles) ineveitably won't appeal to every license payer. The BBC should not be aiming always to lower the common denominator. 'Niches' can play an important role, while over-appealing to the common denominator and aiming to up viewing numbers can produce pap..
This will leave a whole that will be impossible to fill – either by the BBC or commercial stations.
Regards,
Marc
(A dedicated BBC R4 and BBC6 listener – and license fee payer)
---
RE: halt the closure of six music
To whoever it may concern,
I am both flabbergasted and disgusted by the proposal to close 6 music. As a passionate music fan, I love what "6" does, they play music that I and many hundreds and thousands want to hear and provide a home to innovative and often minority music, following that the presenters, with the exception of George Lamb-who is a pillock, all share a passion, knowledge and above all love for what they do. Where will I and many like me find a new home for radio? I'm too old for radio 1 (I'm 43) not mainstream enough in my tastes for radio 2 (with the exception of Radclliffe and Marconie) and I hate commercial radio and likewise feel too old for NME.com.
Personal stuff aside, I feel that Lord Reith will be spinning in his grave over this the Reithan principles are displayed in everything 6 Music does in my opionion these are: quality, cater for the minoirty as well as the majority and do it good. 6 music in a nutshell.
Why don't you close BBC3 which is both a major dissapointment and broadcasts either repeats, gossip style shows or constant repeats of family guy or two pints, while we are at it get rid of a load of BBC Managers, Radio7, the parliment channel and Steve Wright in the afternoon.
I am very angry and will withold my licence fee, if 6 Music closes as the BBC will no longer meet my needs.
Tony Adams
---
RE: 2010-03-02 : Save 6 Music
6 Music was the primary reason that I purchased a digital radio and my first destination radio station every time.
6 Music places quality first and refuses to adopt the lowest common denominator playlist formula of other stations.
The BBC's proposed closure of 6 Music shows a surprisingly short-sighted disregard for it's licence paying listeners and would be a major mistake, one which there is still an opportunity to reverse.
Adrian Stewart
---
Subject: Closure of 6music!!
Dear BBC Trust
I would like to complain about the proposed closure of 6music. This closure seems to completely misunderstand the role this channel plays in servicing a demographic who don't want to listen to generic "pop" music which is constantly aired by Radio 1 and also don't want to listen to the frankly dreary Radio 2. The proposed changes to recommit Radio 1 and 2 to pushing more new and live music is an absolute cop out all this will lead to is a sanitized pop chart friendly idea of what new music is and will not even come close to the eclectic mix currently offered by 6music. As a license fee payer I feel that the current BBC is offering is actually good value for money but these proposed cuts are seriously making me reconsider this. I would strongly recommend that the BBC, as a public sector funded broadcaster, begin to listen to the people who actually pay the license fee as appose to implementing changes on a knee jerk basis in fear of a new Tory government in the pocket of Rupert Murdoch making cuts for you. (Which they will do anyway).
Congratulations
Jonathan Anderson
---
Subject: Closure of 6 music
Dear BBC Trust,
I am writing to register my anger and dismay at the shocking news of the proposed closure of 6 music. This is a great station that has at it's heart a true and dedicated policy of playing and promoting new music. The station stands completely alone in giving a platform to countless up and coming bands that would have not been exposed anywhere else on the BBC network. This in turn fuels an ever growing live music scene and helps the UK record industry at a time when it needs all the help it can get! The irony is that since 6 music has had this recent exposure people that have never listened to the station before have tuned and have nothing but great things to say about the station, the knowledgeable presenters and the diversity of music that it plays. There is clearly a case for promoting this gem of a station and making more people aware of it, not closing it!
I honestly think that the decision is a very poorly considered one, with all the wrong reasons at it's heart. It is clearly wrong and extremely short sighted to bow down again to the Conservative party and right wing press on this issue and make the best thing on BBC radio a pointless sacrifice to appease their ignorant and elitist agenda. The BBC should stop paying so much attention to the politicians and start listening to the PEOPLE. The great majority of licence payers do not begrudge the annual fee, especially if it provides us with great stations – and 6 music is up there with the best of them.
6 music is the reason I bought a DAB radio, I can only hope and pray that this short sighted and unpopular decision can be reversed.
Yours
Jen Waterfield
---
RE: Proposed 6 Music Closure
I really would like to voice my concern over the proposed closure of BBC 6 Music. I have been a long, avid listener and consider it both invaluable in getting to hear music that is both 'ground breaking' and diverse. Since the sad departure of John Peel 6 Music is essential listening, there is nothing else like it any where else. To even consider closing it you are endorsing generic radio 1 like playlists with all there primary coloured squawking and hideous radio 'personalities'. Radio 6, although I have recently been hearing a certain shift to the dumbed down policy that Radio 1 has flag shipped so well over the many years, encourages a more serious and mature attitude to music and I have proudly stated on numerous occasions that BBC Radio, particularly 4,6 and 7 is worth the cost of any licence fee that I pay and they more than make up for the insulting dross that you seem so insistent on broadcasting elsewhere.
Richard Barnes
---
Open Letter to BBC Trust and Frank Dobson
Dear BBC Trust,
I'm writing to add my name in protest of the closure of 6music.
I am a musician who has been lucky enough to start my own label, and because of this I've never had to compromise the spirit of what I make. Without the support of 6music, I would never have been given the kind of exposure that I've had, and probably would never have sold enough records to keep going. In short, I owe it my career.
I'm not protesting on my own behalf here, but on the principle that artists like me SHOULD be able to have careers. There are clearly people who respond to this type of music, and they need to be given the opportunity. Without 6music, I hate to think how hard it will be to work independently of grand corporations and their agendas. Record labels already don't take risks on music that sounds different or subversive, and now I fear the musicians won't take risks to make it. We have a great history of innovative, independent music in the UK, and I'd hate to see it threatened.
It's strange that as a music fan, turning on the radio in this country doesn't make you feel represented so much as alienated. There are plenty of radio stations that offer up Christmas chart contenders and the finalists of talent competitions, but this is not the only kind of music that exists. 6music is unique in that the people running it seem to have a say in what they play, which, if you think about it, is bizarre. And it doesn't just play obscure or cult records, it contributes to the careers of people who go on to be commercially successful, and it plays classic records that you want to hear but can't be bothered to dig out. In short, it plays the music that it loves, and its got extremely good taste. What's more, it's educating. You trust the people who are running it to tell you something you want to know.
When I listened to the 6music Glastonbury coverage this year, I finally felt like the festival had found its home on radio. It felt like it was finally being covered people who really knew and loved what they were talking about. And it felt like a step forward for the station. It seems perplexing that only nine months later, it should be axed, rather than rewarded for the steps it has made.
Furthermore, as a listener, there is no other station that I could turn on in the middle of a bad morning, and hear a song that makes me feel like somebody else is out there and understands. You'd be breaking my heart to let it go.
Thank you,
Emma-Lee Moss (emmy the great)
**********************************************************************
To my MP:
Dear Rt Hon Frank Dobson,
I'd like to forward you a copy of my letter to the BBC trust on the subject of the proposed closure of BBC 6music.
I feel very strongly about the matter, and feel that you should know why.
As a small business owner (i have my own record label) who owes the station my career, I feel unable to keep silent on behalf of myself and others like me.
The UK independent music industry is already suffering with the loss of distributors, record shops, small labels and promoters. 6music closing may be the final straw. A UK without the independent music industry would never have seen the Smiths, Joy Division, My Bloody Valentine, Arctic Monkeys, Belle and Sebastian, Bjork…
In short, a tragedy,
Yours sincerely,
E Moss