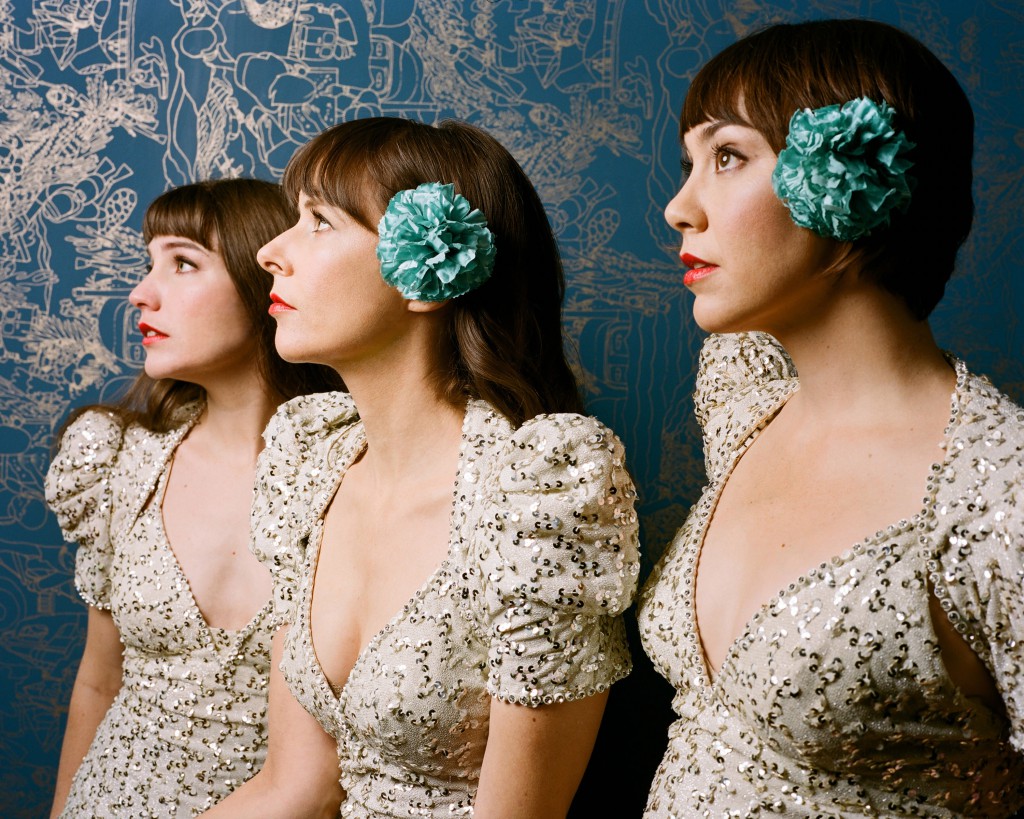 In a move that seems innately out of place alongside the gentle old-fashioned sounds of their album, FFS is to interview two of The Living Sisters in a conference call.  In so many ways, this doesn't make sense.  The Living Sisters are not a band who should be contactable by mobile phone, let alone a carefully-orchestrated conference call with near-pornographic hold music.  The Living Sisters should be contactable only by telegrams and phones that have ring-dials and clunky connections.  This is, after all, the world from which their music has seemingly drawn itself – the technologically-bare back-waters of 1940s America.
Eleni Mandell is the Sister first to arrive, to break FFS free from the sexual hold music.  We speak our greetings: Nice to sort of meet you.  Nice to sort of meet you too.  FFS is warned that the other interviewee, Lavender Diamond's Becky Stark, is usually late for these things, and that we're better to just start without her.  We start without her.
Asked about the origins of the band. Eleni answers simply and matter-of-factly.
"I'm the inventor of The Living Sisters, I suppose." she says.  For years Eleni, a notable solo artist in her own right, had wanted to start a harmony group.  "I'd tried earlier, a long time ago, but it sort of fell through."  At this point, our second Living Sister clicks into the conversation.
"Hi, it's Becky here." she exclaims, mildly.  FFS introduces itself.
"We were just talking about the origins of the band." says Eleni.
"Oh, great. I guess I sort of started it didn't I?" chirps Becky, and immediately the contradictions that flow throughout the interview begin.  They are never grand contradictions – no great fallings out occur, and for the most part they are just differing ideas, but as Eleni points out, 'this is the thing about being in a harmony group – you all get mixed up, you don't remember your ideas, your opinions, your name…'
We fight through the differing stories to form a mismatched gospel of the band's origins – sometime in 2005 Eleni and Becky met up in a dive-bar somewhere in LA ('a really romantic sort of place' jokes Eleni).  Both singers had for some time dreamt of starting a harmony group, though neither is entirely sure who first mentioned the idea (FFS's suggestion that the two both suggested the band in the exact same words, at the exact same time, goes down very well and shall surely become the accepted truth in years to come).  What is certain though, is the fact that the name – The Living Sisters – was Becky's. 'I loved the name, so beautiful. My real sister doesn't like it; she says it's too esoteric.  I think it's almost spiritual.'
Spiritual, FFS proposes, is a word that has come up often in the press about the band – sometimes the words of a critic, more often those of a band member.  Eleni agrees. 'It's a very spiritual practice, singing in harmony' she says, 'It's no wonder religious organisations have choirs.  They have this way of bringing you together as a group, they're so transformative.'
"When you sing in harmony," Becky suggests, "you bond.  You're letting go, you're letting you identity go. It allows to experience unity."
It was very much in this spirit of unity that the group continued to meet up, having taken on The Bird And The Bee's Inara George along the way – they played 'for the joy alone', and enjoyed having a musical outlet where they were never being pushed into an album.  This was clearly a great thing – the band were able to enter into an album enjoying themselves, not hounded by a record company.  There was no desperate rush, and other the course of six months or so, the record was made.  Fitting in sessions around their own individual touring plans, Love To Live was formed.
Though influences at first seem obvious – The Andrews Sisters and Les Paul both stand out like a sore-thumb in the album's line-up of usual suspects – Eleni claims that no such artists were ever discussed. 'We never really decided on influences in that way, we just worked together and went where we went with it.  Les Paul, he was never really on my mind during recording, and I don't think he was on the mind of our guitarist.  We all know his music, of course, and love him, but he wasn't on our minds.'  Becky, on the other hand, had wider ranging ideas musically.
"You're just devoted to the songs you love really.  I was brought up listening to Ella Fitzgerald and watching (American variety programme) The Lawrence Welk Show.  I loved The Lawrence Welk Show.  I wanted to make music like the music on that – something everyone can listen to.  These are the songs you're brought up with, you know?  The songs that everyone knows, The Beatles, Ella… and they become everybody's music.  It's kind of like everyone owns them. Like The Beatles songs, or Amazing Grace…  My mom used to do these teachings, on a Sunday afternoon.  The Church of Popular Culture. We'd listen to the charts, and the current music and we'd learn them, and dance to them, but we'd learn from them too.  Karma Chameleon.  When that came out, we learnt about karma, and materialism, from Material Girl."
In this sense, Becky seems to suggest that music finds its way into the public consciousness – something that everyone knows, and understands.  FFS gets the feeling that this is part of The Living Sisters' mission objective – to make songs for everyone to listen to, and enjoy, and take into their lives like so many folk songs before them.  Because really, this is what folk is, and always has been – the songs that work their way through the generations, finding new homes in the mouths and guitars of the next young troubadour.  Time will tell if The Living Sisters will find their way into the proverbial Traditional Folk Songbook, but we can only hope that they do.  For now, the band continue to build support for their effervescent debut, touring with a fourth 'Step-sister' in Obi Best's Alex Lilly, who replaces the pregnant Inara George for the time being.  Eleni seems positive about the future of the band.  "We're really hoping to do a second album;' she says, 'we're learning new songs'.  With any luck, these songs that are now so new, so unready, will someday belong amongst the same old standards that have inspired one of the most refreshing albums of recent times.