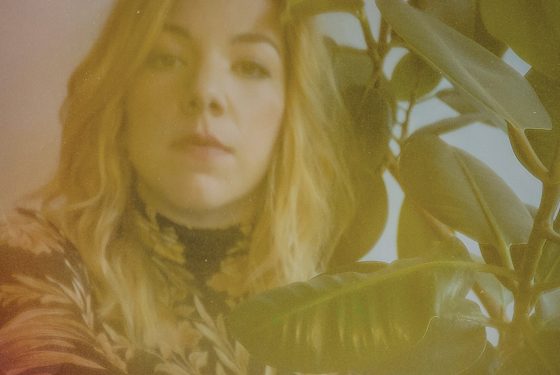 Denise Dombrowski is an unsung hero. Throughout my conversations with singer-songwriters in the Berlin folk scene, the name of the violinist kept cropping up, together with the harmonica player Sebastian Hoch. Somehow, the two instrumentalists seemed to be ubiquitous – playing on everyone's recordings, appearing on stage with everyone from James Michael Rodgers to Lisa Akuah, and doing it with the same wholehearted surrender, enthusiasm, and grace every single time.
I met up with Denise in Volkspark Friedrichshain, the first public park in Berlin. I waited for her at Märchenbrunnen, which translates to 'fairy tale fountain', due to the sculptures of brothers Grimm characters on the edges of the fountain. I saw her approach, flashing her warm smile at me from the other end of the square. I had been told that Denise was really, really nice. She was wearing a leather trench coat that she told me belonged to her grandmother. "My grandmother is really stylish," she laughed.
Her last name suggests Polish roots, but Denise's backstory is more complex than that. "I'm half German, half Romanian, but I also have a Canadian passport because my dad lived in Canada. And I'm fourth-generation Polish, so I don't actually know any Polish, but I speak Romanian because of my mum. And German." She's from Hildesheim, but she studied art in Dortmund and did short stints all over the world before moving to Berlin two years ago.
"I lived in San Francisco for two years with my ex-boyfriend, who was an American, making music and art," she said. Wasn't San Francisco one of the most expensive cities in the States? I asked. "Yes, we lived in Chinatown in illegal shared housing. We weren't allowed to tell anyone we were staying there and we couldn't have anyone over, either. We had our own room but shared the toilets, the kitchen, everything else with these old Chinese couples. And we still had to pay $900 per month." That was at the time she played in Synthetic World 859, as one half of the synth-pop duo. "You can probably tell we wanted to sound like MGMT."
We walked to a späti outside the park to get a coffee but automatically headed towards the fridge with the beers. "Wait, what are we doing? We said we'd have coffee!" Denise laughed. I paused, with my hand already on the door handle. She threw her arms up and said: "Ahhh… It's a Saturday, fuck it!"
"When I first arrived, I went to a gig where I started talking to Dave [Ingleton]. I asked if he knew of any jam sessions around, and he said he ran an open mic night, but that it wasn't much of a jam. He pointed at James [Michael Rodgers] and said: 'You should talk to this guy.' James invited me to the Neulich Sessions, where I eventually became a part of the house band."
We sat down in the grass in the park, enjoying the first day of Berlin summer, sipping our Radlers. "The first time I jammed with the band, I joined in halfway through the last song. I was sitting in the audience – it was 9:45, and the music had to stop at ten. James saw me sitting there and asked if I wanted to play, so I grabbed my violin and joined them."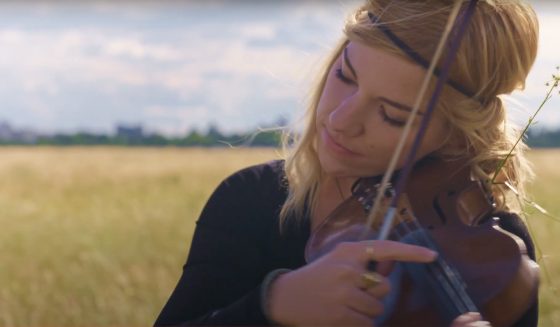 "Actually, my first two friends in Berlin were James and Bryan [Grayson]. We even spent Christmas together a year ago, with Seba [Hoch], too. My flatmates both went home for the holidays, so I had this huge flat to myself, and I invited my mum to stay, and the guys came over. It was really sweet – we watched The Simpsons." 
I remembered the first time I saw Denise play – it was the first time I came to Kindl Stuben, the open mic run by Dave Ingleton. Mark Loughrey, an Irish singer-songwriter with a penchant for metaphors and poetic storytelling, was the feature act. The jam-packed room went quiet as soon as the band started playing, and I was mesmerised by the pulling and pushing of the melody by the strings, by how Denise never played too much or too little. Later that night, Jessie Monk played and Denise and Sebastian joined her for an impromptu set on stage, ready to be wherever the music was. 
"It will be interesting to see how much everyone's music will have changed when we come out of this lockdown," Denise said. "Mark [Loughrey] is now learning to play the accordion. He's using my uncle's accordion from when he was a kid, so it's smaller than a normal one. I kind of understand the buttons, too. I'm not very good, but I used to play in an accordion ensemble as a kid, so I understand the instrument a little." An accordion ensemble? Was it any good? "It was horrible," she laughed. "We played pieces like the soundtrack to 'The Pirates of the Caribbean'. I played the violin. I've been playing it since I was seven."
We got up from our patch of grass and strolled along the lake, circling back to the späti for another drink. "James is probably one of my favourite people to play with," Denise said. "He never tells the musicians what to do or how to play, but everyone is good at knowing when they're not needed. It never feels like band practice with him – it's always just fun."
Near the exit, we notice Merle Sibbel (known as Mone), Jem Bosatta (known as Rookling), and Mark Loughrey sitting under a tree – with a guitar, an accordion, and a bouzouki splayed out next to them. "Do you want a brownie or some banana cake?" Merle asks, pointing at the paper bag next to her feet. Not long after, Jem leaves to play a busking set, but we stay, and the guitar gradually finds its way to Denise.
She plays one of her own songs, and her music is heartfelt and melancholic, shaking me to the core with its humble truth, in a way only Denise knows how to. When she finishes, Merle is tearing up. "Is it one of those hangovers when you feel very emotional?" Mark asks Merle. But I don't think it's a hangover. "This was beautiful," I tell Denise with a choked voice. When Mark plays a song, she takes the accordion and accompanies him, seemingly mastering every instrument she gets her hands on. We stay under that tree until the sun goes down and the air grows cold, basking in the glow of the music.