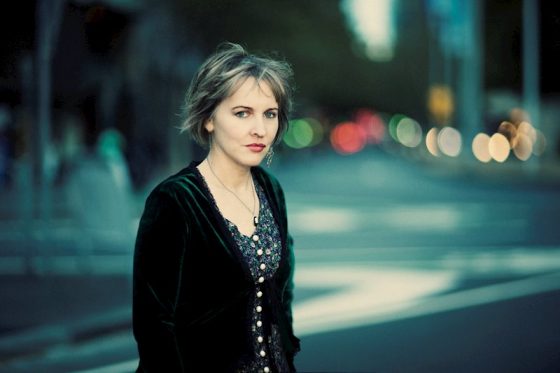 Paula Standing describes her new LP, The More I Give, as "a brief history of me." Cut from the same tapestry as the likes of Dar Williams or Shawn Colvin, Standing's folk is blended with subtle pop sensibilities and a whole lot of knowing—about life, and how she's living it. Her artistic roots are grounded in magical parties surrounding the piano, followed by formal study. They've flourished further in recent years, informed by family, friends, community, and the wonderful collaborations that she has taken along the way. The More I Give is straight-shooting contemporary folk at its best, and we consider it a privilege to have worked with this inspiriting South Australian songwriter as a part of our ongoing 'FFS 5' interview series.
Please tell us a bit about yourself. Where are you from and how did you get started in music? Any defining moments along the path to present day?
I grew up in the state of Queensland in the North East of Australia in a small community. My mother was a beautiful singer and we had a marvelous group of friends that loved to party by singing around the piano. After school, I moved to Southern Queensland and studied music formally. I later married and had two sons.
When the boys were still quite young, we moved back to the north for about six years. Then I had the bright idea to move interstate and experience another side of the country. That's how I ended up in Adelaide, South Australia.
While living here, I started writing my own songs and taught myself guitar. I left full time work in 2013 and decided to take up music full time. I have discovered a wonderful music community here and with the help of Adelaideans have built my current career.
In 2019, I met Lou Bradley, an ARIA nominated Australian folk artist, at the Tamworth Country Music Festival. Lou took me under her wing and introduced me to one of Australia's premier producers, Rod McCormack. Rod agreed to work with me on a new album, which we wrote in his studio in August that same year. I returned in November to record it and started shooting a video for the first single.
The first single release, Hiding Out In Tuscany in March, 2020, coincided with the world shutting down with COVID. So, the plan for touring the album in May went by the wayside. Instead, I chose to make more videos and release two more singles, My Heart Goes With You and I'd Go Back Again.
It has been possible to perform this year, so the album launch was set for June. With this I released a video for the title track 'The More I Give'. More recently, I have started promoting the first track of the album 'Call It Home' to radio across Australia.
As an artist, how do you define success?
The easy answer is of course, fame and fortune, but it's not really the truth of the matter. Success to me is in the product. There has been a healthy improvement in each EP/Album I have produced over the past eight years, culminating in this current album.
I have always been pleased with each one at the time of production, although there has always been a little bit of a cringe factor.."oh that's not quite right" reaction. When I sat down with Rod, he asked me what I wanted out of this album. I said, "I just want something that I don't go argh when I hear it." He smiled and said "I think we can do that".
What do you find your greatest struggle to be when it comes to the music business?
Getting my music in front of people is the hard haul. Without a record deal, there is no access to commercial radio in Australia. Community Radio is the backbone of the Indie music scene here. There is a good mechanism for all artists to access this area, but even with that, you generally require a good promoter to assist. This, like every industry, is fraught with pitfalls. Finding a bona fide promoter, who can do what they say they will do, is also a struggle. But they are out there.
I was somewhat disappointed to find my first single didn't just 'take off' when it hit Spotify. Eventually, I worked out that you need a promoter and playlisters to make that happen. Another dark place to negotiate and find genuine articles.
What do you think is the most realistic goal you can achieve as an artist and as a band? What do you hope to achieve?
I have always believed with the right product and the right team behind me, anything is possible. When the world was a different place, touring different countries was my ultimate goal. Maybe that will be a thing again one day. However right now, if I can have my music shared across the planet, I will be a very happy singer songwriter.
Outside of music, what do you like to do that you feel contributes to the creativity that you tap into for your music?
Music can be and often is, all-encompassing for me. I actually wrote a song on this very topic. But, there has to be time for breathing. I meditate on a daily basis and visit a women's health and fitness centre regularly. Spending time with friends and family has a particularly invigorating result. I am not sure I would still be doing this, without that support network around me. The constant self-doubt needs to be counteracted with good people and a healthy lifestyle.
Occasionally I like to do something creative that has nothing to do with music: draw, garden, organise a scrapbook and even create inspirational social media content.
Words by: Jonathan Frahm