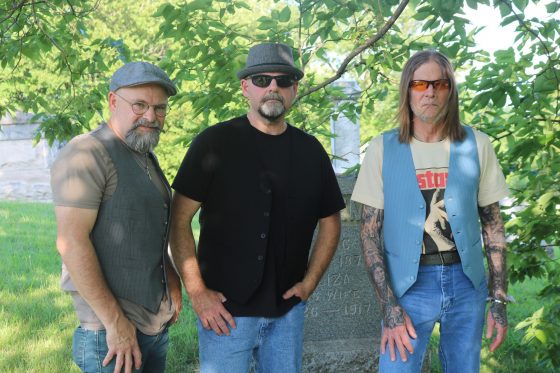 They're based in Indiana, but their music is decidedly Southern Rock. The Crossroad Saints are purveyors of hearty roots rock meant for long hauls out on the highway. It recalls the Muscle Shoals sound with some Capricorn thrown in for good measure—some Allman Brothers here, some Van Morrison there. It's raucous road music with a contemporary vision; their latest LP, for instance, was shaped mostly by experiences held in 2020. Through the eyes of frontman Daryl Venable, the band states, "The bulk of the material was written in early 2020, the pandemic in full bloom. And then there was the summer of 2020 with unrest spilling out into the streets; déjà vu for a kid born in 1955 from the south."
Venable joins our growing list of artists who are participating in our 'FFS 5' interview series, wherein each participant answers a similar set of five questions. Throughout, he bears his heart, detailing a working class history coming up in the 60s and 70s to the point of letting it all out with a band of likeminded, talented artists—as well as his time spent as a troubadour, a son, a grandson, and a father.
Please tell us a bit about yourself. Where are you from and how did you get started in music? Any defining moments along the path to present day?
I was initially classically trained by my degreed music and piano teacher mother who also directed the church choir and by my degreed music and piano teaching church organist grandmother. My father played clarinet in swing bands. Growing up in the south in the 1960-70's I was mesmerized and emotionally charged by the blues, Muscle Shoals and Stax southern soul, and blues-based southern rock. Gofering in high school for a local analog 2-inch magnetic tape studio was my intro into the world of recording.
Mike and John Slack being siblings grew up in Indianapolis and formed the rhythm section for a number of local hard edged rock bands before we first joined forces over a decade and a half ago, first in a cover band before I began writing most of our own stuff as The Crossroad Saints.
As an artist, how do you define success?t
I spent 8 years in Nashville trying to work my way into the music scene there. At that point I figured if I could just wiggle my way into being an unsung, unknown blue-collar musician, that would be success. Didn't happen. Never worked my way out of a day job, wound up back in Indiana, finally retired in late 2019. With this album I haven't even thought about success or fashioning anything for commercial appeal. I wrote 11 songs I needed to get off of my chest, worked with a producer I love and knew, reconnected with Mike and John who I love and knew, and just let go. We all put everything we had into it. The guest musicians were allowed to bring their own creativity to the project and I was adamant about staying out of the way. One of the songs I wrote for my daughter. She teared up on hearing just the rhythm track. That's success. Whatever else happens with this album, if we were able to craft songs that move folks emotionally, that's successful.
What do you find your greatest struggle to be when it comes to the music business?
It's difficult for me to even envision myself or us as "in the music business". If this album would happen to generate enough revenue to take another batch of songs back into the studio? OK, maybe I'll begin to say I'm in the music business. Personally, I don't care for social media and avoided it until the studio suggested we needed to get into that. So, we started it up and then I hired it out. The "hey looka me over here" aspect of it all I find very off putting. An awful lot of very shallow stuff can be made to seem very attractive. And there seems to be this quick sand inertia pulling artists into more and more computer time to promote songs. Not the kind of keyboard I need to spend my life in front of.
What do you think is the most realistic goal you can achieve as an artist and as a band? What do you hope to achieve?
We got an album recorded during a pandemic in a brand-new studio that had to halt construction for a while due to COVID-19 restrictions. Once the album was in the can, I was able to push it out while recovering from a second story deck collapse in which I collected 2 broken ribs, a broken jaw, 4 knocked out teeth, and a lower leg wound that required plastic surgery to heal properly. Three trips to the ER and a cardio thoracic surgery were required. There were times when getting the album wrapped up and out didn't appear to be realistic goals and my recovery continues. We'd like to get back to playing out live, doing these songs before an audience, and I've got more writing to do.
Outside of music, what do you like to do that you feel contributes to the creativity that you tap into for your music?
Down time alone.  Long motorcycle rides.  People watching.  Songs come from life; trials, troubles, tribulations, joy, love and loss.  I don't know how to write without first feeling, then hopefully someone else feels something when they hear the song.  Sometimes it seems like it's either write a song or find a therapist.  Perhaps it's just journaling over a chord structure.  I heard Gregg Allman say once that he reckoned there were as many ways to write song as there were songs.  I don't for a moment assume I've got it all figured out. 
Words by: Jonathan Frahm