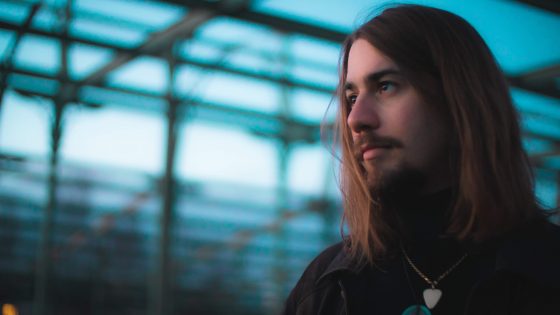 James Michael Rodgers is from Saltcoats – a seaside town on the west coast of Scotland. Growing up in a working-class family, in a place where more than half the population doesn't pursue further studies after high school, he remembers being "the guy who reads and listens to music".
In his studio flat in Berlin, his walls are lined with books, and I inspect the spines while he takes two beers out of the fridge. His book selection is eclectic and veers from Jane Austen to Noam Chomsky. His love for literature started with Hemingway. "I didn't grow up with parents who read. I never saw them pick up a book. And Saltcoats had a very 'laddy' culture, so when I came across Hemingway, I didn't feel embarrassed to be reading him because he is also a lad, you know," James said, cracking the beer open with his lighter.
He walks over to the shelf and takes out a poetry collection by Liz Lochhead, a Scottish poet. He had recently watched a documentary about modern Scottish poets and realised he only knew Robert Burns, whose portrait hangs in his kitchen. "I was reading a lot of men, so I'm trying to branch out now," he says.
He's proud of his Scottish heritage, which is hard to hide when he starts singing and the r's roll off his tongue. "When my dad heard my last single, 'Found a Reason', he called me and asked if I was putting the accent on." In Scotland, being an alt-folk musician often means singing with an Americanised twang. James embraced the accent when he went travelling and noticed that people were mimicking his speech. "It was becoming my thing."
With his long hair, metal bracelets, and colourful shirts, James looks like a reincarnation of George Harrison in his 'My Sweet Lord' years. He's a traveller, a hippie, and a bit of a beatnik. His first long stint abroad was when he moved to Sicily for a year, bought a €20 guitar at a flea market, and played gigs to pay his rent, which was – at the time – only €80 per month. That's where he met his ex-fiancée, moving to Berlin five years ago to be with her.
"The whole EP was written during our relationship," he says of his upcoming release Pain of Being a Man. "Sometimes, I have second thoughts about the name of the record. I don't want people to think that I mean that being a man is so hard. It's about finding my own path, about growing up, and the pain of that. One of the songs is called 'Let Me Grow Old', and it's about my father talking to me. There's this line 'Son, let me grow old, so I can tell you what I know'."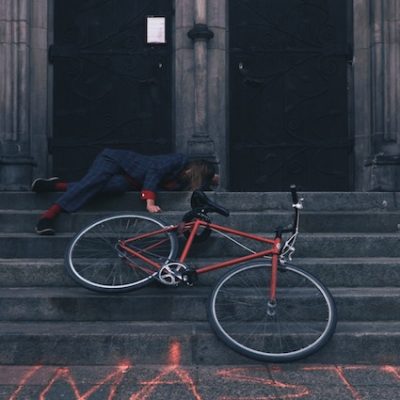 In one of the songs, 'How Can You Leave', the description of his ex-fiancée with her "Virgin Mary's eyes" catches my attention. Looking at the Bible on the bookshelf, I ask if James is religious. "I went to the only Catholic school in the area, surrounded by Protestants, and I got beat up because of that. I always fought back but I wasn't a very good fighter, I always broke a finger or something." He shows me his hands, with the fingers slightly crooked after not healing properly. "My dad used to fight all the time, and my cousins were boxers. But he always told me I shouldn't fight. 'You're not like me. You have your books and your music,' he said."
"I started playing in open tunings when I broke another finger after a fight in Sicily. I played in open G for months," he says. Reminds me of Django Reinhardt, I reply. "Yes, well, every time it happened I would panic, and think: 'I'm never gonna be able to play again!' But then after two days, I start wanting to play again, so I figure out a way."
After we finish our beers, we run down to the local späti – night shop – to get another beer. When the shopkeeper asks in German whether we want to pay separately or together, James replies: "Yes." I laugh as we run back to his studio through the rain. "Out of all my friends, I'm definitely the worst at speaking German, but it's a work in progress."
Having spent five years in Berlin, James has become a mainstay in the scene – running singer-songwriter nights at Space Meduza and open mics at Brauhaus Neulich. Last year, he also became a part of the Famous Gold Watch Label Collective with the management of the label shared among the artists themselves.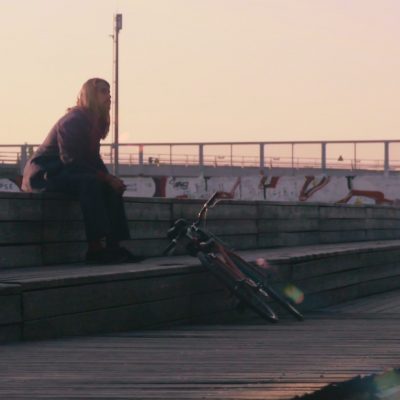 We touch briefly on the COVID-19 breakout at one of the sessions at Neulich, when someone with COVID walked into the open mic in July. "Seba and I spent days tracing everyone who was there, hallucinating in bed while placing 20 calls a day." Seba or Sebastian Hoch is James's harmonica player and was part of the house band at the open mic. "It took me years to find Seba and Denise, but they're amazing." Denise Dombrowski plays the violin, and both musicians feature on the EP. I saw them live in October when gigs were still on. James wore the same blue suit for three consecutive weeks and stomped the wall with his foot when he sang.
He appears in that same suit in the music video for 'Found a Reason', his latest single. In the video, he's cycling around the streets of Berlin, the same streets where the relationship with his ex-fiancée was set, which is fitting since the song was written as a love letter to her. It's bittersweet and melancholic, like a lot of James's songs seem to be. It's hard to find an artist to compare him to, but if I had to pick one, I'd say he sounds like a Scottish Van Morrison or Mike Scott from The Waterboys, with arrangements that spin into instrumentals reminiscent of a folky Frank Zappa.
The end of the night is spent listening to Hamish Imlach's 'Cod Liver Oil & Orange Juice', with James translating the Scottish dialect that I struggle to understand. "This is the kind of songwriting I love," he says. "It's raw." That's not surprising coming from him, since his own songs are suffused with honesty and have a tendency to be rough around the edges. Listening to his EP, I tell him it's soul-crushing. There is a depth of feeling to the songs that can't be faked, and in this time of uncertainty, James Michael Rodgers sings with an unusual resonance, his songs reverberating in an incantation of hope.
His next single 'How Can I Ever Return' will be out on 26 March. Pre-save it here.