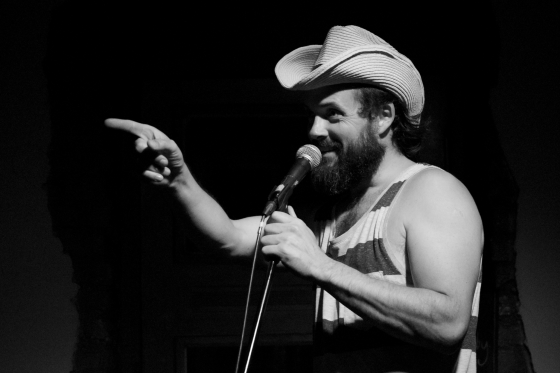 Kindl Stuben is in Neukölln, an area of Berlin famous for its kebabs, the film 'Sonnenallee', and low rent prices that attract a lot of immigrants, as well as musicians and other creatives. It borders with Kreuzberg, which is known for pretty much all the same things but doesn't have any of Kreuzberg's charm. Kreuzberg and Friedrichshain have clubs, hipster coffee shops where the staff doesn't speak German, and parks. When I came out of the S-Bahn station, Neukölln Rathaus and the surrounding streets looked Soviet-style bleak.
A week before, I had posted a message on the Facebook group 'musicians in berlin', asking for open mic recommendations for folky singer-songwriters like me. I expected nothing much but counted on at least a few messages from 40-year-old men preying on young women in a new city. What I got instead was a comment by Mabloni (surely not his real name?), recommending an open mic at Kindl Stuben, saying: "It's like a harbour for all the new folkies but also the scene hangs out there." I was instantly intrigued: the scene? There was a folk scene in Berlin, the capital of techno, the birthplace of David Bowie's Berlin Trilogy and Lou Reed's Berlin? It seemed so unlikely I couldn't wait to see it.
On Sunday evening, I marched to the café with Google Maps as my guide. It was only a five-minute walk from the station, but I got lost seven times, so it took me twenty. Eventually, I got there, in time for the signup, to find that I was one of the first ones to arrive. Very different from the Green Note, the folk haven of London, where musicians started queueing outside the venue an hour before signup began even in December.
Kindl Stuben looked like a traditional German pub, with the name in gothic lettering above the entrance and a big window looking out onto the street, in front of which the customers were smoking their cigarettes. Inside, it was unpretentious and cosy – with a big wooden bar and rustic chairs around the room.
Once people started streaming in, I could tell most of them were musicians. And not solely by the fact that most of them arrived drunk. They weren't nervous or fidgety or ill at ease, the way inexperienced performers are. They laughed a lot, shouted insults at each other, and darted from one table to the next to greet friends and acquaintances (all whilst wearing masks – these were better times when we thought the end of COVID was near).
"It's not exclusive, as long as you're unpretentious and not a dick. And I'm good at weeding out the dicks because I'm a dick myself," David Ingleton, who put on these nights, told me. "If you're coming for the first time, sit and listen. Be happy with the slot you get. Of course, I'm not gonna give you the first slot. I don't know you. But talk to the people whose music you like. We all like to talk about our music."
Looking around, I recognised a girl from looking at the #berlinmusicians hashtag on Instagram in the corner of the bar. I'd learn later that her name was Merle – artist name Mone – and she sent shivers down my spine and made me question my sexuality when she whispered after I'd played: "Good work." When she sang, she reminded me of a female Tom Waits.
As the night progressed, there were more musicians – Michael Brinkworth, an Australian singer-songwriter in a fedora, who apologised for being drunk and proceeded to solo on his harmonica for the next five minutes, Jessie Monk, who covered Joni Mitchell's 'Coyote' while fiercely stamping her bare feet on the ground, and Mark Loughrey, accompanied by a banjo and an Irish lilt.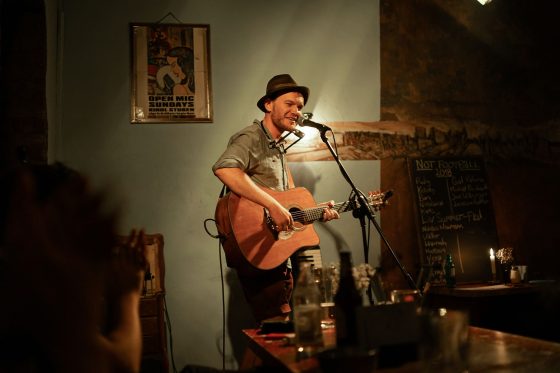 Dave had an accent that I couldn't quite place, and I asked him where he was from. "Sydney, Australia. But I've been working with Irishmen for so long, there's probably some Irish in there. That's one of the reasons my accent is weird. The other is that I want people to understand what I'm saying." Dave had been in Germany for eighteen years, living in Munich first, and moving to Berlin in January 2015. That was how he started to work at Kindl Stuben, with the open mic being born in October that year.
"The owner already had all the equipment because he had put on concerts before, but he said they didn't really work at Kindl. I thought, you know, they didn't work because you're not a musician. After working there for a couple months, I asked if I could put on an open mic. The first six months were quiet and I struggled to get people, sometimes I only had two or three acts. But I tried to keep the noise down and create a space where people listened. When people are rowdy, you think the girl with the soft voice and the gentle guitar is shit. But when it's quiet and everyone is listening, you think she's brilliant."
When I raised my voice talking to a friend at the open mic later that month, Dave immediately shut us down with a death stare and a stern comment. My friend and I both felt so guilty we didn't say a word until the music was over.
"Of course, sometimes, you drink and get carried away, or if you've been coming every week for a while, you'll go outside for a smoke to catch up with everyone. But in the first place, you're coming to hear others play. I always say that everyone matters except for you. The five minutes you're up on the stage singing your songs are the five minutes you should care about the least. And everyone knows that. Of course, sometimes I have to tell Bryan [Grayson] to shut up and stop doing yoga in the middle of the room. And then he'll say something like 'You're such a Virgo!' But everyone knows that's how it works."
After one of the open mics at Kindl, I saw a singer-songwriter that I vaguely remembered from an open mic at The Green Note in London. He had sung his songs and scurried off before I had played, so he didn't recognise me when we ran into each other in Berlin. I confronted him about it, and he said: "That's how it works in London, though. You go to five different open mics on the same night."
I told Dave about this, comparing London to Berlin. "I don't understand that mentality. Do you hate music? Is that why you don't want to listen to anyone else but you? You can always tell when musicians are coming from London. They're pushy, telling you which slot they want or asking if they can play more songs."
"We don't have that mentality. In the last five years, the reason I've been able to make money from music is because of the musicians I've met through the open mic. We share everything. If anyone needs anything from me, I'm an open book. Do you not know what a booker is? Or a promoter? Do you know what mixing is? Or why you need mastering? We give each other all that information."
The nurturing community at Kindl is what makes musicians grow. "Someone good can become incredible in the space of six months. You'll see them come in for the first time, and ask to sign up with a trembling voice. Six months later, they're belting on stage with that confidence that they get from feeling supported. Those musicians keep coming back, and that's how a scene develops."For now, as with everything, the open mic at Kindl Stuben is on halt until the lockdown regulations ease up. But Dave assures me that the open mic will start up again once he gets the green light. Meanwhile, you can check out the Open Mic Sunday at Kindl Stuben TV, the five episodes that Dave made with Jamie Collier, featuring music videos and sketches with amazing Berlin-based musicians.
Main picture of David Ingleton taken by Stephanie Hannon.