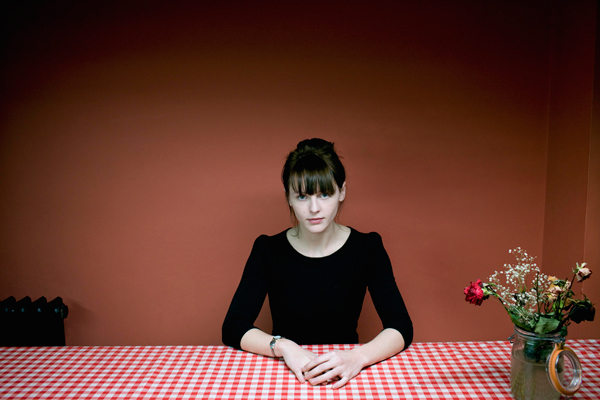 We were already big fans of Laura Marling's work here at FFS, but her soon-to-be-released second album I Speak Because I Can has propelled our fandom further skyward. And as if her increasingly-great songwriting wasn't enough, we also hugely admire Laura's use of her status — as perhaps the most popular of the modern folk artists — to champion musicians she admires, which she's continuing to do by releasing a bonus EP featuring tracks performed by Alessi's Ark, Pete Roe and Johnny Flynn and produced by Laura herself.
Talking to Laura Marling now it's clear she has grown into a confident, robust and down-to-earth woman from the blinkingly scared girl who was shoved into the limelight by the brilliance of her debut Alas I Cannot Swim.
She made I Speak Because I Can — released this Monday 22nd March — with eminent producer Ethan Johns, who has worked on albums by Ryan Adams, Rufus Wainwright and Brendan Benson among many others. Laura has said she felt more ownership of the album than of her debut. "I think I'm more confident in the decisions that I make, which is a really nice feeling. Those gut decisions happen a lot when you're making an album, I think, and I had the confidence to follow my gut," she explained.
I Speak Because I Can is the exploration of womanhood that you might expect from an intelligent and contemplative ex-teen. She says, "It's something that I've been thinking about. What it means to be a woman and a woman's place in the world – and in a more general sense what it means to be an adult."
At the start of her career, Laura refused to wear make-up or dress up for the cameras. The Stool Pigeon recently stated that she "used to wear boys clothes as a statement against female sexualisation". "I don't think it was quite as purposeful as that," Laura argues. "I don't really understand that… I don't know what it means. But I have my personal morals, which undoubtedly get involved with how I present myself as a person. I don't like the idea of being prettified or dolled up or sexualised."
Her earliest recorded music — tracks like New Romantic and London Town — were very open and candid, but Laura's lyrical style became noticeably more restrained by the time she recorded her debut. "The pre-Alas I Cannot Swim stuff just makes me full of an incredibly deep self-loathing now. But I've forgiven myself for being young. I think the first album was very guarded. To some extent this one is, but I'm not so self-aware as I was when I was a very awkward teenager."
On I Speak Because I Can, we get the essence of the woman Laura is without any of the details. How much of herself does she want to put across in her lyrics? "Not an awful lot you know, as much as you try you can't write about anything else but yourself because that's all you know. But I wouldn't want to wear my heart on my sleeve, cos that's not what I'm like in my personal life — I wouldn't want to do that just for the sake of songwriting.
"With all my songwriting it's all conscious-unconscious. The stuff I've been thinking about comes out in the songs. I don't really feel like I have much control over what comes out of my mouth sometimes. I think [I Speak Because I Can] is a bit more unconsciously guarded but at the same time not so intentionally guarded."
Despite being a private person, Laura's personal life is pretty well known. She's — to use the Facebook parlance of our times — in a relationship with Marcus Mumford of Mumford & Sons. Better documented, though, is her relationship with Charlie Fink of Noah and the Whale, who wrote the album First Days of Spring about their break up. The press coverage focused almost exclusively on the album's subject matter. Laura recently told the Guardian, "When I opened up a magazine it was heartbreaking. I was an 18-year-old when it was written. It made me realise that journalists don't give a shit. Why would they?" But how does she reflect on it a few months on? "It's a beautiful album and that's all really, there are no bad vibes at all."
It's not snobbery that has lead to Laura dating high-profile musicians. These are the people she spends her time with. And she tirelessly promotes artists whose work she believes in. As well as the I Speak Because I Can bonus CD, Laura curated a night at The Royal Festival Hall at the end of last year, which featured performances from Alessi's Ark, Pete Roe, Peggy Sue, Cherbourg, Johnny Flynn and Mumford and Sons among others. And 18-months ago FFS saw one of Cherbourg's very early gigs in a tiny venue in Winchester. Guess who was getting people to sign their mailing list? We asked her about it at the time: "I believe in the cause!" she joked.
So what drives her to promote these artists? "I think it's becoming increasingly difficult with the way the music business is going to be a new band and also because of the nature of the music that most of us make isn't going to have much commercial appeal. But there is a way — by building a fan base — and the reason that I got where I am now is by people very kindly taking me on tour and saying nice things."
"it's not just me — there's lots of other bands doing the same thing. I have come across lots of musicians that I think lots of people would love to hear but don't have an opportunity to because they can't get onto the radio or can't get the money to tour. You know if you've got the means it's good to help out."
It's pertinent then that the last bastion of the struggling musician, BBC 6 Music, is under threat of closing. Unsurprisingly Laura is against the decision. "I'm a huge fan of 6 Music and I'm really kind of disgusted that they're even considering closing it," she says. "I just think it's such an important radio station."
Laura's about to embark on her UK tour, and we have performances at Glastonbury and Latitude to look forward to. On top of that some very exciting news filtered through to the FFS offices a little while ago. Work has already begun on album number three. Laura says, "At the moment I'm doing pre-production for it, which is really fun. I'm doing that all at home. It will be recorded in June I think.
"I've had a lot of time since I wrote the second album. I finished writing about a year ago and since then I've been pretty much sitting on my bum. I've had time to write, which is really good. I count myself as very lucky."
Words: Lynn Roberts
We asked you for your questions for Laura. Here is a selection…
@stuburns: Your song Typical is stunning. Why didn't it make the first record?
LM: Because I don't really like it. Simple as that.
@rub5ter: You once said that you would be happy with a loyal core following, playing to small intimate venues. Has this changed?
LM: I do still get to play small shows, but I'm also much happier than I used to be playing bigger shows. That's something I'm pleased about because I feel more confident but it's also great that enough people want to come to them.
@TisforTaekwondo: What are your current influences and how do they differ from your earlier work?
LM: They haven't changed much from the music she was listening to when she made Alas I Cannot Swim. It's always been Bonnie Prince Billy and Joni Mitchell.
Mouse: What does PJMI stand for? It's listed as one of of your influences on MySpace.
LM: Ah, that's the initials of an old friend.
FFS's Mum: How did you like touring with Neil Young?
LM: It was very very surreal I have to say. I seem to have blocked those three days – it's a very short amount of time – out of my memory. I was so nervous and so completely dazed by the whole thing that I don't remember that much. I know after the last gig my band went in to see him, and he was very sweet and then I came in and just stood there gobsmacked for about five minutes then was wheeled out of the room. It was totally surreal and wonderful and incomprehensible and just great.