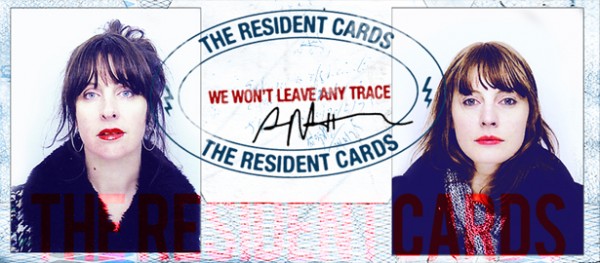 Long-time readers of For Folk's Sake and the New Bands Panel should remember the name of Erica Buettner, the Paris-based American who charmed us so in 2010 and then returned last year with a full-length album True Love And Water. Now she has a new project after discovering a fellow wandering American soul on the streets of the French capital, and forming the Resident Cards with Brooklynite Dana Boulé. They're getting ready to release their debut album together, We Won't Leave Any Trace and as well as offering up a free download of album track Pyramids, they also offered up some answers to our questions.
Hello, please introduce yourself to yourself and your music to the uninitiated.
Dana: I grew up in New Jersey, did experimental theatre in Los Angeles, fronted two punk bands in Brooklyn before I chilled out and moved to Paris where I met Erica on the folk circuit. We bonded over crying at immigration meetings and after wondering if my punk rock roots could meet her folk roots somewhere in the middle, The Resident Cards were born.
Erica: When I met Dana in Paris, I was living in the 6th arrondissement in a 9m2 room with a sloping roof. (Or was it a storage space?) Luckily, Dana had an apartment right down the street where I could stand up straight and walk around. We spent a year writing songs as The Resident Cards and playing shows around Paris to develop our sound. Our songs came together in our shared experience of living as foreigners.
How did you start playing music?
Dana: My mother began teaching me classical piano when I was three. I wrote my first song at age five called "I Wanna Be A Star". I'm waiting for the day where I can call myself prescient.
Erica: I started as a very enthusiastic extra in school musicals. I studied singing and played the flute in the school orchestra until I picked up the guitar at age 16 and eventually ditched the flute. (Actually, that's only partly true. My flute is sitting in a storage closet in Paris, and I have been known to bust it out at parties.)
Dana: You did a 17 minute flute solo at my last party. And I have evidence.
Tell us about your latest single.
'Pyramids' is the first single off our upcoming album release We Won't Leave Any Trace. It is a song written for travelers, inspired by our wandering ways.
What was your best ever gig?
Dana: When a group of Australians showed up to a gig in Paris and turned it into a stand-up show.
Erica: That was a great show. We were able to talk and laugh between the songs, but everyone was silent while we played. So of course, now we want to tour Australia.
What's the worst thing about being a musician?
Dana: Reconciling your lifestyle with your profession like when you're pregnant and you have to pull your bandmate out of a bathtub after a show because she's trashed, lost her gear and is petting the cat..
Erica: I would like to note two things. 1. It was my birthday and 2. Dana's worst gig ever was one of my best. I think the worst part about being a musician is living in the extremes: long stretches of isolation are followed by long stretches of chaos, and there's not much middle ground. Sometimes I dream about having a routine the way people in other professions dream about not having one…
What inspires you?
Dana: Ham and my friends.
Erica: Definitely my friends, but if anything, ham disturbs me. Really, Dana? Ham?
Dana: I'm eating ham right now answering this question.
Erica: You know this will be on the internet forever, right?
If you won a billion pounds what would you do with it?
Dana: I'd like to say that the adult me would give most everything to charity but my mother just mailed me a book I wrote at age nine called "The Great Book Of Stories" where the budding consumerist in me is more than exposed. In the chapter titled "Money" (page 21), I tell a tale of a finding a tree with money growing on it. Much to my delight, the tree flourishes and grants me wishes of fame and fortune. The nine year old me says, "I had bought my mom her own Limo! I bought my Dad Kennedy airport! I bought my brother a shark tank and a castle! I bought me a mansion in Paris, a mansion in France, a mansion in New York, and a mansion in L.A.! I also bought 293 cashmere sweaters, 149 pairs of shoes, 299 dresses, 497 pairs of pants and lots more!" So there you have it. In addition to having lots of pants, I strangely enough named the four places I would end up living which makes me believe in the universe. Or myself. Myself in the universe.
Erica: If I won a billion pounds, I would reach for the stars – literally. I would buy an observatory and a state of the art telescope. And…telescope lessons, because as of now I know nothing about them. I would like to live in the observatory or at least next to it. I would also buy some of the stuff listed in Dana's Great Book of stories, but 293 cashmere sweaters seems excessive to me.
Out of your songs: which is your favourite and why?
Dana: 'I Wanna Be A Star' followed by 'Pyramids' because they make me feel happy.
Erica: Probably 'Gotta Shed The Old Skin', because it reminds me to embrace change when it's needed.
What are your plans for the future? Do you still always to be playing music?
Dana: Music has been playing in my head since I was born and my life plan is to just keep recording as much of it as I can.
Erica: I have an unhealthy relationship with the future. You know when you're walking around in a big city and you pass a psychic's door? Sometimes the psychic pops out and says, "I have a prophecy about you…" (which they basically say to everyone just to lure you in). I'm the kind of person who would buy that hook, line and sinker. I think I want to know as much as I don't want to know…Obviously I don't have a plan.
Finally, we're always looking to expand our musical horizons. Do you have any recommendations of bands or artists we should be looking out for?
Our drummer Boris Gronemberger is also a composer and singer-songwriter. He has a six-piece band called V.O. that is just magnificent. We feel really honored that Boris played on The Resident Cards album, because he's one of those multi-talented musicians and songwriters that everyone wants to work with. Also, Liam Carey shared the folk circuit with us in Paris and we adore his music and songwriting.