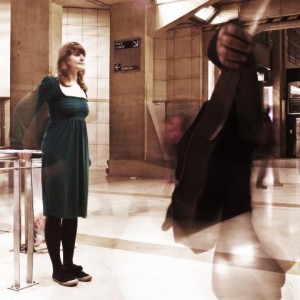 The American Erica Buettner has been living in Paris for the past five years, and has clearly soaked up plenty of its influences during that time. But what she says she's aiming for is something along the lines of Joni Mitchell, Nick Drake and Judy Collins. Lofty goals indeed. Our panel took a listen to see if she's on her way.
---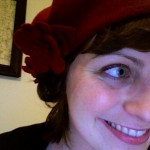 Jen Rouse: Whenever I really like music, I see pictures when I listen to it. Especially on headphones. It's a kind of semi-conscious synaesthesia. I used to fly down fjords whenever I heard Bjork's Isobel, and Paul Simon always puts me firmly in the middle of a picnic on Sesame Street, for some inexplicable reason. So I suppose the most natural way for me to describe Erica Buettner's music is to say that it makes me think of a worn-out pony, but in the loveliest possible way. A tired, gentle pony, grazing in a landscape of banjos and flutes. A dirty, woozy, jazzy pony, who escaped the catacombes of Paris, perhaps wearing a jaunty beret, and trotted off into the vast acoustic spaces of the Great American Wilderness. I don't know why it should be a pony, except that Erica's beautiful old-time voice is clipped and careful and sweet like Nancy Sinatra when she sings Bang Bang (much better than Frank, who makes me think only of toads). Nancy is definitely another pony. Beautiful ponies, both of them, with lovely kind eyes that have seen too much, running away into the sunset. And their music is travelling music, late-night-heading-north music, Ginsberg-ghosted Parisian-beat-music. "All these hollowed out empty towns… last flicker of neon light…" I don't buy much music, but I will be buying Buettner's album True Love and Water, due any day now, and so should you, pony-lovers.
---

Mary Machin: Politically aware and well-read, Erica Buettner is a contemporary talent with an edge. Through peppering her songs with tragic lyrics like "At the fountains of sorrow you don't make a wish/ Everyone learns to swim like a fish" she proves that she has the intelligence and wit that audiences delight in the world over. Buettner more often than not holds her own through vocals alone, the instrumentation that she scatters about her lyrics is simply an extra joy to behold. From a brief but captivating listen to the content on her myspace, The Body Electric sticks out like a sore, but superbly varied, thumb. Here, Buettner steps up her musical capabilities and incorporates drums, glockenspiels and a rhythmic guitar melody into the track to provide a dramatic and memorable soundscape. You can tell Erica Buettner is an avid reader from her music and well-crafted narratives. Additionally, it's more than easy to hear a story in the notes she plays. Both respective tales, spoken and played, merge together to produce a glorious, vivid yarn that could only come from a performer as unique as Buettner.
---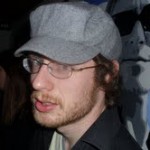 Tom White: Hailing originally from America, but having taken root in Paris after travelling there to study, Erica Buettner immediately brings a broad palette of influences to the table. Applying them to wistful, often abstract lyrics and unusual reference points, she is a captivating and engaging presence. A possible standout is her album's title track, True Love And Water, an imaginative nursery rhyme re-telling casting Jack and Jill as star-crossed lovers, narrated from the latter's point of view. But the likes of Time Travelin' and Our Most Fragile Things ("One day imagining myself as a bird…") reward repeat listens, their nuances slowly revealing themselves to those prepared to immerse themselves in this delightful newcomer's beautiful melodies.
Check out Erica for yourself here.
Picture of Erica by Pey Lim.