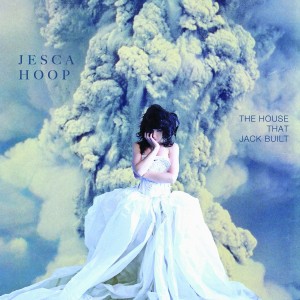 Championed by Tom Waits and Guy Garvey, California-born, Manchester-based singer-songwriter Jesca Hoop is back with a sumptuous third album. Infused with dark grief and surreal lyrics, the collection is beautifully balanced by full-blown quirky pop and imaginative dream-folk (not to mention a slightly obscure ode to Banksy).
With a mix of mandolins, guitars and building beats, first track 'Born To' is a hymn to empowerment (like the musical equivalent of shouting 'Go get 'em tiger!' but without the cringe-factor). If there's one thing she was born to do, Hoop leaves no doubt in our minds exactly what it was with this pounding opening track.
From there we move to 'Pack Animal', a song which reflects on the relationship with self – 'Dear reflection you're my oldest friend/ And where you go I go/ End of eternity and back again' – and our shifting sense of identity, laid over a lovely low, plucking bass line and skittish cymbals.
The cryptic, jumbled lyrics of 'Peacemaker' may leave you wondering what the song is actually all about but nevertheless it's difficult not to get drawn into the hot, throbbing melody and Hoop's throaty, sexualised vocals, which, with repetition, become almost hypnotic.
Next up is 'Hospital (Win Your Love)', which has the potential to become an instant upbeat hit. Infectious drums and a chirpy pop chorus, coupled with a child's perspective on how best to gain parental love make this altogether irresistible, with lyrics – 'There's nothing like a broken arm to win your love' – and cheery 'na na na nas' which will stick with you long after the track ends.
Hoop has made it clear that this is an album which deals with her father's death. The bare honesty of lyrics such as 'Purple hearts and racing cars and the words for her you wrote/ Your deal was raw but you loved us Pa/ And we know it note for note' in 'The House That Jack Built', alongside a simple guitar showcase Hoop at her most haunting. It's on this track and 'D.N.R' (which stands for 'do not resuscitate' and recounts painful memories) that we hear Hoop at her best.
In contrast to the candid emotion and stripped back beauty of 'The House That Jack Built', 'Ode To Banksy' sits rather oddly in the mix, with assumed lyrics which seem obvious ('And I never wanna see your face/You're so oh oh oh/ You come invisible to paint the town') and an ever-so-slightly irritating too-perky edge.
No matter though, for all is redeemed with 'Deeper Devastation', a dark lullaby which leads us straight to the sultry heart of a needy relationship, painting beautiful images and drawing compelling comparisons between man and nature 'I'm a baby bird/I'm a hungry bird/And I feed from your gut/ And the wind blows/ And the tree shakes/ And your beak stabs my throat'.
The House That Jack Built is without a doubt her most impressive and inspiring album yet. With track 7, Hoop commands us to 'Dig This Record'. Don't worry Jesca, we do. Very much so.
Words: Jo Garwood