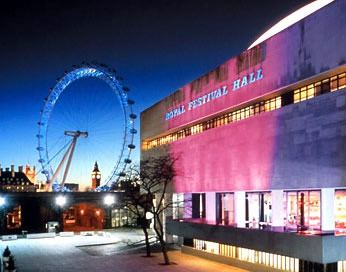 There's not much lovelier than a stroll along Southbank in the Spring sunshine, so it seems the perfect place for the 4-month long Festival of Britain, starting this month at the Southbank Centre.  The festival will  feature music of all genres, as well as comedy and talks. Below we choose our top ten of the hundreds of events on offer. And if you don't live in London – why not make a pilgrimage? There's certainly enough going on to warrant it.
.
1

Talvin Singh & Niladri Kumar at Queen Elizabeth Hall on Sunday 24 April 2011
Tabla player and producer Talvin Singh has worked with musicians including Björk, Madonna and Massive Attack. He recently released an album with sitar player Niladri Kumar Together – the Southbank have got the pair for a rare performance together.
>> More information and tickets | Guardian review of Together
.
2

Billy's Big Busk at Festival Riverside Level 1 on Saturday 30 April 2011
Billy Bragg is inviting musicians of all abilities – which we take to mean "anyone who can get their hands on a musical instrument" – for an afternoon of busking on the bank of the Thames. Chord charts and lyrics will be available on the Southbank website before the day.
>> More information
.
3

The Great Folk Jukebox at the Royal Festival Hall on Saturday 7 May 2011
Part of the These Lands are Your Lands series, the Great Folk Jukebox is a tribute to the 1951 'Singing Englishmen' concert at the first Festival of Britain. Marc Almond, Green Gartside and members of Bellowhead will play folk songs from the past 60 years. After the concert at 10.30pm, we'll be heading down to the Midnight Ceilidh for a wee dance. Admission to the Ceilidh is free.
>> More information and tickets for the concert
.
4

Gaggle at the Clore Ballroom on Friday 13 May 2011
Transgressive's all-female choir Gaggle will take to the stage of the Clore Ballroom for a free show. BBC 6 Music's Lauren Laverne called them "nu rave pre-Raphaelites you'll want to experience live" and who are we to argue?
>> More information | Transgressive Records website
.
5

In Search of Nic Jones at the Queen Elizabeth Hall on Saturday 28 May 2011
Nic Jones is a highly influential folk musician who was forced to stop playing due to a car accident 30 years ago. In this concert a veritable who's who of trad folk pay tribute to the great man through his songs, and Nic himself will return to the stage for a reunion of one of his old bands, The Bandoggs. With performances from Jim Moray, Jim Causley, Anaïs Mitchell and Jackie Oates, this is not to be missed.
>> More information and tickets
.
6

Michael Eavis: Glastonbury Life in the Purcell Room on Monday 13 June 2011
The Godfather of festivals, Michael Eavis, will be speaking about what it's like to be in charge of Glastonbury.
>> More information and tickets
.
.
8

Ray Davies & London Philharmonic Orchestra with the Crouch End Festival Chorus at the Royal Festival Hall on Sunday 19 June 2011
Kinks frontman and Meltdown director Ray Davies is playing a one-off show with the London Philharmonic Orchestra and the Crouch End Festival Chorus. In the first half of the show Davies, the orchestra and choir, will play songs from the Kinks' album Village Green Preservation Society. Imagine! Tickets are pricey, but we think it's worth it.
>> More information and tickets
.
9

Robin Ince at the E4 Udderbelly on Monday 11 July 2011
A frequent guest on BBC 6 music, comedian Robin Ince is a self-proclaimed 'angry man'. Music fan, science geek and avid reader, he is a true polymath. And his brand of indignant and self-effacing geekery is hilarious, says I.
>> More information and tickets | Robin Ince's website
.
10

Isy Suttie at the E4 Udderbelly on Tuesday 12 July 2011
Isy Suttie is a musical comedian – best known as Dobbie from Peep Show – who sometimes duets with folk musician Gavin Osborne. She pokes gentle fun at village life, herself and her family with such good-humour and charm that you can't help having your cockles warmed.
>> More information and tickets