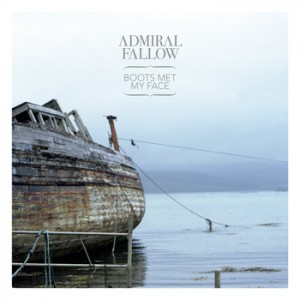 From time to time an album comes along that you know you will fall in love with even before the first song has come to an end – Boots Met My Face, the debut from Glaswegian quintet, Admiral Fallow is, for me, a fine example of this.
Having adopted their current name in 2007, Admiral Fallow have cultivated a committed fan base and since the self release of their debut last year, have attracted well deserved praise from the likes of Guy Garvey and Edith Bowman among others (including our own New Bands Panel). This year's official release is sure to bring the group to a wider audience and will undoubtedly enhance their already growing reputation.
The opening track 'Dead Against Smoking' begins with a clarinet solo turning into graceful acoustic piece and with the sort of genuine, heartfelt and accessible lyrics that Garvey himself would be proud of, the impression is instant, positive and long lasting.
There are a few different elements to the sound which combine to make exceptionally listenable record, for example, the energy of Mumford & Sons meets with the scopious cacophony of Arcade Fire on 'Subbuteo' while 'These Barren Years' has a touch of Snow Patrol to it with it's catchy beat and sing along chorus. Balanced against this is the more solemn sound of 'Bomb Through The Town' and 'Four Bulbs' which shows the
band's ability to be both uplifting and heartbreaking at the same time.
The Scottish indie/folk scene has seen some excellent releases over the last few years and Boots Met My Face is right up there with the best of them, in fact it might just be the best I've heard for a while.
Words: James Rutherford