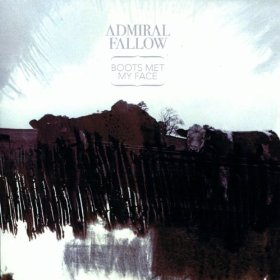 Five students came together in Glasgow four years ago to form the Brother Louis Collective. Fast forward a little while, and the newly-monikered Admiral Fallow have just put out their debut album, Boots Met My Face, mixing several different sounds in a melting pot of Scottish folk and rock. Here our New Bands Panel deliver their verdict on this hotly-tipped rising band.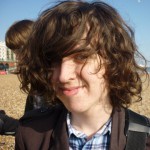 Jono Ganz: While some may draw shallow comparisons to Frightened Rabbit or Mumford and Sons, Admiral Fallow's sound runs much deeper than this. Take 'Squealing Pigs', for example, a track from their debut album, 'Boots Met My Face'. It swings from a catchy, stomping folk singalong to an ecstatic, chaotic climax. Yes, guitarist/singer Louis Abbott's Scottish accent is fairly noticeable, and the pumping, upright bass is unmistakable, but this doesn't mean that Admiral Fallow can be defined by their peers alone. Listen for the fluttering clarinet, beautiful fingerpicking and devastating crescendo on 'Subbuteo'. After that, I don't think you'll need any persuading.
---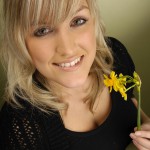 Alaina Henderson: If you're looking for a band who bring something really quite desirable to the folk music scene, then you'll find it in the form of Admiral Fallow. A Glasgow based group who through their music bring stories of childhood memories, growing up, friends and fun times. Their new single 'Squealing Pigs' is a great example of that. To be featured on Tom Robinson's BBC6 show, and also Vic Galloway's Radio1 show, this band has gathered quite the media following. They offer a real, honest, and nostalgic look at their lives through music. As homely and simple as a cottage pie, yet as beautifully presented and creative as nouveau cuisine. Mixing clarinet, flute and double bass with amazingly talented vocals, they make for an orchestral, heartfelt and happy mix of songs. This multi-talented array of musical candy is the ultimate sugar rush. Keeping with their proud roots you get a real sense of life in Glasgow. By the end of the record you will practically feel part of the family.
---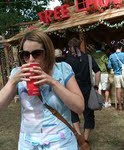 Hayley Brunton: As soon as I pressed play, Admiral Fallow caught my attention, perhaps initially because the lead singer makes no attempt to hide his gritty Gaelic accent. It just fits. 'Old Balloons' is a particularly haunting track with basic, but vivid, lyrics. "Sometimes it's like trying to breathe through a pillow…it's all because of you." Catharsis follows when the piano and the strings take the lead. I hate myself for saying this but listening to 'Squealing Pigs' I couldn't get past the fact that the chorus reminds me of an Alpha Beat song. No, I hate myself more for knowing Alpha Beat. Tell you one thing though, I can't wait to catch these guys live in London. Soon I hope.
---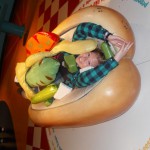 Rebecca Lewis: After a first listen of Admiral Fallow, it is easy to imagine watching this band at a cosy intimate venue or on a larger festival stage, with their songs offering strong melodies that quickly got my toes tapping. 'Old Balloons' in particular effectively melds together all instruments to create a dance-a-long finale you won't want to end, whilst 'Subbuteo' focuses on a wonderfully simple drum beat before successfully utilising the flute to produce a haunting number. Whilst I didn't think this band were creating anything new or different – very often reminding me of many other current favourites – the mix of vocalists works well, and I'm looking forward to hearing more from this Scottish five-piece.
---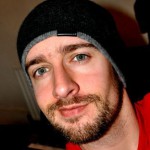 Chris Gent: Mix some heartfelt folk in the Mumford vein with a slice of Snow Patrol and a sprinkling of Biffy Clyro's slower numbers to taste. Admiral Fallow produce songs about love and friendship mixing drums and guitars with classical wind instruments and piano, melancholy one minute before deftly skipping to an instrumental cacophony in the style of Arcade Fire on tracks such as 'Squealing Pigs'. Listen to 'Subbuteo', arguably the standout track, with your eyes closed and you are transported back to schoolyard love and longing for a nostalgic time out of reach so strong that it near bursts your chest at the clarinet led screeching finale.
---
Check out Admiral Fallow for yourself on their myspace page or track down the debut album Boots Met My Face, out now on Lo Five Records.