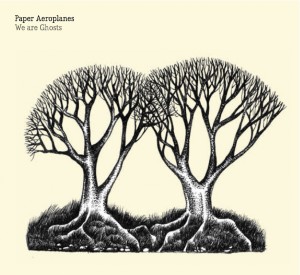 Paper Aeroplanes started life back in 2005 when Sarah Howells and Richard Llewellyn first crossed paths in West Walians, Wales. The duo promptly headed to Cardiff and began playing acoustic sets under the name of Halflight and began to gain a loyal following. Three EPs later and the duo was craving change. Halflight became Paper Aeroplanes and the rest, as they say, is history.
The band struck gold with their first album, The Day We Ran Into The Sea, released in March 2010, full of acoustic pop songs and haunting vocals – this first taste of a new arrangement had fans exhilarated. So I'll admit I was curious to hear their second offering, We Are Ghosts and how it would compare to their debut.
What I love about this new collection is how it brings the focus back onto Sarah's stunning vocals with a subtle, stripped back sound. 'Days We Made' starts us off light and builds in intensity, showing off the band's seemingly boundless range. The rest of the album is a delicate mix of upbeat nostalgia and heart wrenching honesty.
The title track 'We Are Ghosts' introduces other vocals into the mix over an upbeat melody, giving us all a little taste of summer, while 'My First Love' takes a look back in time through delightfully rose-tinted glasses. 'Same Mistakes' and finale track 'Save It' show off the band's tender side, with raw and exposed vocals. This is a story telling album with impressive guitar work and honest song writing skills. The so-called "tricky second album" has been pulled off with ease and will surely attract a host of new fans.
Words: Kat Nicholls