Rachel Sermanni has just finished a tour of the Highlands supporting Mumford & Sons and is currently in Austin, Texas where she's performing at SXSW. FFS spoke to her ahead of her gig at the Old Queen's Head in London last month.
Sermanni's smoky vocals and effortless stage presence belie her young age. She caught the attention of Mumford & Sons after seeing them play in the Highlands. "I met Ben [Lovett] at the gig and had a jam with them on the beach after their gig," she says casually.
But wasn't she intimidated? "I was just like 'I want to sing some songs for you guys'. Essentially I do like performing. I think music to be shared and the way you get better is by playing and I think it's appreciated by people. I love it when people go 'I've got a song' and just sing it to you. And I think that's what [Mumford & Sons and their friends] are all about."
"The band weren't that big at the time but I didn't think I'd see them again. But I saw Ben and he said asked if I wanted to record with him and I came down to London and recorded some songs at his little home studio."
My Friend Fire, one of the songs Rachel recorded with Ben, appeared on the Communion Compilation and she has played several Communion nights.
Rachel grew up in Carrbridge, on the north east of The Cairngorms National Park in the Highlands. With a population of just 708, you might imagine it might leave its inhabitants ill-prepared to embark on an international music career, but Sermanni seems utterly undaunted.
Perhaps her confidence comes from a lifetime of performing. Rachel and her younger siblings Luke (now 16) and Carla (13) spent their childhoods making up plays or songs to amuse themselves and their parents. As the oldest, Rachel admits she was the 'ringleader' – "I was definitely the one who instigated the plays and stuff. I think I was probably very bossy"
"Well there were always spoof songs – we used to sing songs or change the words of songs to crude things or silly things. We liked performing when we were younger – whether it was plays or songs for the parents – mainly just for our own entertainment. We came across some old videos recently and it was so funny.
The Sermanni household was musical, but not unusually so. "My dad taught me the penny whistle when I was younger. He taught me to play Twinkle Twinkle Little Star. We went to church as well and I think we were all musical naturally. We did listen to a lot of music – things like Eva Cassidy, Van Morrison and Bob Dylan."
It's when she talks about playing Scotland's traditional music, first at school, and then later in Glasgow's pubs, that Rachel's face really lights up: "That's when I developed and understood performing," she explains. "Most pubs in Glasgow will have a night when they've got a traditional session.
"It's just tune after tune. It'll go from one tune and you'll be playing it and it'll be getting faster and faster and the brass'll be hitting and the fiddles will be going mad and someone will shout out a key and you don't know what's happening but you know you're going to be in the key of A. Then they'll start playing whatever's just come into their head. So people lead and it'll just go raging on. And if you don't know it you just sit out.  It's so much fun."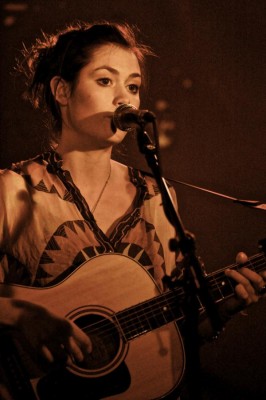 Rachel's own songwriting was a natural progression from learning to play the guitar. "It's like when you sit down sometimes and you're on the phone and you're doodling, you don't decide that you're going to make a little piece of art, but essentially you do, whether it's good or bad. And when you play the guitar you doodle on the guitar – I think everybody does that."
"Songs are often lovely ways of releasing emotions and sometimes songs that have come from outwith are a wonderful relief internally because they make me realise what my problem is or what's wrong. It's like dreaming – you don't dream about yourself really each aspect of a dream is an aspect of you.
"Dreams are a good reflection of what songs are. It's quite a nice way to think about it. When I have a good dream, things are sorted out in my head and when I have a good song things are sorted out in my head. And everyone has their different interpretations of dreams and it's the same with songs."
Sermanni's self-produced debut EP is due out in May. She recorded it at An Tobar on Mull with engineer Sorren MacClean who had just finished working with Roddy Woomble on his latest album The Impossible & Other Songs.
She says: "I always had ideas in my head but to finally get the chance to voice them and make them solid the imaginivity becomes something real."
"I was keen to record it up in Scotland. It's such a beautiful environment, The building doesn't look professional – there's no big clear window. It's an old school house and we were recording in the room which is also the venue. with beautiful church windows looking in then up this little creaky staircase was the actual recording studio bit was. The whole place just creaks and that'll be in the recording – it's just the essence of it."
All this talk of Scotland's beautiful islands, rugged landscape and thriving music scene makes FFS want to visit. And Rachel is quick to offer advice about the best places to go. She is open and friendly as if being interviewed was the most natural thing in the world. And it's the same when she takes to the stage later that night. We predict big things for this one.
Find Rachel on Twitter | Myspace | Facebook